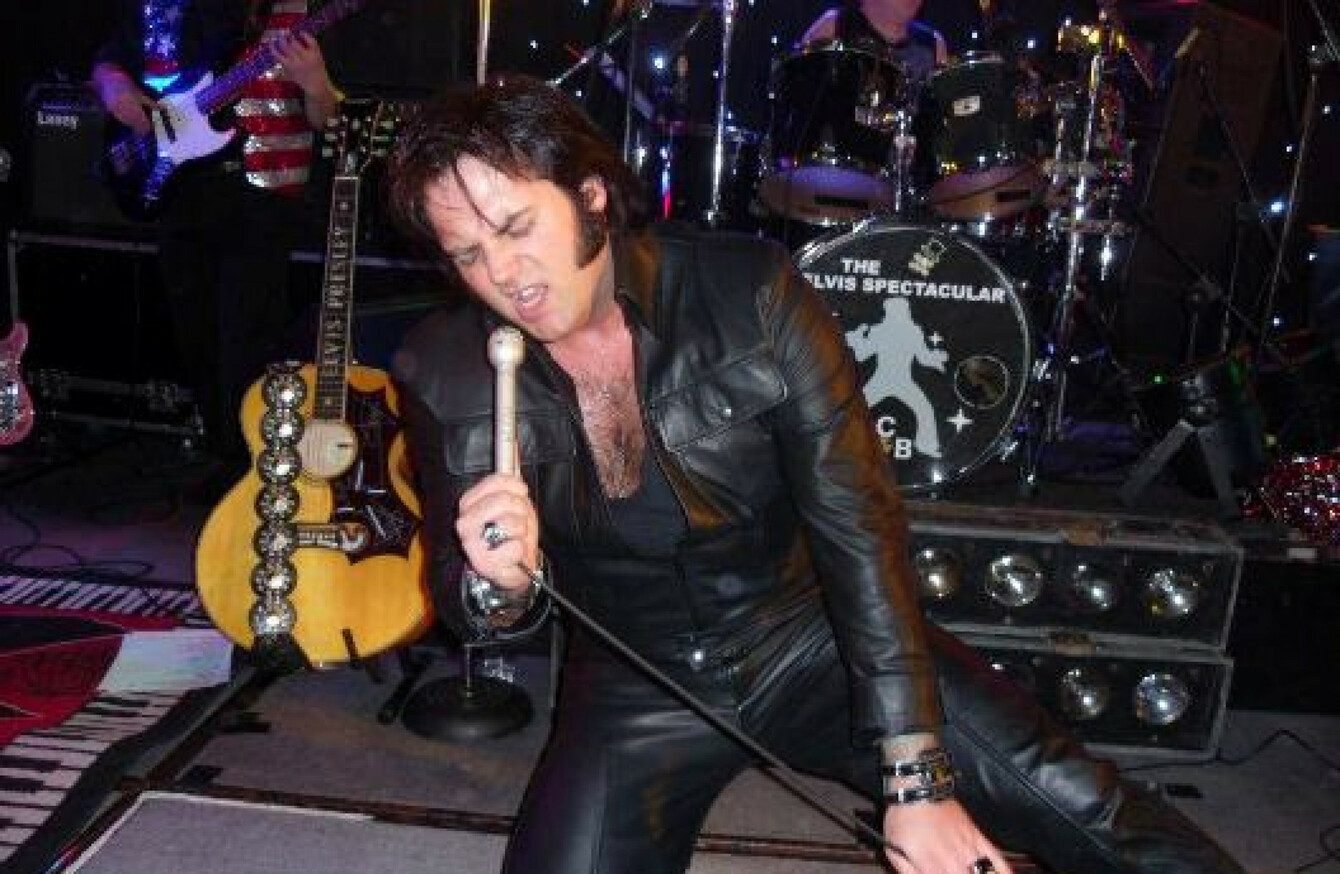 Ciaran Houlihan is one of many Irish tribute acts to the late Elvis Presley.
Image: Ciaran Houlihan
Ciaran Houlihan is one of many Irish tribute acts to the late Elvis Presley.
Image: Ciaran Houlihan
LEGENDARY ROCK 'N' ROLL star Elvis Presley died 40 years ago today.
Affectionately known as the King, his songs and performance have spawned thousands of tribute acts around the world.
The Elvis fanbase in Ireland remains alive and well, and TheJournal.ie spoke to tribute acts Kevin Doyle and Ciaran Houlihan about the enduring appeal of the iconic superstar.
Rock 'n' Roll
Kevin Doyle runs a greengrocers in the Dublin suburb of Ballyfermot by day. By night, however, he and a band of fellow musicians play the songs of Elvis to packed crowds across the country.
"It started about 20 years ago," Doyle said. "The big gig at the time was midnight at the Olympia and we were doing our best to get on there.
"They wanted tributes to particular artists and we already had a few Elvis numbers on our set so we went for it."
Source: Ian Smith/YouTube
That initially small band has now grown to 15 members, as their show now incorporates a full brass section in order to play all of the King of rock 'n' roll's hits.
"We really wanted that big sound," he said, adding that the band had even played with Elvis' own iconic TCB band on occasion.
So how does one go about capturing that famous Elvis sound? "It's very difficult," Doyle said.
We've all done an awful lot of studying to get as close as we could. We focused on his live recordings, his bootlegs and everything we could… It's not just about me impersonating Elvis. We have all of our musicians go to school to make sure they sound exactly right.
On numerous occasions, Doyle and his band have played the Olympia, the Point, appeared on RTÉ and played to crowds ranging from thousands to hundreds.
"Our audience can be aged from nine to 90," he said. "It's always a surprise when you see young kids singing along to a lot less familiar songs."
"He's a cool dude"
Ciaran Houlihan similarly travels around the country, bringing the different eras of Elvis' music to the stage with a big band backing him up.
"He really had three different eras," he said. "My favourite song of his is actually one of the lesser-known ones – Impossible Dream."
Houlihan goes to great lengths to get the same look as Elvis, and has had jackets made by the King's own tailor Gene Doucette.
"Once you're wearing that, it puts you into character straight away," he said.
His favourite venues to play include the Winter Gardens in Blackpool, Dublin's Olympia and Belfast's Opera House.
"They all have different vibes," he said. "But at every venue we always get such a diverse crowd.
We get whole families coming to shows, from children right up to grandparents. Elvis is going as strong today as he was back in the day.
Legacy
And what about Elvis' enduring appeal, 40 years on from his death?
"Through it all, he was just a cool dude," Houlihan said.
"He was around for a long time, but then again he died quite young [Elvis died aged 42]. He had music that appealed to everyone when he was alive, and it still does."
Doyle said: "I think it's the simplicity of the music, and what it was doing at the time. If you look now, there's nothing pushing the boundaries the way that the likes of Elvis was then.
It's something that's now passed down from generation to generation, and we see a lot of younger people coming along to our gigs. It's not about making Elvis cool again, it's about keeping him cool.
Kevin Doyle and his band play the Grand Social in Dublin this evening.
Ciaran Houlihan will be playing Knightsbrook Inn, Trim, tonight with the Elvis Spectacular Band.