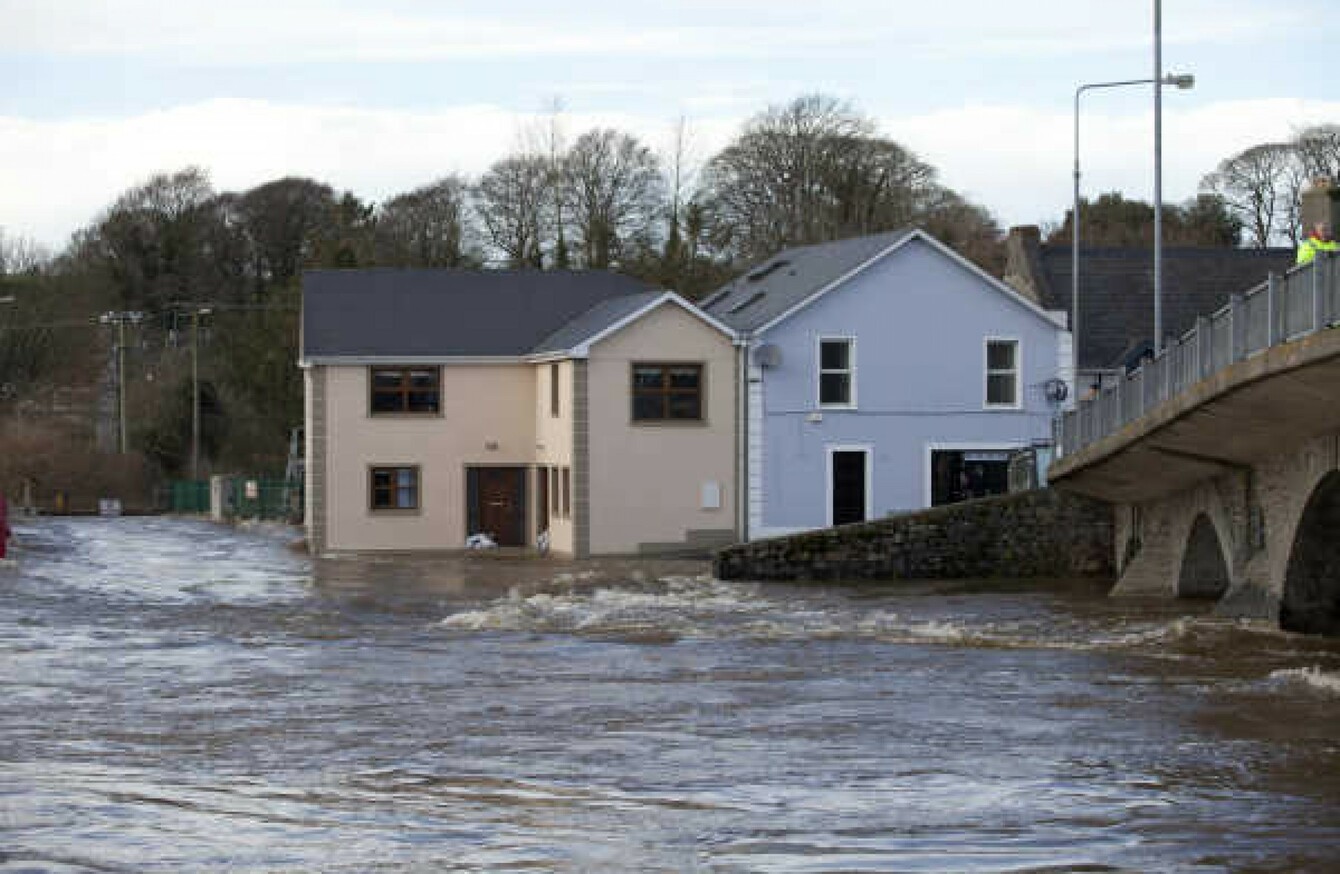 The effects of Storm Frank in Thomastown, Co Kilkenny
Image: Eamonn Farrell/RollingNews.ie
The effects of Storm Frank in Thomastown, Co Kilkenny
Image: Eamonn Farrell/RollingNews.ie
A SPECIAL MEETING to tackle the widespread flooding across the country is taking place today.
Taoiseach Enda Kenny and a number of his ministers are meeting in Government Buildings to develop their response to damage caused by Storm Frank.
This follows Met Éireann issuing a new national Status Yellow weather warning for eight counties.
Heavy rain is expected in Dublin, Carlow, Kilkenny, Wexford, Wicklow, Cork, Kerry, Tipperary and Waterford.
What is being done?
The National Coordination Group (NCG) – which features a number of public bodies including the Office of Public Works, the HSE, the Defence Forces, An Garda Síochana amd Met Éireann – has also met today.
Also included in the group is ESB, which has said that flow from the Inniscarra Dam remains as it was yesterday at 250 cubic metres per second.
The flow through the now infamous Parteen Weir hydro dam is anticipated to rise in the coming days, with the water level of Lough Derg at its highest point since 2009.
The water going through the dam is now flowing at a higher rate than at any point during Storm Desmond.
Water levels are expected to rise around the south and south east of the country the country this evening. While water will not continue to fall at the same rate, much of the ground is too saturated to absorb any more water.
Many roads around the country are still unusable and members of the public are being told to follow advice issued by their local authority.
'Enormous resilience'
Today's emergency meeting is dealing with a number of issues around the adverse weather and ongoing flooding.
This follows a visit by the Taoiseach yesterday to the basin of the Shannon River yesterday, where the surrounding areas have been some of the worst hit by flooding. He had been facing criticism for his low profile in the days after the heavy rain, with the hashtag #WhereIsEnda trending on Twitter.
"People affected by the ongoing flooding continue to show enormous resilience," said Kenny, "and the community spirit in evidence, in tandem with the relentless work of local authorities and emergency services, cannot be commended enough." 
The voluntary work done locally, in particular, has been outstanding.
At today's meeting a memo from the Department of the Environment around long-term flood forecasting and how data from various agencies should be co-ordinated will also be presented.
The devastating weather that has been sweeping the country over the past weeks is set to continue and various government departments have been told to remain vigilant.