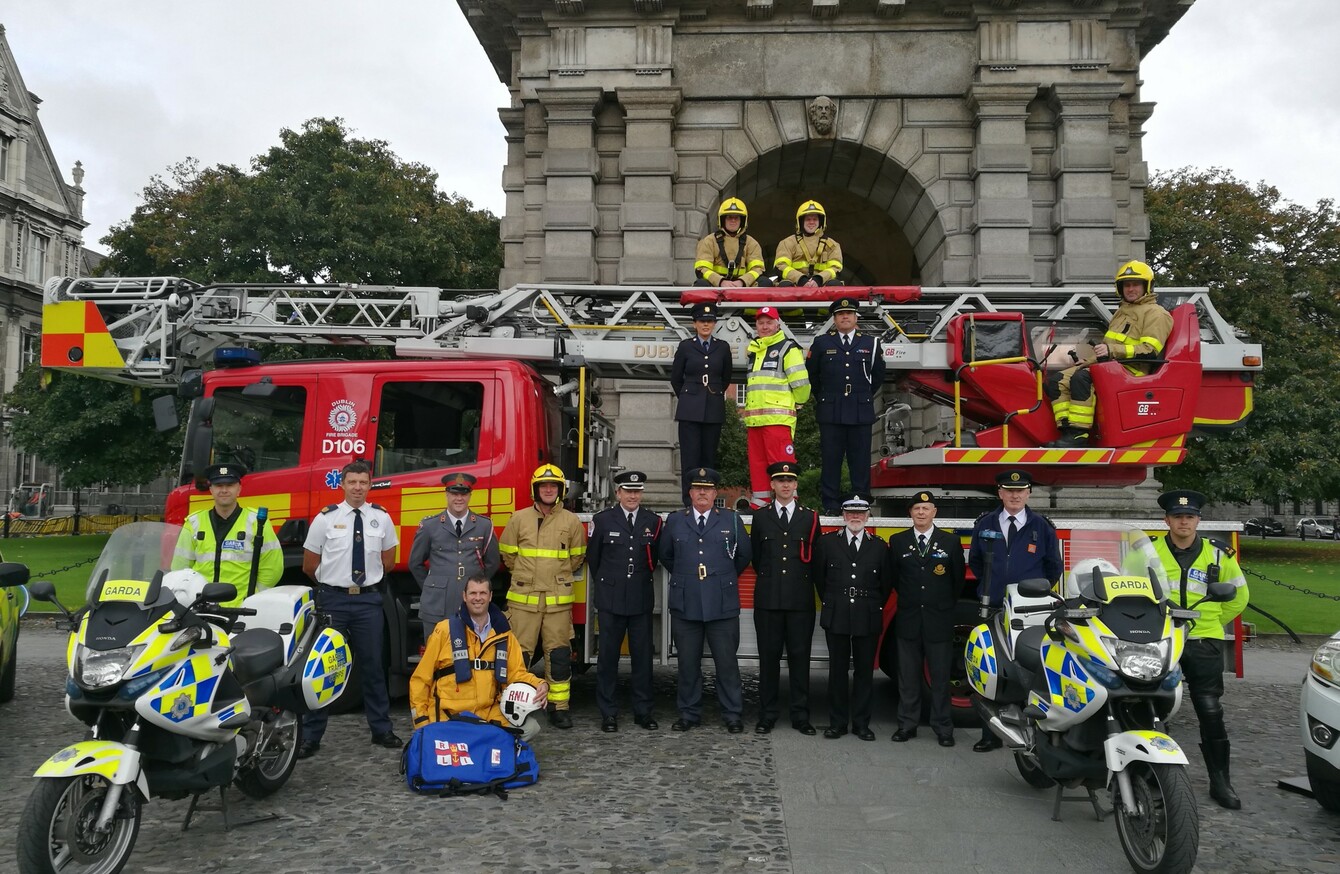 THIS SATURDAY, HUNDREDS of emergency service personnel will parade through Dublin to celebrate their collaboration with one another and with the general public over the last year.
This is the third Frontline Emergency and Security Services Eire Forum (Fessef) parade and last year, some 600 firefighters, gardaí, prison officers, paramedics, Coast Guard volunteers and other frontline responders marched through Dublin's city centre. This year there will be almost 1,000 of them.
"It's thankfully growing year-on-year and this year in particular, we've looked at bringing in a couple of key themes – one is safety, so this year we have the RSA and Irish Water Safety with us," explained Owen Medland, who is divisional operations manager for the RNLI.
The parade, which will also feature vehicles from each of the emergency services, will work its way from Parnell Square, down O'Connell Street and into Trinity College. There, small and big children alike will be able to climb aboard a fire truck or onto a lifeboat, try finger-printing with the garda forensics team or talk bomb disposal with members of the Defence Forces.
"The display on Saturday afternoon is very much about family, bring children along, let them get up close and personal. Every little boy or girl loves a fire engine, and the boats and everything," Medland said.
Again this year, the voluntary organisation, which brings together all of the country's major frontline emergency services, is supported by Dublin City Council and work hear company Helly Hansen.
Remembrance 
In the evening, there will be a gala dinner with members of each of the services in attendance. The theme for the night will be 'remembrance', with tributes paid to members across the services who lost their lives in the line of duty.
A particular mention will be made of Caitríona Lucas, the Coast Guard crew member who died on Monday in Kilkee. There will be a minute's silence for her and a spokesperson for the Coast Guard will make a speech about her contribution as a volunteer.
As the French ambassador Jean-Pierre Thébault has been invited as a guest to the event, there will also be a tribute to emergency workers in his country who have had to deal with a number of atrocities over the last 12 months.
"This particular grouping is all about friendship and partnership," Medland said. "In the course of our duty, we end up interacting with one another in sometimes the most distressing situations and it's an awful lot easier to deal with those and to provide the best level of service if there's a familiarity between us."
The parade will leave Parnell Square at 12pm this Saturday and there will be interactive displays and demonstrations on the grounds of Trinity College all day until 4pm.