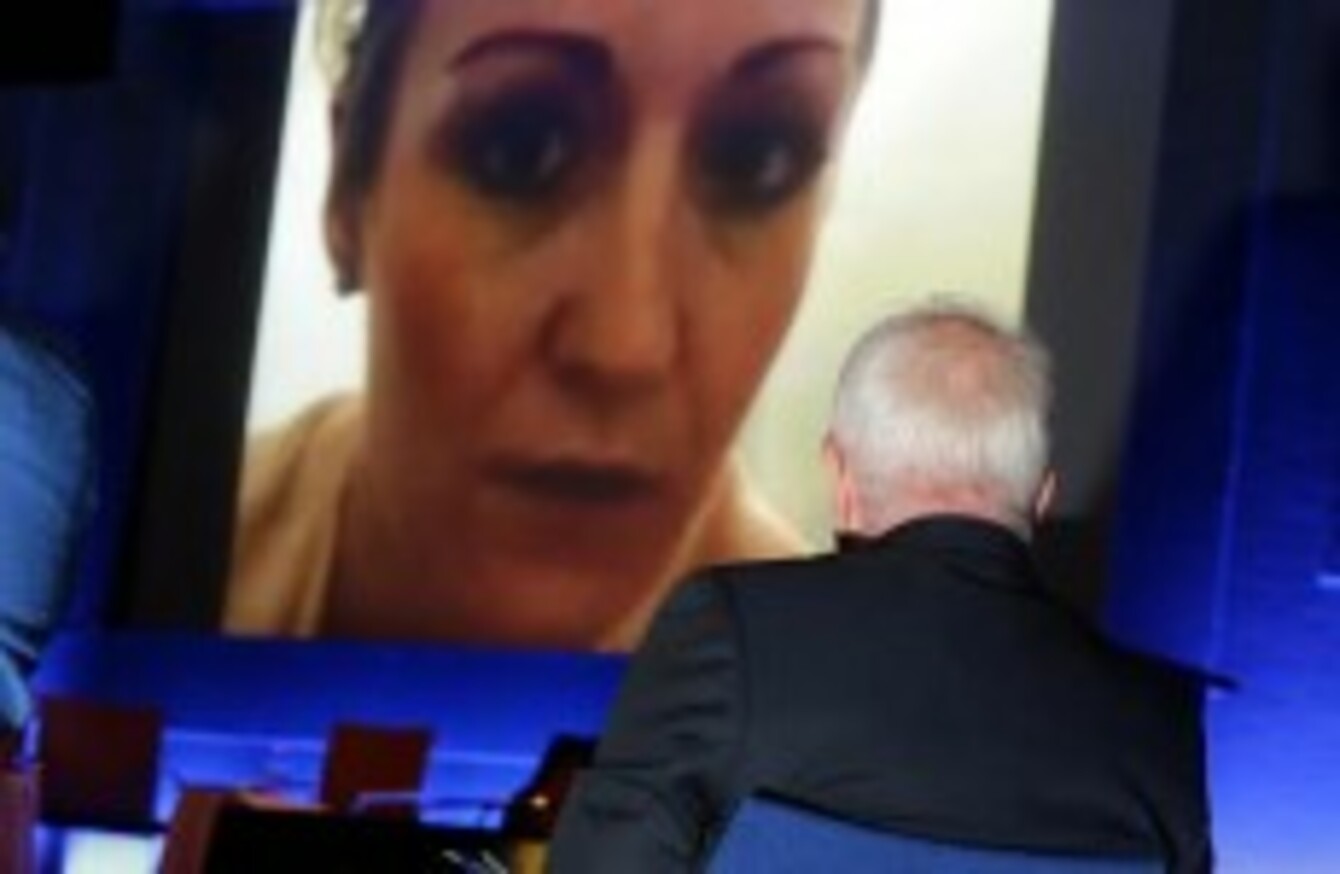 Minister Jimmy Deenihan listening to Irish emigrant Leona McHugh
Image: Marc O'Sullivan via NYCI
Minister Jimmy Deenihan listening to Irish emigrant Leona McHugh
Image: Marc O'Sullivan via NYCI
FIVE EMIGRANTS SPOKE via Skype to the 'Home is where the heart is' return migration conference in Dublin Castle this morning.
Minister for the Diaspora, Jimmy Deenihan, said that "The return of our young emigrants is an issue of national importance."
The emigrants who spoke to the conference from around the world were asked if they planned on coming home to Ireland, what would deter them from returning and what they thought the government could do to improve things for emigrants.
Some of the barriers identified were lack of career opportunities, lack of affordable housing and a drop in their living standards.
The issue of Irish emigrants not being able to vote while away was also brought up.
Eoin Hayes is from Limerick but is living in New York working as a management consultant. When asked if he wanted to return to Ireland at some point, he said, "Absolutely, home is home".
"I've developed skills here for a particular job and I'm not sure if I can leverage the experiences I've had here into a position in Ireland.
"I feel sometimes like I'm totally connected to Ireland from listening to Irish news and keeping in touch with friends and family but I'm not sure if I feel like I'm a part of Ireland anymore."
Hayes explained that he's a citizen of both America and Ireland and that he believes Irish people should be able to vote when away and that would keep people better connected to the country.
I've voted in more American elections than Irish because as an American citizen I'm allowed to vote for American elections when I'm abroad.
Family move
Anna Cunniffee from Dublin is living in Sarajevo, Bosnia and Herzegovina. She is currently working as a university tutor.
She explained she moved when her husband got a career opportunity, "We're really enjoying the positive benefits that come with learning a new culture but we're thinking about a return home to Ireland.
In Sep 2015 – our daughter is due to start school so that's our aim to be home for that but trying to organise schooling from abroad is a barrier as is trying to organise work and housing.
She added that, "Everyone talks about people leaving Ireland but nobody talks about the return- to have some sort of governmental support would encourage migrants home.
Leona McHugh is from Donegal but is currently living in London and is due to emigrate to Australia soon. She said:
"I would consider moving home – maybe not in the next 10 years but in the long term.
"At the moment the obstacles for me would be the quality of life. I have better career opportunities abroad. The transport system in Dublin isn't as good as London and the price of rent around Dublin city can be very expensive for bad quality accommodation.
McHugh also brought up the rural urban-divide in Ireland saying that ultimately she would love to live in Donegal but that she doesn't think there is enough career opportunities in rural Ireland.
'Something concrete' 
Elaine Kearney from Cork is living in Toronto and is a PhD student in the Department of Speech-Language Pathology, Faculty of Medicine at the University of Toronto.
"It's my intention to return to Ireland. It would be another four or five years before I'm finished studying.
For me, the biggest call to move back is my family but ultimately it will be my career that will decide if I can or will come back.
She explained that she wants to continue to work in academia when qualified and that she might move to London to be closer to home but still have good career opportunities as resources are available in the UK for academia.
She added that, "If there's job creation in a certain area – steps could be taken to engage with people overseas.
A lot of Irish people I meet do want to move back – but it's hard to move back unless there's something concrete to move back to.
David Garrahy is from Clare but has been living in Brussels for the past six years. He is working in the European Youth Forum as a Policy and Advocacy Coordinator.
He says living in Brussels has given him the chance to meet lots of people from different cultures. "I like living in a multicultural city like Brussels."
I could see myself returning home but the question is at what stage in my life and professional career do I move.
"I think the biggest barrier is that the skills I have may not be relevant in Ireland – I see the opportunities mainly being international.
"The Irish government needs to keep in touch and that when we pass the border we're not forgotten about.
My French friends are still able to vote but we have nothing.
"We have this emotional connection and I think it can be overly relied upon by the Irish Government."