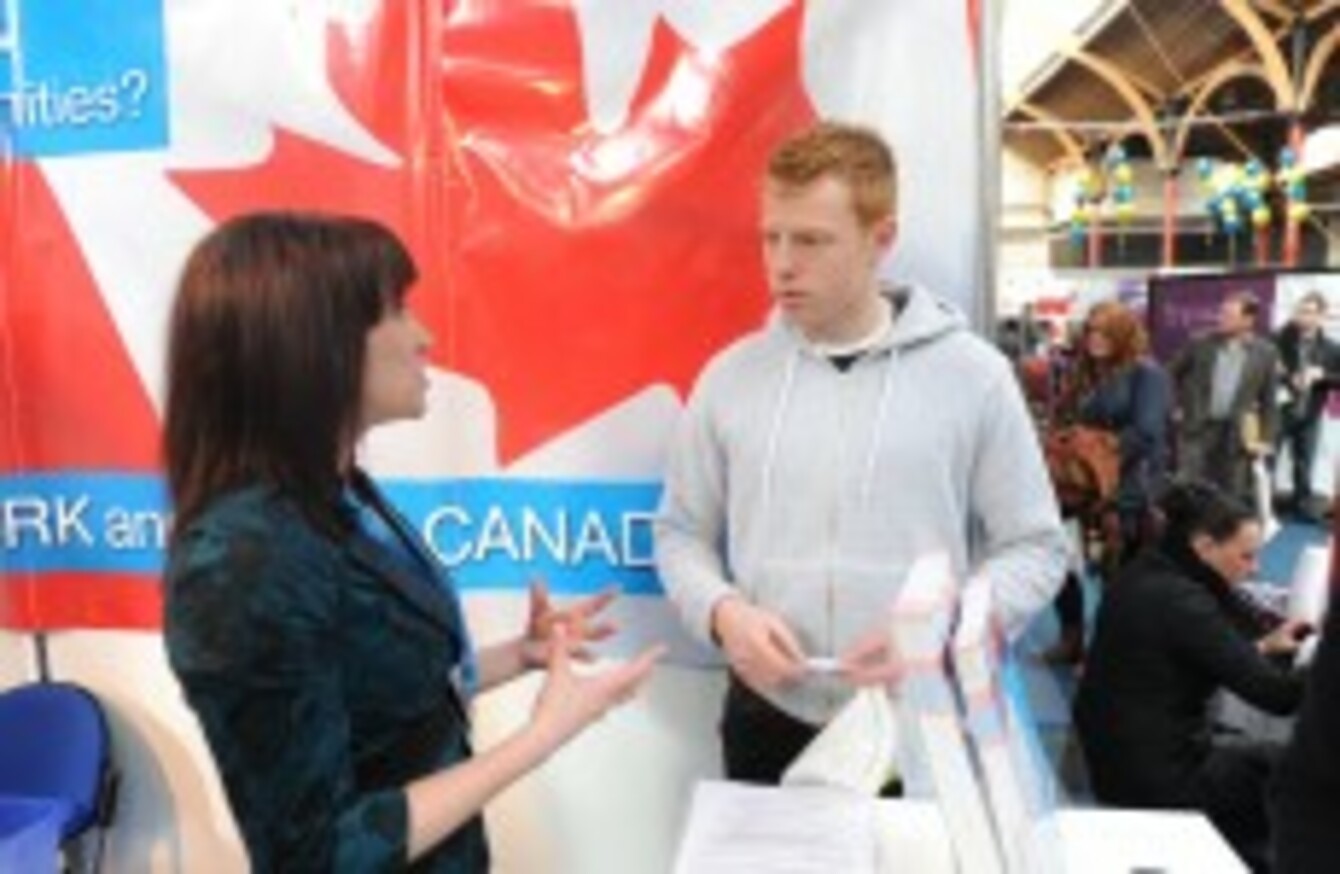 The Canadian stand at a Working Abroad expo in the RDS
Image: Sasko Lazarov/Photocall Ireland
The Canadian stand at a Working Abroad expo in the RDS
Image: Sasko Lazarov/Photocall Ireland
IRISH YOUNG PEOPLE leaving secondary school and graduating from college make up a larger chunk of emigrants than they did last year, according to figures published today.
The annual Migration Index by emigration consultants VisaFirst found that between August last year and this year, 37% of those who applied for visas throughout the world fell into the 18-24 year-old age bracket.
That's an 11% jump from 2012-2013, when the figure was 26%.
Overall, the 18-29 year-old group accounts for a whopping 78% of visa applications, with Australia, Canada and New Zealand still overwhelmingly popular as destinations.
There were fewer than 50 applications for US work visas, Edwina Shanahan from VisaFirst told TheJournal.ie.
She sees the age trends as a result of successful, longer-term emigration over the last few years:
More and more people are choosing to leave after they finish school and college, whereas the fall in 25-34 year-olds travelling could be accounted for by the fact that people in that age group who have left in the last few years have actually stayed away…
Economic recovery here has meant Irish people are more carefully researching destination countries in terms of their likely salary and quality of life, says Shanahan.
This is a marked change from previous years, when high unemployment in Ireland meant many more "felt they had to leave," rather than wanted to leave.
As life in Ireland gets back to 'normal', more employment will be created and the numbers of people who feel they have to leave the country for work will hopefully decrease.
Where once information on visa options made up 90% of the advice we provided to people, now it may have reduced to 70%, and the rest is comprised of advice on average income in different countries, tax systems and average rent for each country.
While Australia is still by far the most popular destination, VisaFirst has seen a 7% jump in the share of Canadian visa applications.
Unsurprisingly, construction, engineering and trades dominate the professional profile of visa applicants, although there has been a drop in the industry's share of applications, from 43 to 40%.
That's a trend Shanahan predicts will continue, as the Irish construction industry recovers in the next few years.
The second and third most prevalent economic sectors were hospitality and nursing/teaching/caregiving, which both experienced a small rise to 10% of visa applications each.