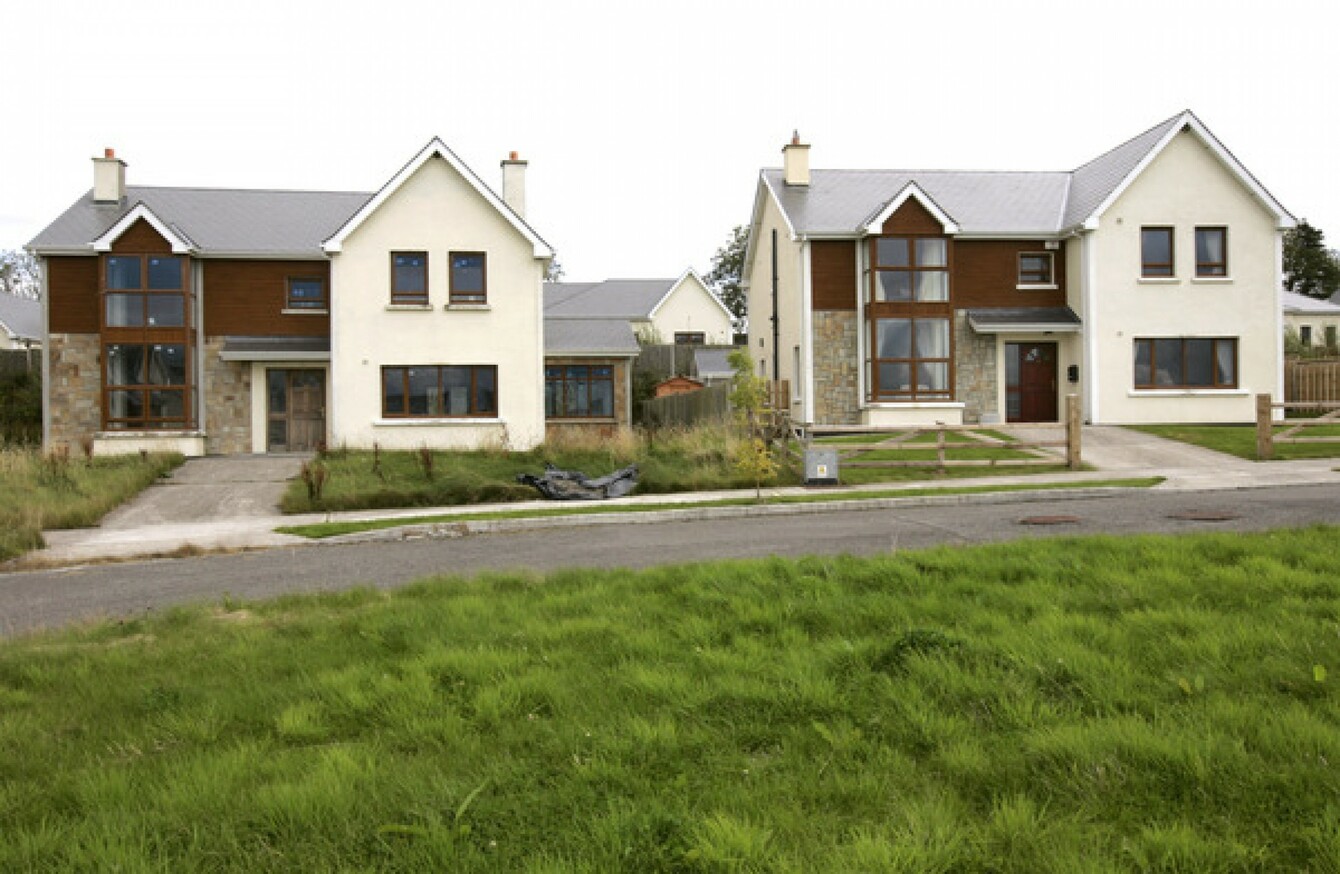 Image: Mark Stedman/Photocall Ireland
Image: Mark Stedman/Photocall Ireland
Ireland is grappling with a series of challenges that are impacting our citizens' quality of life. TheJournal.ie is examining solutions to these issues which have worked or are currently being trialled in other states and asking: Would It Work Here?
THERE ARE CURRENTLY 198,358 homes lying empty in Ireland – that's 27 times the number of people (7,167) stuck in emergency accommodation.
According to the Simon Community, almost 13% of total housing stock is vacant in Ireland – which is twice the level expected in a functioning housing market.
The homeless service released a research paper this month 'Empty Homes: Unlocking Solutions to the Housing and Homeless Crisis' which contained a breakdown of the number of vacant housing units in counties and cities across the country.
In Dublin, there are 3,247 people in emergency accommodation and 35,293 empty units, while in Cork there are 269 people living in emergency accommodation and 21,287 vacant housing units.
In Limerick there are 252 adults living in emergency accommodation while there are 8,463 vacant housing units.
What are we doing about it? 
This problem has been growing over the past decade, but little has been done to tackle it.
Last month the Housing Minister Simon Coveney rolled out the repair and leasing scheme nationwide. It identifies vacant properties and secures them for social housing.
It has been piloted in Waterford and Carlow since October with €6 million in funding, an additional €26 million is now being provided for the national rollout this year.
Minister Coveney said the pilot has been "working well" in Waterford and Carlow, with around 59 vacant properties currently being made into social housing.
Based on this level of interest in the scheme, I am confident that the initiative can deliver up to 800 homes this year.
"Property owners see the opportunity the scheme presents for them – upfront financing of the cost of repairs – in fact they need not even get involved in arranging the works, and a secure and reliable income from regular rental payments, without having to take on landlord responsibilities."
The housing vacant team looked at it,
Spreading the word 
In the UK, local authorities have empty homes officers who identify empty homes and reach out to owners and highlight their options to restore the building.
Right now, Ireland doesn't have empty homes officers – instead, it relies on employees of local authorities to take that extra time to go out and identify potential vacant houses. Waterford County Council had to reorganise staff to achieve this.
The Peter McVerry Trust is calling on Minister Coveney to consider empty homes officers as an option here.
The homeless and housing charity hosted an Empty Homes Conference in Dublin on Thursday.
CEO Pat Doyle said that empty homes "offer a cheap, effective and quick solution to the acute lack of housing.
There needs to be boots on the ground and local authorities also need the resources to hire these teams of empty homes officers. These officers would get out there to identify empty homes, engage with the property owners and make them aware of government grant schemes like the repair and leasing initiative.
"Empty Homes Officers would also serve as a one stop shop for information and advice for empty home owners."
Head of policy and communications with Simon Communities of Ireland Niamh Randall echoed this. She told TheJournal.ie, "One of our recommendations is looking at identifying who propery owners are, why the property is vacant and what the barriers are between leasing it, selling it or letting it. So very clearly having someone whose job it is to do this would make absolute sense.
"If it's somebody's job to manage, monitor, keep in contact with owners, keep in contact with the right personnel in the local authority – I think it could make everybody's life a little bit easier."
How does it work? 
David Gibbens is Policy Lead at the Empty Homes Network in the UK. He told TheJournal.ie, "It's essentially a network of practitioners whose job revolves around dealing with empty homes."
Speaking about how it started in England, Gibbens said, "The first empty homes officer was appointed in 1992 in Southampton and in the mid 90s you got what I would call the first wave of empty homes officers. I was appointed in 1996, that's when it really started and caught fire I suppose."
It's a whole range of different things that you do depending on what tools you have available to you. You're looking at persuading – why is it empty, how can we help?
"We had housing associations that were buying empty properties at that time because of the nature of the housing market, I was involved in sourcing those properties.
"We were looking at living over the shop conversions where there was redundant commercial space that we would get converted into housing.
It's a lot about persuasion, a lot about looking at the barriers and trying to help owners overcome them.
He estimates that there are now approximately 88 full time empty homes officers in England.
Would it work here? 
"Absolutely yes", says Gibbens.
Empty homes practitioners would be the perfect compliment to making the most of the things that are being rolled out here.
He added that he thinks it would work anywhere, describing how Scotland started appointing empty homes officers.
"I think they may have started with three or four posts and they now have a situation where 17 out of the 32 Scottish authorities have got an empty homes officer."
In the UK, the officers are employed in local authorities with very occasional exceptions where they're located with the housing association if the association has a close partnership with the local authority.
Peter McVerry wants to see the officers employed by local authorities here also, this was also backed by Randall from the Simon Community:
"One of the key things that would be great would be if there was agreement that this was needed across the board in every local authority and we decided what the skill set was for that particular role so that we're recruiting like for like – so we have similar people with similar skill sets coming in to do the particular role."
So is this something the Department of Housing is considering?
When asked by TheJournal.ie, it said a national database of empty houses will be developed that will identify the homes and the reasons why they're empty.
"Work is progressing on identifying possible sources of data and information to assist in the most efficient means of compiling such a database."
However, the Department would not say if empty homes officers were being considered as part of that.