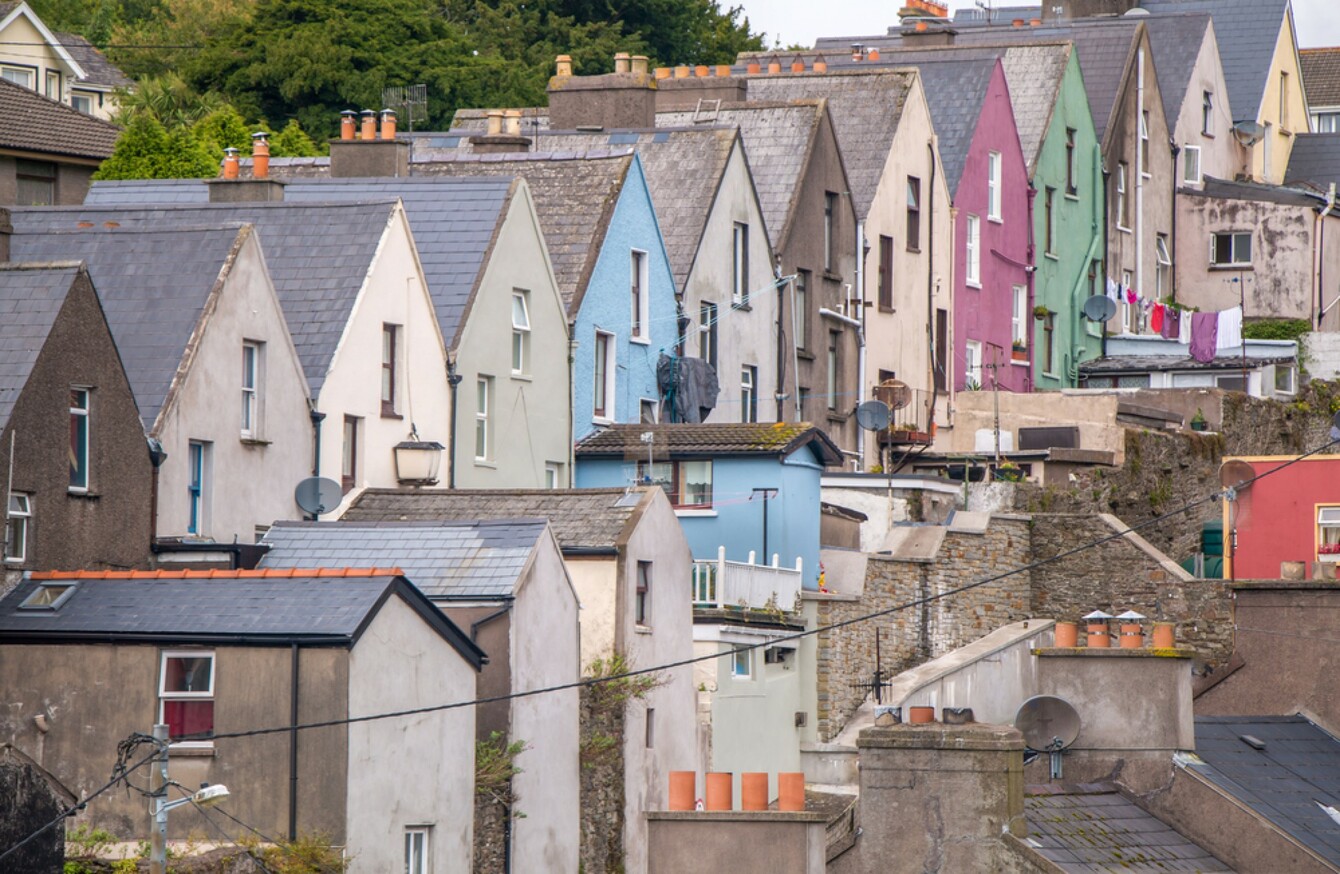 File photo of houses
Image: Shutterstock/John And Penny
File photo of houses
Image: Shutterstock/John And Penny
THERE ARE 27 empty houses for every one person in emergency accommodation, according to the Simon Communities.
The homeless and housing charity has said it is unacceptable that 198,358 homes lie empty in Ireland (about 13% of total housing stock) while 7,167 people live in emergency accommodation.
The number of vacant houses is based on preliminary figures from the 2016 Census and excludes holiday homes and derelict buildings.
The Simon Communities are today launching a 10-point plan about how they believe these vacant properties can be utilised to help tackle the ongoing housing and homelessness crisis.
This plan makes a number of proposals including the establishment of a vacant housing register; incentive schemes to encourage property owners to sell or lease their properties to boost social housing supply; the introduction of compulsory leasing orders (CLOs) and compulsory purchase orders (CPOs); and the introduction of a vacant property tax for houses that are empty for more than 12 months.
Simon said such a tax could be "calculated on the basis of property value or potential rental income and increased the longer a property remains vacant".
Meanwhile, CLOs and CPOs would enable local authorities to seek permission to force a lease or sale on the owner of an empty property so it can be used as social housing.
Different parts of the country
The Simon Communities deliver support and services to thousands of people and families who experience homelessness or are at risk of homelessness every year.
In a statement, the charity notes:
In Cork there are 269 people living in emergency accommodation, while there are 21,287 vacant housing units. In Dublin, there are 3,247 people in emergency accommodation and 35,293 empty units. In Limerick there are 252 people living in emergency accommodation and 8,463 vacant housing units.
Niamh Randall, national spokesperson for the Simon Communities, said the fact there are 27 empty houses per every person in emergency accommodation is shocking.
"When you look at it, it's extremely stark."
Speaking to TheJournal.ie ahead of today's launch, Randall said better monitoring of and research around vacant properties is needed.
She noted that not all of the vacant properties would be suitable for social housing but, given the number of empty houses, even if half or a quarter of them were, that's still a significant number.
"We need to see if all these houses are empty and why, as soon as possible. We need to act quickly on this. Who owns them, how can we make them available?"
Slow pace
Randall said Simon "absolutely welcomed" Rebuilding Ireland, the government's plan to tackle housing and homelessness issues, describing it as "the most comprehensive plan we've ever had" in this area.
However, she said the charity was "concerned about the pace" at which extra social housing is being made available.
"We know house building in slow, we need to look at low hanging fruit like empty houses – how we can turn them around quickly and make them available."
Randall noted that as well as the 90,000 or so people on the social housing and the more than 7,000 people in emergency accommodation, there are many others dealing with the stresses of housing insecurity, such as two families sharing one house, or parents and children moving in with their grandparents.
Properties owners have said the almost 200,000 empty houses are vacant for numerous reasons, including probate, investment and property being inherited through the death of relatives.
"[Rebuilding Ireland] contains a number of initiatives aimed at reducing vacancy in the private and public housing stock. Effective resourcing and implementation of these initiatives is required to have a meaningful impact on the current vacancy rate.
"The commitment to develop a vacant housing reuse strategy is positive, a coordinated response is now needed to maximise the potential return of empty homes that would bolster social housing supply, providing permanent homes quickly for those that need them most," Randall said.
#Open journalism No news is bad news Support The Journal

Your contributions will help us continue to deliver the stories that are important to you

Support us now
She also stressed the importance of keeping the housing and homelessness crisis at the top of the government's agenda, regardless of what other issues are going on.
"There are current political issues dominating the agenda, no matter who is in the role of Taoiseach in the coming weeks we need to make sure that housing and homelessness remains a number one priority," she said.
'Significant level of investment'
Speaking to the Oireachtas housing committee yesterday, Housing Minister Simon Coveney said 2017 will see "a very significant level of new investment in housing".
"As I have previously stated, housing is an absolute priority for this government and this is clearly evidenced by the level of resources that have been allocated to support my department's housing programmes this year. The revised estimates show that €1.2 billion is being made available for housing programmes in 2017.
"In addition, local authorities will fund a range of housing services to the value of €92 million from surplus Local Property Tax receipts, bringing the total housing provision to almost €1.3 billion. This investment will see the housing needs of 21,050 households being met in 2017.
Through a provision of €732 million for capital expenditure – made up of €655 million Exchequer funding and €77 million self-funded by local authorities from LPT receipts – local authorities and approved housing bodies will be in a position to deliver 4,450 units through a combination of construction, acquisitions, rapid build and returning vacant units to productive use.
Coveney added that a new vacant repair and leasing initiative will "allow local authorities to provide financial assistance to property owners to bring vacant properties up to standard which can then be leased for social housing".
"The scheme is being rolled out nationally with total available investment of €32 million, which will support up to 800 vacant properties to be brought back into use as new homes for families on local authority waiting lists.
"A new 'Buy and Renew' initiative will support local authorities and approved housing bodies to purchase private housing units in need of remediation, renew them and make them available for social housing use. An initial capital provision of €25 million will be available for this initiative in 2017," Coveney stated.