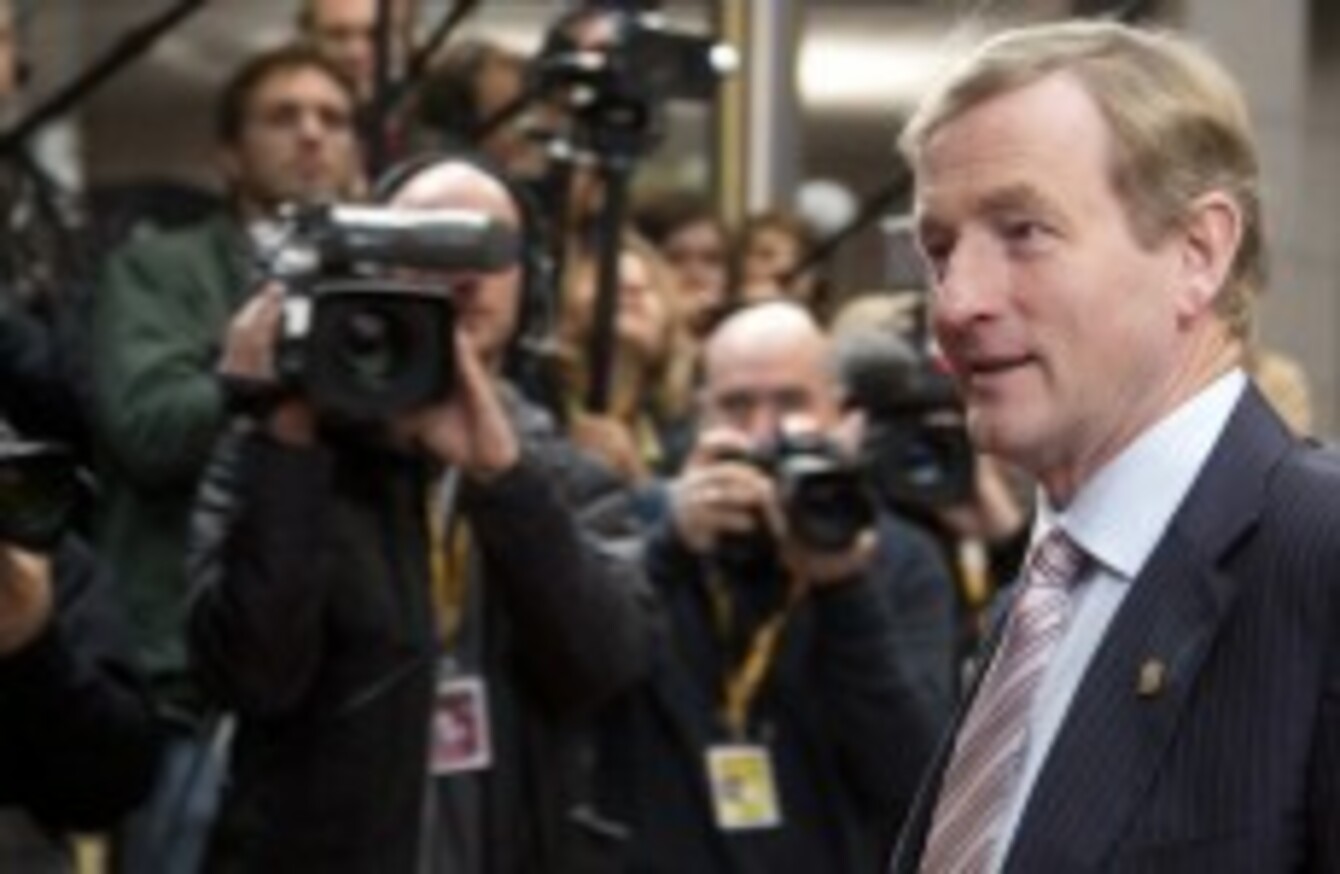 Enda Kenny in Brussels today
Image: Virginia Mayo/AP/Press Association Images
Enda Kenny in Brussels today
Image: Virginia Mayo/AP/Press Association Images
TAOISEACH ENDA KENNY expects that there will be a decision on what, if any, precautionary credit facility Ireland will have next year prior to the country formally exiting the bailout on 15 December.
Speaking to reporters after the conclusion of the European Council summit in Brussels today, Kenny declared himself satisfied with how talks had progressed but said there were no formal discussions on Ireland's post-bailout status.
The main issue with Ireland's bailout exit centres on whether or not it will need to apply for a precautionary credit facility to help ease the transition from bailout funding to raising money on the normal international lending markets.
Kenny said today: "We've been in a condition-bound situation for the last number of years. What we want to do is exit this with the very best options for our country."
He said it is clear that the government does not want the State in a situation whereby there are tighter controls on how it spends money than it has been subjected to for the past three years under the EU-IMF programme.
Kenny added that he expects further meetings with the eurogroup and with individual European leaders prior to a decision being made but before the bailout exit.
In a statement earlier this week the Department of Finance was keen to outline the discretion Ireland has in relation to any credit facility, saying: "Ultimately, the final decision on post-programme options is one for the Irish authorities."
Prior to this week's summit Kenny wrote to the 27 EU leaders and the Council president Herman van Rompuy to underline the "imperative" of breaking the link between sovereign and bank debt, saying it is key to advancing Ireland's post-bailout prospects.
Ireland is pushing for retrospective recapitalisation of its banking sector through the eurozone's permanent bailout fund, the ESM, but progress on this has been slow since a historic decision was made in June 2012 to break the "vicious circle" between bank and sovereign debt.