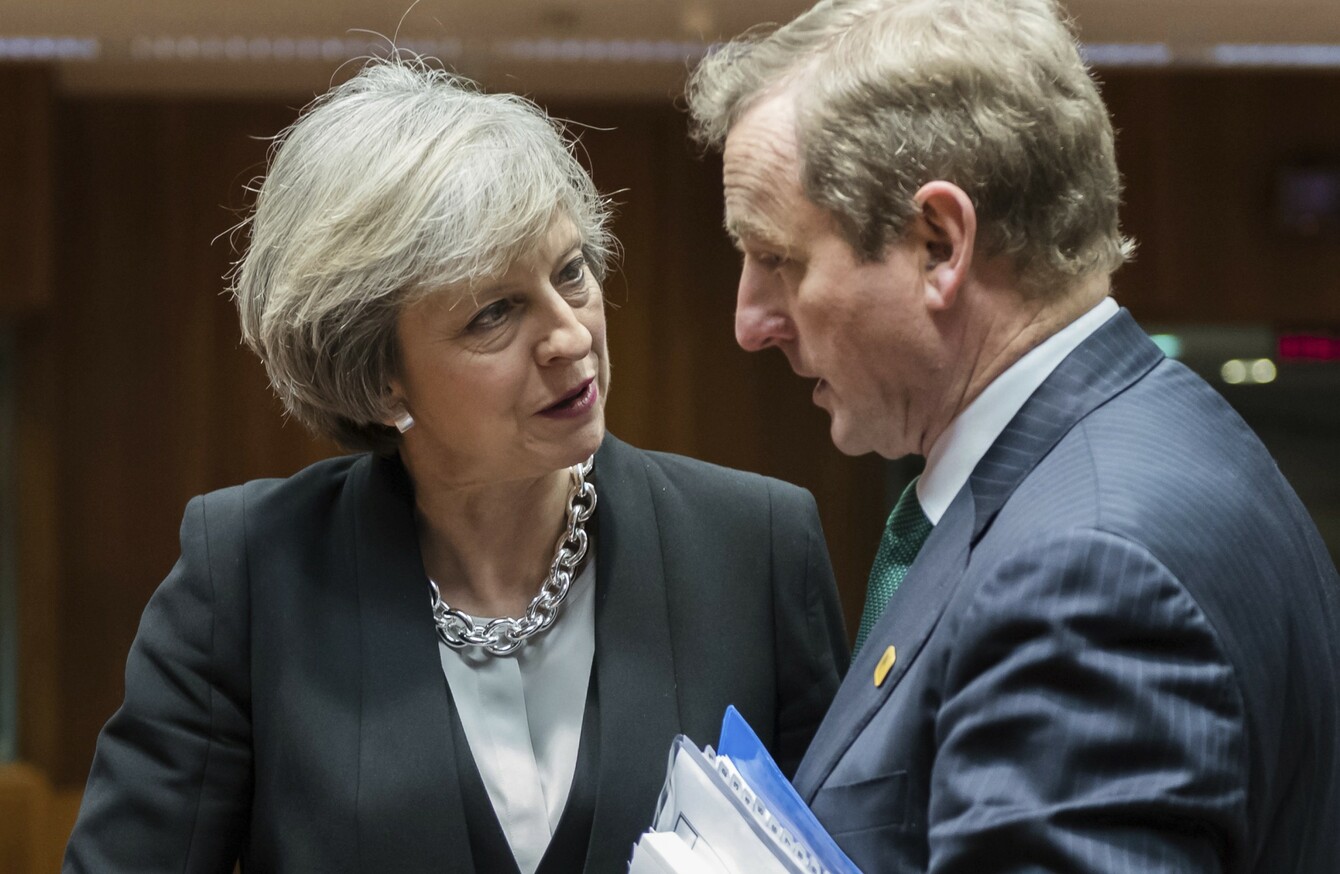 Image: AP/Press Association Images
Image: AP/Press Association Images
THE TAOISEACH HAS ruled out a bilateral agreement with Britain ahead of Brexit talks between the UK and the EU.
Enda Kenny says Ireland will stand with the other 26 countries within the union.
He added that we wouldn't be allowed to try and sign a private deal with Britain, despite calls from politicians there.
It comes after The UK's House of Lords suggested a bilateral deal with Ireland would be the best way to guarantee the future of Northern Ireland and the border.
But speaking to reporters as he was leaving a summit of EU leaders in Brussels last night, Enda Kenny said it wasn't discussed at the summit and isn't possible.
I think that European Council are very clear that there won't be any negotiations until article 50 is triggered.
"Until it becomes clear what sort of relationship the UK actually wants to have with the future European Union, it's then you can make the decisions and negotiate on those decisions after Article 50 is triggered.
Between this and then it's all speculation, but insofar as we are concerned, on the island of Ireland we want to reflect the intertwining of the economies north and south for many years and what that means, both in terms of goods and people and services and all of that area, and to maintain our trading relationships with the United Kingdom.
EU leaders wound up an all-day summit last night where UK Prime Minister Theresa May confirmed the UK would formally withdraw from the EU in March.
She added that she would prioritise the status of British citizens working in the EU as well as EU citizens in the UK.
Two-year divorce process 
Near the end of the summit, Theresa May left while the other 27 EU leaders briefly discussed the process for Britain's departure.
The leaders said in a statement they had agreed to allow European Parliament representatives into preparatory talks for Brexit, after the assembly's leader Martin Schulz warned that they could block an eventual deal if MEPs were frozen out.
The EU has rejected all negotiations until Britain officially triggers the two-year divorce process, expected in March but May said she did not feel she had been snubbed. She said:
It is right that the other leaders prepare for those negotiations as we have been preparing.
The British government separately rejected a report yesterday that its ambassador to the EU had warned that it could take up to 10 years to agree a new trade deal after Brexit.
"This is the ambassador reflecting the views of others which have been put to him," May's spokesman said.
Additional reporting by AFP.