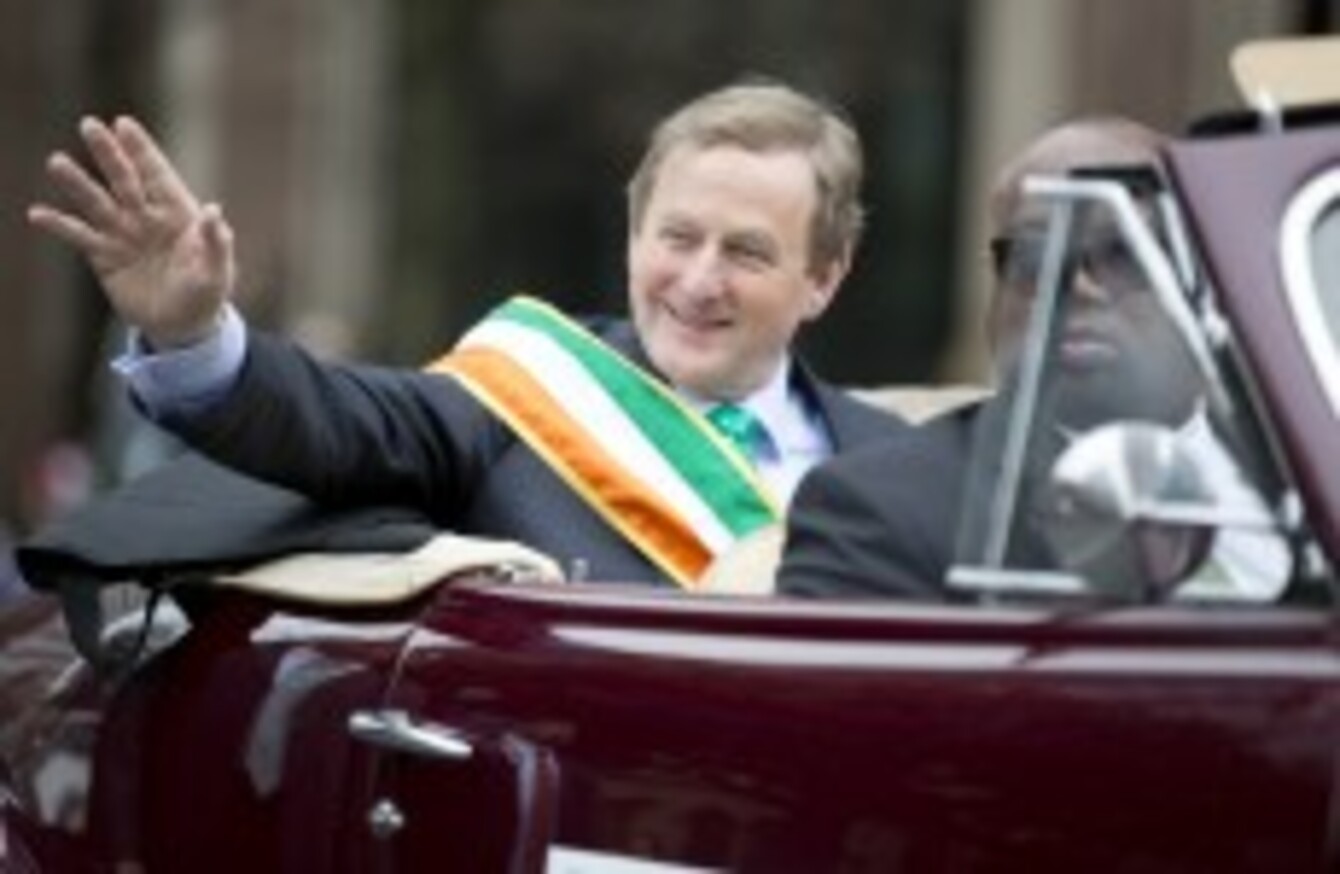 The Taoiseach travelling in a car that's not being pushed up a hill (We assume)
Image: RollingNews.ie/Merrion Street
The Taoiseach travelling in a car that's not being pushed up a hill (We assume)
Image: RollingNews.ie/Merrion Street
ENDA KENNY USED an unusual simile to describe the government's progress over the past four-and-a-half years in a speech to an audience at a Fine Gael fundraiser in Dublin this week.
The Taoiseach compared the government's work to pushing a car up a long hill in a rousing speech to attendees at the €55-a-head Fine Gael Dublin Bay South business breakfast in the Shelbourne Hotel on Wednesday morning.
Ahead of the general election, the speech touched on many of the themes Kenny and Fine Gael have sought to hammer home in recent months with much talk of "securing the recovery". As we reported earlier this week, Kenny would only tease those present about the date of that election.
Kenny pointed out that over the last four decades, Fine Gael and Labour had on several occasions had to "haul this country out of an economic swamp".
He said the challenge facing the government now was to secure that "because the future is fragile". He added:
It's like shoving the car up a long hill. You're within a hundred metres of the top and if you leave it be it will roll back.
"So we've got to put in place the opportunity for the people to say: 'You can secure it or you can take a different course.'"
'Army around ATM machines'
Kenny spoke of the perilous situation the country faced when he came to office, repeating claims he made earlier this year about warnings in 2011 that the army would have to guard ATM machines because of capital controls on banks.
He also said that the forthcoming Budget would deal with the "excessive burden of taxation on people" and would bring the marginal tax rate to below 50%.
He promised action on childcare and to address the disparity between the tax paid by the self-employed and PAYE workers, saying this would be a three year process.
Kenny said that Tuesday's Budget announcement had to be seen in the context of making a pitch to voters at the next election, saying:
I don't see this budget as being at the end of the lifetime of this government, it's the start of the next five budgets out to 2021 and that's where our task and where our challenge is.
The speech was well-received by attendees including a number of TDs and ministers as well as local business people, lawyers, accountants and local party members. The event raises as much as €15,000 with this year's money going towards the general election campaign in the Fine Gael stronghold of Dublin Bay South.
There was controversy last year after the party failed to inform guest speaker British ambassador Dominick Chilcott that the event was a fundraiser.