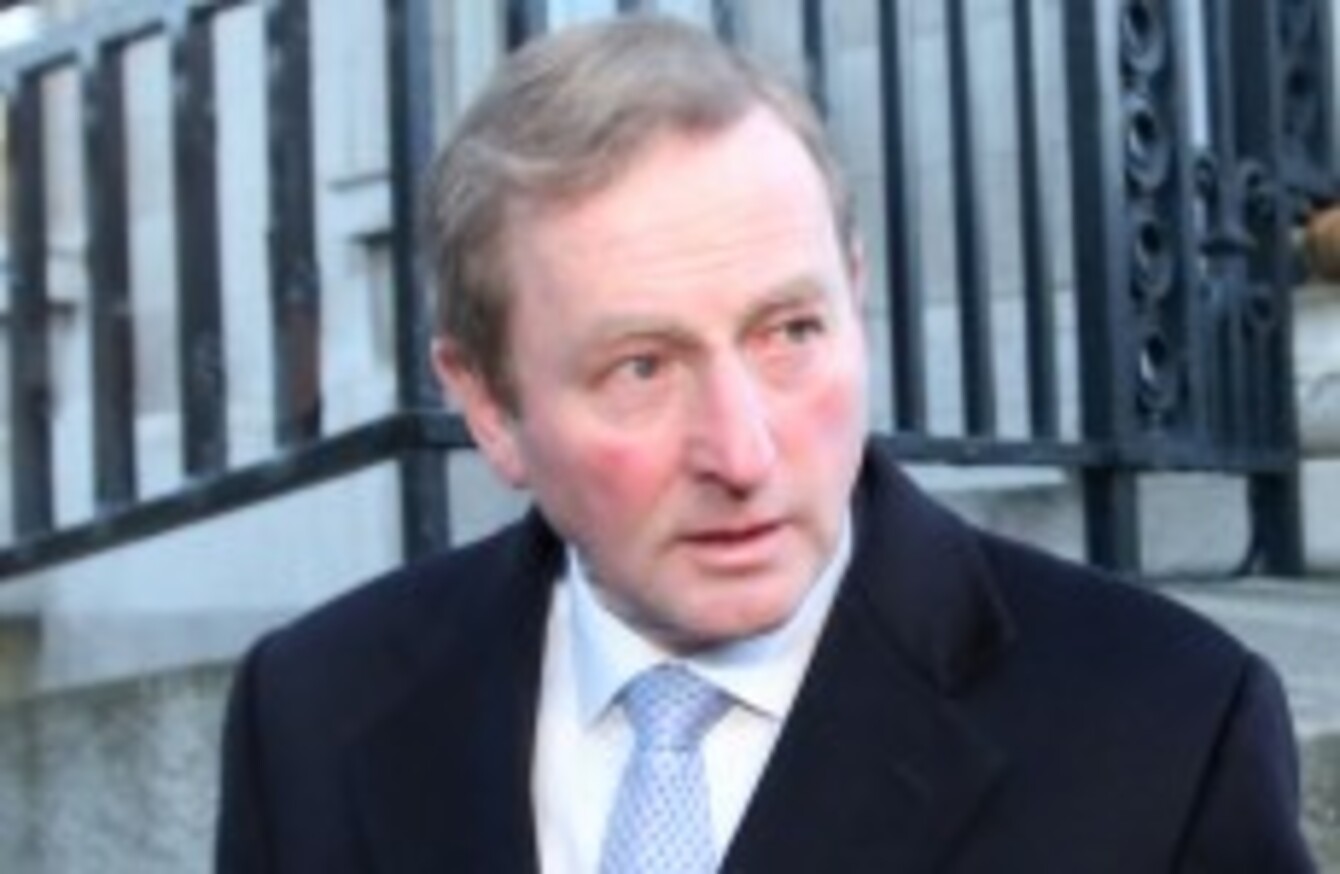 Enda Kenny
Image: Sam Boal/Photocall Ireland
Enda Kenny
Image: Sam Boal/Photocall Ireland
THE TAOISEACH'S SILENCE on the controversy surrounding Dáil privilege and comments made about Denis O'Brien's bank dealings has been criticised again this morning.
Enda Kenny has not made any public comment on the controversy since it broke late last week and Sinn Féin's Mary Lou McDonald said the Taoiseach has been "entirely silent" on the matter.
Government sources have indicated that he is reserving comment given that legal proceedings are ongoing in the High Court.
O'Brien has claimed that statements made by independent TD Catherine Murphy in the Dáil last Thursday were an abuse of privilege. Lawyers for the businessman have warned media outlets, including TheJournal.ie following our publication of Murphy's Dáil comments last Thursday, that the information is subject of an injunction.
RTÉ and other media organisations are seeking to clarify in the High Court today whether the terms of the injunction extend to Murphy's comments on the Dáil record.
McDonald told RTÉ's Morning Ireland that there had been a "virtual silence" from government over the matter and noted that Burton has only made a statement through a spokesperson.
"As a member of the Oireachtas and as a citizen I would have expected and anticipated a far more robust assertion and defence of the rights of the Dáil, and the rights of TDs, to come from those who head up government," she said.
What you haven't had is a comprehensive statement in terms of confidence in the Dáil, in terms of everyone understanding the democratic rules of engagement that sets out absolutely the prerogative and indeed the responsibility of  members of the Dáil to act in the public interest and in good faith, that will from time to time occasion the use of Dáil privilege.
"And that nobody, no big interest, no wealthy interest should seek or be allowed to seek to fetter or obstruct that in any way."
Two senior government ministers today defended the rights of TDs to speak freely in the Dáil in comments published by several newspapers.
Tánaiste Joan Burton said, through a spokesperson, that Dáil privilege is an "absolute cornerstone of our democracy".
Health Minister Leo Varadkar described parliamentary privilege as a "keystone of any democracy" while adding that it is important that politicians "do not abuse privilege".
These comments are understood to be indicative of coalition thinking on the issue. Contacted this morning by TheJournal.ie, a spokesperson for the Taoiseach referred to comments by the senior ministers and a government statement last Friday.
This statement said the Dáil would not be recalled this week despite pressure from opposition politicians, and the spokesperson added:
The Chief Whip will consult with the opposition whips at that stage on issues of concern they want debated in the House and how to facilitate such a debate.
This means the matter is likely to be debated when the Dáil returns next week.