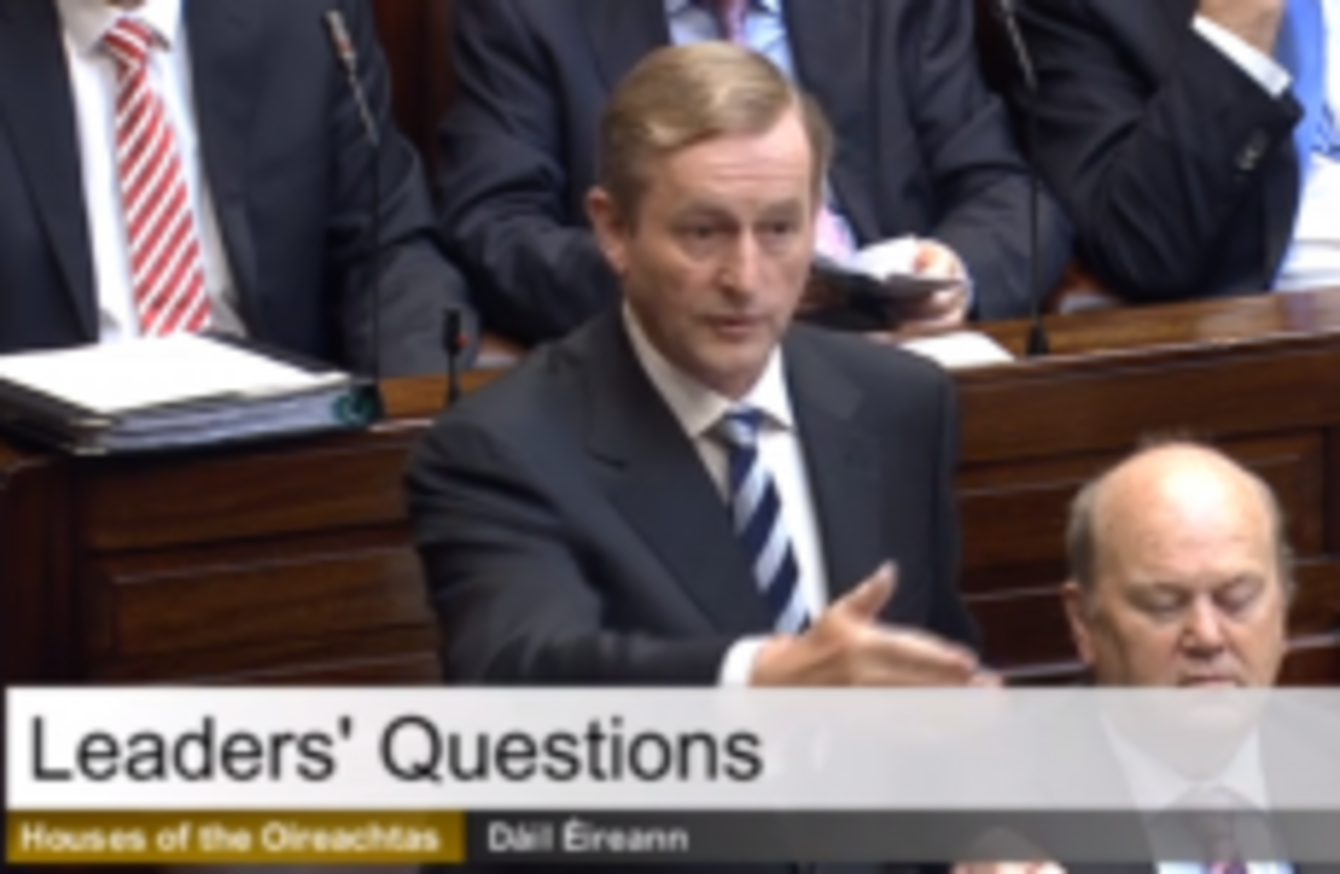 Enda Kenny in the Dáil this morning
Image: Screengrab
Enda Kenny in the Dáil this morning
Image: Screengrab
TAOISEACH ENDA KENNY has insisted that there is no change in the policy regarding the allocation of discretionary medical cards as the matter was again raised at Leaders' Questions today.
Fianna Fáil leader Micheál Martin said that there is a "consistent policy" of withdrawal of discretionary medical cards from people who are chronically ill and called on the Taoiseach to "stop what is going on".
Martin listed a number of cases where people with MS or complex illnesses have had their cards withdrawn and said: "I beg you to please listen, will you once and for all please listen."
Kenny told the Dáil that there are 22,000 fewer discretionary medical card holders but over 22,500 individuals who were previously recorded as qualifying for a discretionary card now get one because they meet the income eligibility requirements.
He insisted that there is "no change at all in the manner in which discretionary medical cards are awarded" and insisted that there is "no target set to reduce the use of medical cards".
Kenny added: "I don't accept at all your assertion that there are any changes here."
He said that he was willing to examine the list of cases presented by Martin to see how those cases measure up to the criteria laid down in order to qualify for a medical card.
"There is no change in the policy there is no change in the method of assessment," he insisted adding that there are more people who have medical cards now than at any time in the history of the State.
Sinn Féin leader Gerry Adams quizzed the Taoiseach on the Budget next week with Kenny insisting that the government's proposals would be presented "in the fairest and most equitable way that the government can".
He then launched a lengthy attack on Sinn Féin's pre-Budget proposals launched yesterday, saying the proposal to increase Capital Gains Tax to 40 per cent would "wipe this country off the international start-up market".
"You'll close it [the country] down and your party, for 30 years, never did anything substantial to help the economies north or south," Kenny said.
United Left TD Clare Daly raised the case of a woman who was illegally adopted but had her birth registered as a legal adoption. The woman's mother had spent 30 years looking for her daughter but was, Daly said, ignored by authorities.
Daly said that the pair were recently reunited but called on the Taoiseach to set up an "emergency task force" to deal with the issue of historic adoptions in this country.
Kenny said it was an " important, sensitive personal issue" and he said he was glad there has been a resolution to the case raised.
He said he would see if the Minister for Children could meet with Daly to discuss the matters raised.