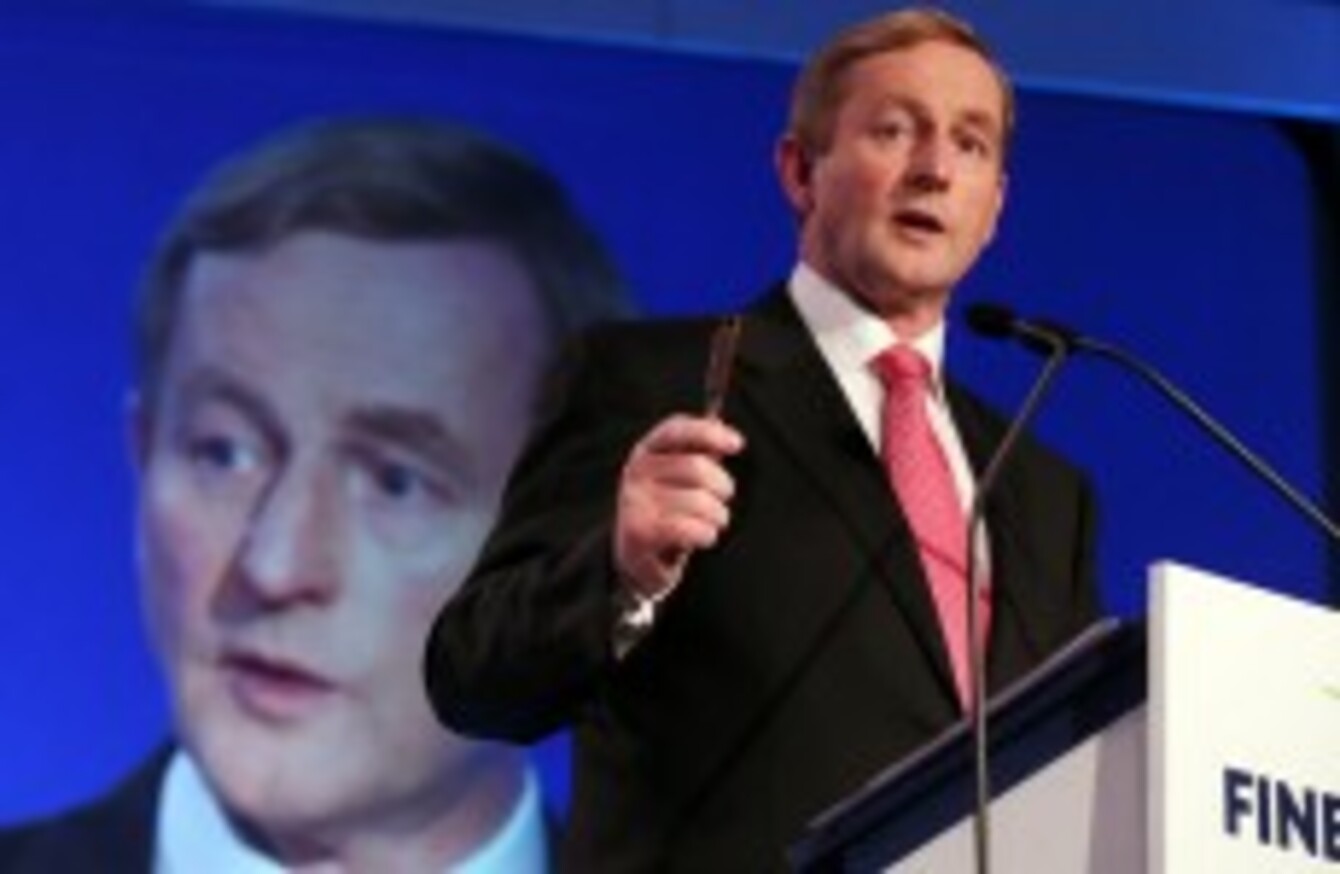 Image: Laura Hutton/Photocall Ireland
Image: Laura Hutton/Photocall Ireland
Updated 9.20pm
TAOISEACH ENDA KENNY has confirmed that Ireland will exit its EU-IMF bailout on Sunday, 15 December and has committed to widening the franchise for Seanad elections.
In a speech to the Fine Gael national conference in Limerick tonight, Kenny said that the government is to examine legislation that would allow all university graduates to vote in Seanad elections.
Though previously known, the Taoiseach himself also confirmed tonight that Ireland "is on track" to exit the bailout, saying: "Tonight I can confirm that Ireland is on track to exit the EU-IMF bailout on December 15th.
"And we won't go back. It won't mean that our financial troubles are over. Yes, there are still fragile times ahead. There's still a long way to go. But at last, the era of the bailout will be no-more.The economic emergency will be over."
The televised address went down well with the Fine Gael delegates who awarded their leader with applause throughout and a standing ovation at the end.
Loud shouting from anti-abortion protestors outside the venue was faintly audible during portions of the speech, but the Taoiseach was unperturbed.
Kenny said that the first two-and-a-half-years in government have been difficult but that progress has been made, telling delegates: "For our country it's been a backbreaking time, but it had to be."
"Despite a tough international environment, our economy has started to grow. Irish exports are at an historic high, worth over 180 billion euro," he said.

"The interest-rate on government bonds is down from 15 per cent to less than four per cent. Across the world, investors are watching Ireland and they like what they see."
He said that Ireland's reputation internationally has been "fully restored" and noted that the government's EU presidency "was a great success".
Kenny said that the government hopes to move towards "normal budgeting by 2015″ with a primary surplus – where interest is stripped out of the deficit figures – meaning that "we can start to reduce the burden of our national debt".
He said that the government has made it "very clear to banks" that "they must have reached sustainable arrangements with the vast majority of mortgage-holders in distress" by the end of next year.
The Taoiseach also acknowledged that too many people are still out of work and too many people are still emigrating.
However, he said: "But you know something, there's a change happening. Job creation is now at its highest level in five years. The Live-Register number has fallen every month for 15 consecutive months. That's progress.
"Before we came to Office, Ireland was losing 7,000 jobs a month. Now we're creating 3,000 new jobs every month. That's a wage, hope, dignity being returned to 3000 families this month, every month."
He praised Michael Noonan for the "first class negotiation job" on the promissory note deal earlier this year and said: "The promissory note is gone. Anglo/IBRC is gone.
"The result is that Ireland's borrowing requirements will be 20 billion euro less over the next ten years. And we'll save an extra €9 billion through the lower interest rates and longer maturities on our bail-out loans."
#Open journalism No news is bad news Support The Journal

Your contributions will help us continue to deliver the stories that are important to you

Support us now
He said that the government has "ended the infamous bank guarantee" and said that the banks are now "back on the markets" with deposits returning and less dependance on the European Central Bank.
Kenny said that the government's political reform agenda has seen corporate donations "effectively banned" and Dáil sitting days increased by a third with gender quotes also introduced.
He said that the Seanad referendum was honouring a "clear promise" to people but acknowledged the defeat last weekend and outlined his intention to prepare legislation to widen the franchise for Seanad elections to allow all university graduates to vote.
"The outcome is clear and we will now continue reforming the political system and ensuring that the Seanad is as effective as possible.
"I intend to discuss this with other leaders in the coming weeks and, as a small first step, I have asked that legislation be prepared to give effect to the 1979 decision of the Irish people to extend the Seanad electorate to all graduates."
On abortion, Kenny said that previous governments "steered well clear" of legislating but said he was "convinced of the need to provide clarity".
"We looked after their mothers. The Protection of Life in Pregnancy Bill bringing clarity to the professionals and comfort to expectant mothers," he said.
First published 8.30pm