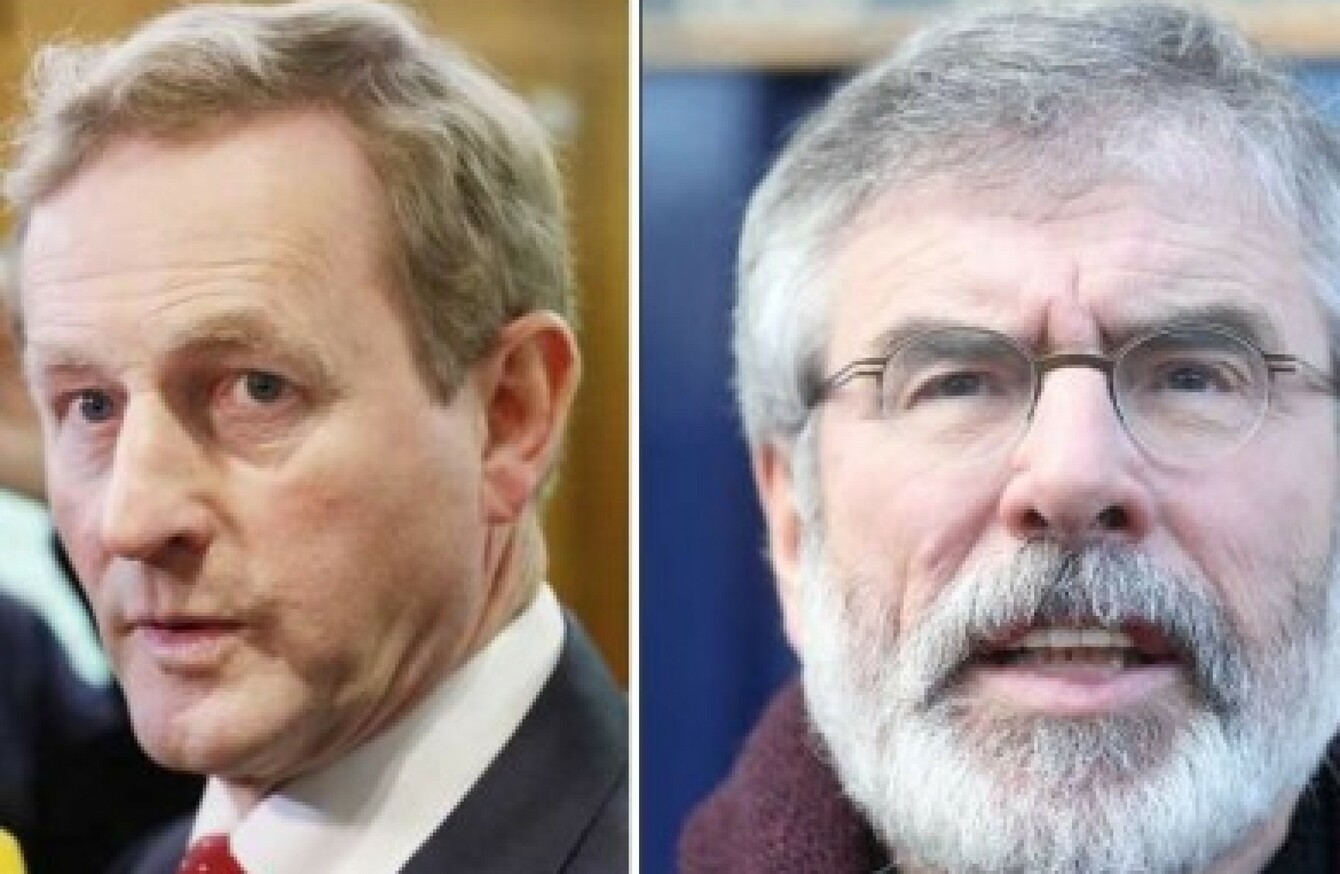 Image: Photocall Ireland/Sasko Lazarov, Sam Boal
Image: Photocall Ireland/Sasko Lazarov, Sam Boal
TAOISEACH ENDA KENNY has called on Sinn Féin leader Gerry Adams to identify a former IRA leader who met with Austin Stack to give him information about his father's murder.
Adams facilitated the meeting in 2013 when Adams and Stack were taken in a blacked-out van to meet the former IRA leader.
The man told Stack that the perpetrators of the attack were still alive and that one of them had been disciplined.
Brian Stack (48) was the chief prison officer at Portlaoise Prison when he was shot while leaving a boxing match in Dublin in 1983. The father of three died 18 months later from his injuries.
No one has ever been convicted over the attack and in recent years Stack approached Adams as part of his family's search for answers.
Stack has called on Adams to tell gardaí the identity of the former IRA leader they met and the Taoiseach has now joined those calls.
"A man was murdered, his killer is known, his killer is at large," Kenny told RTÉ's Six One News.
I would have expected that in the statement that the President of Sinn Féin made that he would have named the driver of that blacked-out van to the garda commissioner so that that could be part of a live investigation that's going on.
"The fact is the Stacks lost their father and husband. He was murdered in cold blood, he died from those injuries and his killer is known," Kenny added.
"His statement is incomplete and he should own up and say who the driver of that blacked-out van was and give that to the garda commissioner."
Adams has said that names previously provided by him to the garda commissioner in connection with the case were given to him by Stack. Austin Stack denies this.
Adams has said that the meeting he arranged between Stack and the former IRA leader was done so on the basis of confidentiality.
Speaking this evening after the Taoiseach's comments, Adams repeated this claim:
Why has the Taoiseach waited until now to make this call when a process was agreed between me and Austin and Oliver Stack that culminated in a meeting between the Stack brothers and a former IRA leader in 2013?
"At that time the Stack family thanked me for my work on their behalf," Adams added.
"We agreed before meeting that it would be on a confidential basis, and the issue was not raised again until the general election three years later."
Adams said that the process between himself and the Stacks was carried out "on the basis of trust in the absence of a proper truth recovery process. "
#Open journalism No news is bad news Support The Journal

Your contributions will help us continue to deliver the stories that are important to you

Support us now
He repeated Sinn Féin's call for such a process to be put in place.
Martin Ferris
Following yesterday's speech by Adams, Fine Gael TD Alan Farrell used Dáil privilege to call for Sinn Féin TDs Martin Ferris and Dessie Ellis to make a statement on the 1983 murder.
Ferris responded that he had "nothing to answer for" and today went on Radio Kerry to answer questions about the case.
Speaking on the Kerry Today programme, Ferris said that he had information that would be "more than politically embarrassing" to some political parties.
"There are things I could say about people in other parties and I have kept my mouth shut and will never betray people but I have kept my mouth shut… that would highly embarrass Micheál Martin and his party and others if I wish do so," Ferris said.
"I've been involved since 1969, 1970, I've been involved actively and over those years, I came into contact with an awful lot of people. I will take their confidence to my grave."