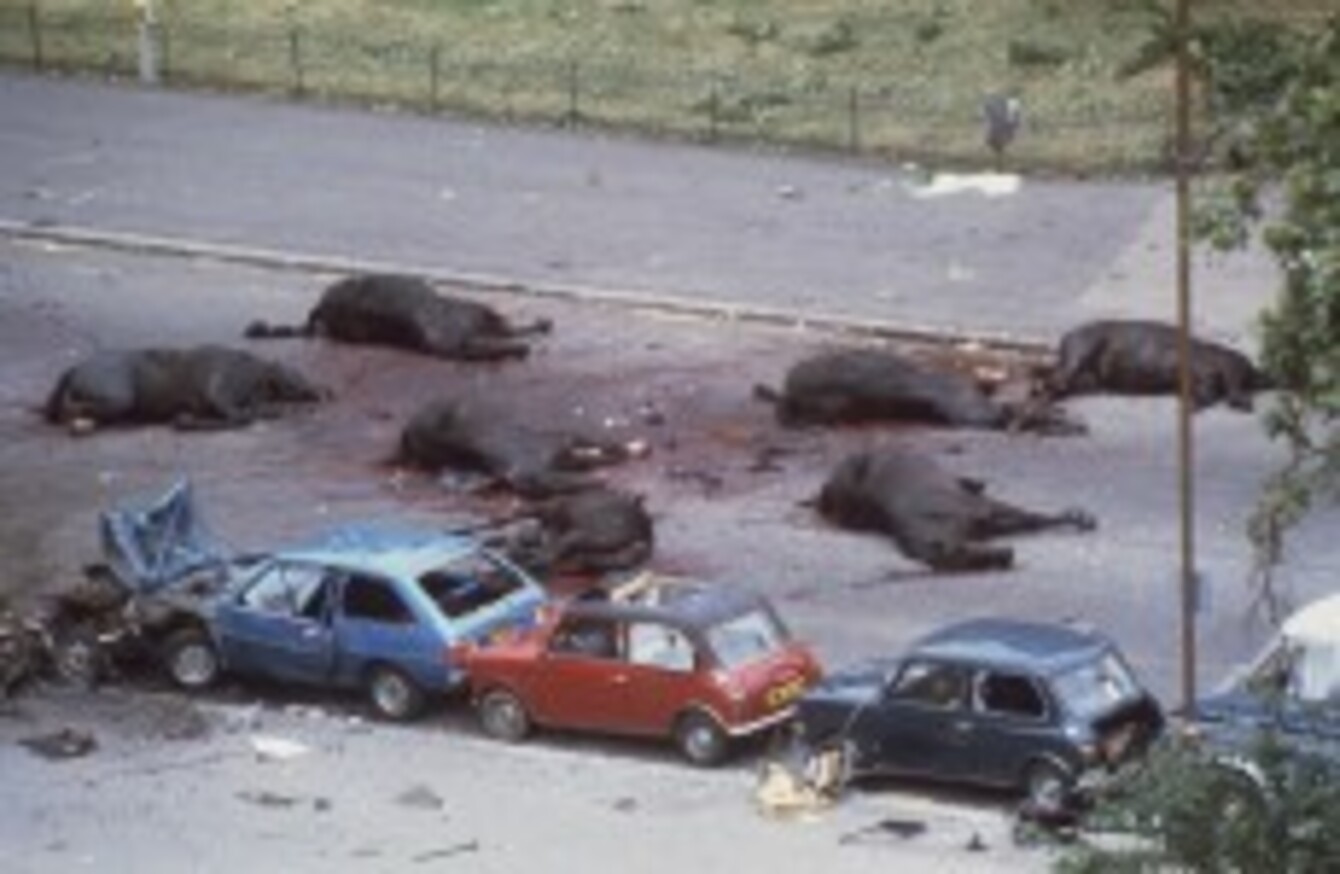 Horses lie dead after the bomb in Hyde Park in July 1982.
Image: AP Photo/Peter Kemp/File
Horses lie dead after the bomb in Hyde Park in July 1982.
Image: AP Photo/Peter Kemp/File
TAOISEACH ENDA KENNY has said that the Tánaiste and Department of Foreign Affairs were involved in the case of John Downey, the man accused of carrying out the IRA bombing in Hyde Park in 1982.
Downey walked free from court in London days ago after a judge ruled that his trial should not go ahead because of a quiet agreement by the British Government not to prosecute IRA suspects who were on the run.
The Taoiseach confirmed that the Irish government was involved in the controversial ruling, which centred around letters given to dozens of IRA suspects telling them they were no longer wanted by the police.
First Minister Peter Robinson says he was not aware of the existence of the letters and has threatened to resign unless the 187 letters are rescinded and a judicial inquiry is set up.
In a statement this afternoon, a spokesperson for the Department of Foreign Affairs said it was not involved in the process which led to the issuing of the letters .
"However, we have monitored this case very closely, including through the Embassy of Ireland in London, which provided consular assistance to Mr Downey," the spokesperson told TheJournal.ie.
"This included attendance by representatives of the Irish Embassy at court hearings relating to his case".
The Taoiseach said that the government had had to act carefully in the case.
"I think there was a degree of sensitivity surrounding the issue of the letters in the first instance [which] means we didn't want to break down a process that had been put in train, and that was understood to be in train," he said.
He said that the Assembly in Northern Ireland now had to decide how to deal with the issue.
"So I do hope that the executive and the Assembly in Northern Ireland will be able to deal with this in a pragmatic fashion, and that obviously the British government will respond in respect of its knowledge about this".
The Department of Foreign Affairs spokesperson said their thoughts were with the families of the four soldiers killed, as well as those who were seriously injured in the bomb.
Tánaiste Eamon Gilmore is due to speak to Secretary of State for Northern Ireland Terea Villiers later today and is keeping in contact with all party leaders.