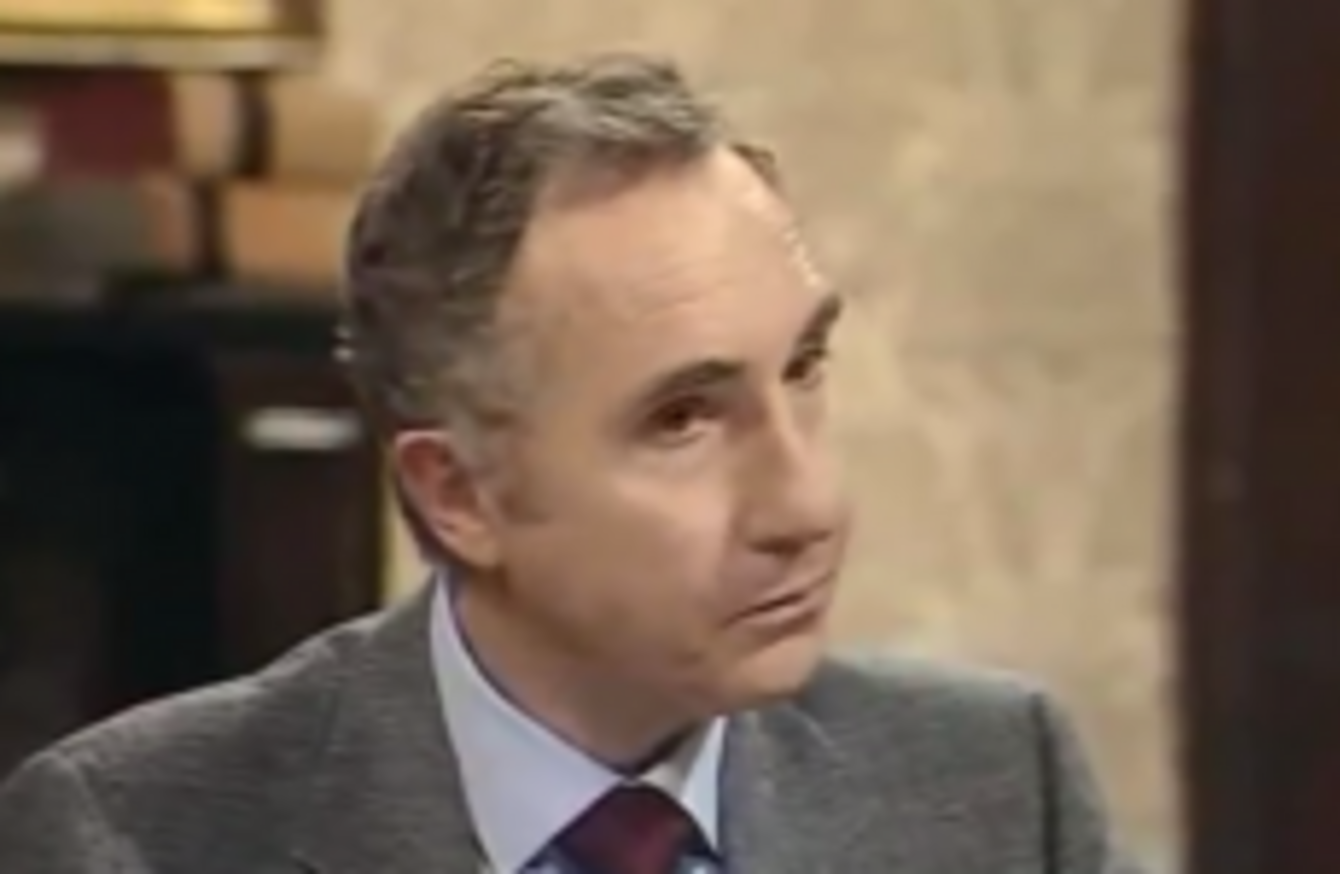 Sir Humphrey, of 'Yes, Minister'
Image: Screengrab/BBC
Sir Humphrey, of 'Yes, Minister'
Image: Screengrab/BBC
Updated at 11.45am.
ENDA KENNY TURNED his ire on the 'Sir Humpreys' the Department of Health this morning, in his latest public statement on Health Minister Leo Varadkar's performance.
It's the third remark on the subject in as many days by the Taoiseach, and comes in the wake of the release of briefing documents given to Varadkar as he took office warning that proposals to dissolve the HSE were "unworkable".
In a radio interview on Monday, the Minister re-iterated that the HSE would not be scrapped this year, as envisaged by his predecessor, James Reilly. He also said he couldn't put a deadline on when free GP care for the under-sixes would be brought in. Varadkar also plans to delay the introduction of universal health insurance.
Later that day, Kenny said at an event in Dublin that it was always easy to "produce 300 pages of recommendations as to why things can't be done".
Speaking yesterday, he said he expected Varadkar to "do his job".
"What annoyed me was that he was no sooner in the Department of Health than a very large document was placed in front of him," Kenny said, in an interview this morning with Newstalk's Pat Kenny.
"Ministers have to drive what public policy is," he said.
It's not a case of protecting a system that has not worked in the public's interest.
'A new minister'
"Leo's a new minister with a very challenging portfolio here," Kenny (Enda, not Pat) said, in what was a rare one-on-one interview for the Taoiseach.
What annoyed me was the fact that as soon as a new minister goes over to the Department, that they'd obviously been preparing for his arrival and presented him with a document of what I understand was something like 300 pages indicating what you cannot do.
"Government is about making decisions, making changes that impact on people's lives and their country for their betterment.
And what we have to do in the health area is to move to what Government policy is —which is to put in place the building blocks that Universal Health Insurance can be brought in, where you end the two-tier discriminatory system and where you place the patient as central to the health system.
Asked by the host whether he was implying that the new Minister had been "captured by his 'Sir Humphreys'"as soon as he arrived, the Taoiseach said:
Well I think that [it was the] 'Sir Humphreys', if you'd like to call it, that presented the new Minister with a very large document of why you cannot go ahead here.
"Leo Varadkar will do his job exceptionally competently I've no doubt," he said.
"He is also entitled to reflect on the range of challenges that he faces in Health, and we're going to give him every help to deal with this because it's in everybody's interests, it's in the country's interests," Kenny said, using language similar to his comments on the issue yesterday.
He is a new Minister in a very challenging Department.
Source: patrickreads/YouTube
Asked whether officials were trying to frustrate Varadkar, rather than merely saying "yes, minister," the Taoiseach replied:
"It goes beyond 'yes, minister' – ministers have to actually drive what government policy is."
#Open journalism No news is bad news Support The Journal

Your contributions will help us continue to deliver the stories that are important to you

Support us now
Other issues…
In other remarks, the Taoiseach said that there was no prospect of the coalition revisiting the issue of abortion in the lifetime of the Government.
Asked about the latest controversy over the issue, Kenny stressed that a HSE report had been commissioned "in respect of the Y case which is very sensitive".
He said the Government had had "exhaustive discussions" in advance of the introduction of last year's Protection of Life During Pregnancy Bill, which he noted was aimed at bringing in "legal clarity as to the circumstances in which a termination might be provided".
I fully understand the sensitivity of the cases that are presented with fatal foetal abnormalities and that kind of area — these are all sensitive and exceptionally personal.
"What people put into our constitution was interpreted by the Supreme Court and was not legislated for for over 20 years.
"And the Government set about to give legal clarity to those circumstances where a termination can also save the life of a baby — as happened in this case, obviously the law was not invoked at an earlier time.
The Minister has commissioned a report on that. I'd like to see the full facts before we comment further on it.
The Taoiseach was speaking in Cork as a think-in of Fine Gael TDs, senators and MEPS got under way, ahead of the new Dáil term next week.
Sinn Féin are also holding a similar event in Termonfeckin.
(Follow our Political Editor, @oconnellhugh and @TJ_Politics for the latest on the party think-ins throughout the day).