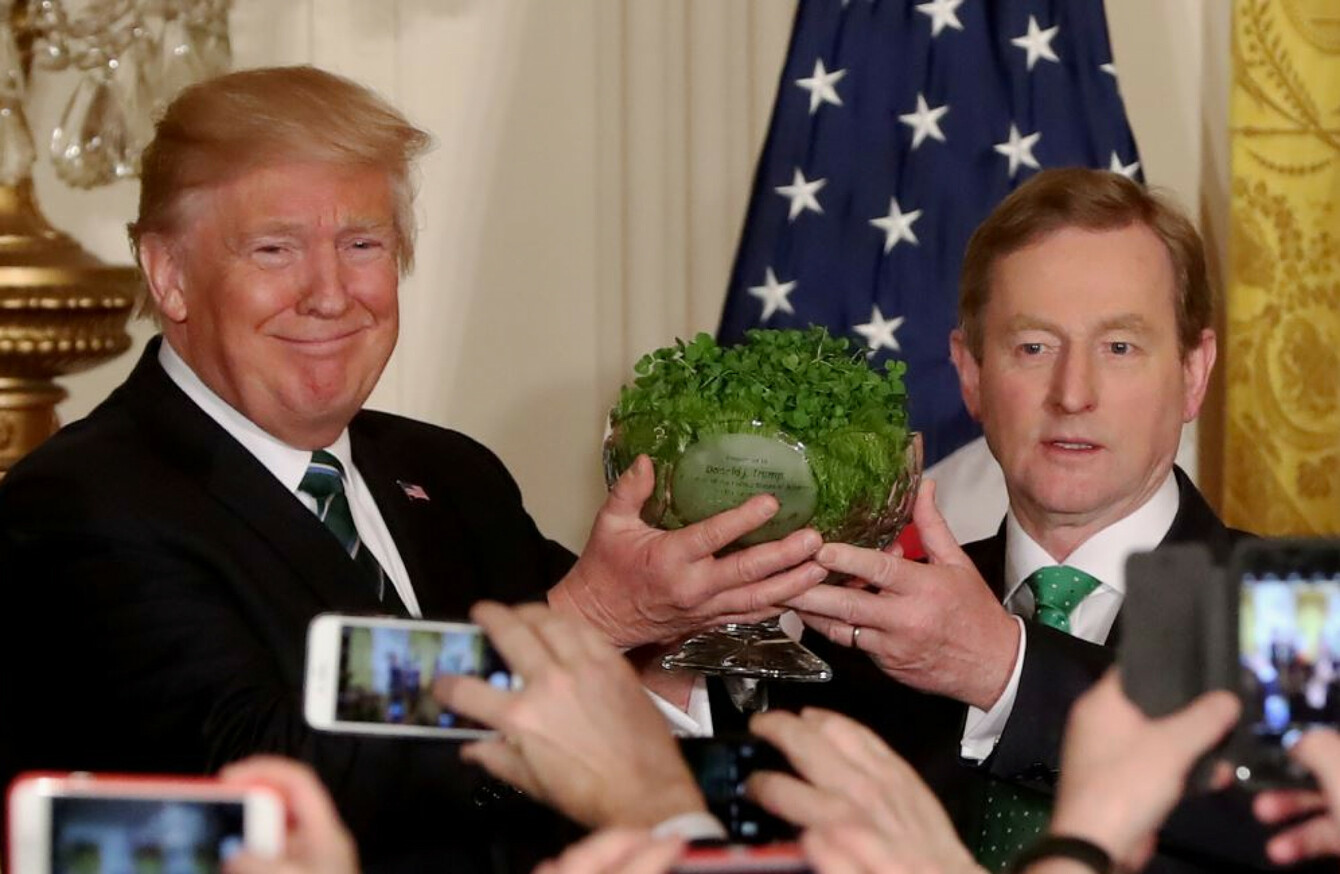 Trump and Kenny at the White House in March
Image: Niall Carson/PA Archive/PA Images
Trump and Kenny at the White House in March
Image: Niall Carson/PA Archive/PA Images
EXCHANGING GIFTS IS customary when a head of state visits Ireland, and when our Taoiseach makes a trip abroad.
Enda Kenny and Leo Varadkar welcomed a number of leaders to Ireland this year, as well as representing the country overseas on several occasions.
Documents released to TheJournal.ie under a Freedom of Information request show that the most expensive gift given by Kenny was to US President Donald Trump during the St Patrick's Day visit to the White House – a €300 shamrock bowl.
On the same visit, Trump and First Lady Melania were given a Bord Bia hamper of Irish foods (no charge), while Trump was given cufflinks worth €67.65, and Melania received a tablerunner and set of six napkins worth €134.07 and a brooch worth €35.
Their son Barron Trump (who was about to turn 11) received a copy of The Moon Spun Round, a children's book of WB Yeats' work, worth €19.95.
Other US officials who received gifts on the St Patrick's week trip included:
US Ambassador to Ireland Anne Anderson: a frame (€55)
Mayor of Boston Marty Walsh and Massachusetts Governor Charlie Baker: commemorative 1916 coin (€45 each)
Former Vice President Joe Biden: Newgrange tie tack (€33)
Karen Pence (Vice President Mike Pence's wife): a brooch (€26)
Speaker Paul Ryan; Senator Chuck Schumer; Senator Patrick Leahy; Congressman Peter King: tie tacks (€32.59 each)
The second most expensive gift given by Kenny was to Prince Charles in May – a rare copy of the book Classic Irish Houses of the Middle Size worth €275.
Kenny was also fond of giving people jerseys – Spanish Prime Minister Mariano Rajoy received a Galicia jersey (free), while former United States Ambassador to Ireland Kevin O'Malley got a Mayo jersey worth €43.05, as well as €67.65 cufflinks.
Socks for Trudeau 
On Kenny's visit to Canada in May, he gave Prime Minister Justin Trudeau cufflinks worth €67.65 and a copy of Best Loved Poems: Favourite Poems from the South of Ireland, worth €25.
By the time Trudeau returned the visit to Ireland in July, Varadkar had succeeded Kenny. The new Taoiseach gave Trudeau a framed photograph of Skellig Michael worth €198.78; a rare copy of a book of Yeats' poems worth €175; and, of course, Book of Kells socks worth €14.99.
Trudeau's wife Madame Sophie Gregoire Trudeau received a brooch worth €69.95 and a green woollen scarf worth €40. Their three-year-old son Hadrian received the same children's book about Yeats as Barron Trump.
Back in June, Varadkar welcomed British Prime Minister Theresa May and Northern Ireland First Minister Arlene Foster to Dublin. May received a Dublin Crystal vase worth €30, while Foster was presented with a print of a well-known oak tree in Enniskillen worth €140.
No gifts over the value of €650 were received by either Taoiseach between 1 January and 14 November, meaning no official record of the items had to be kept.