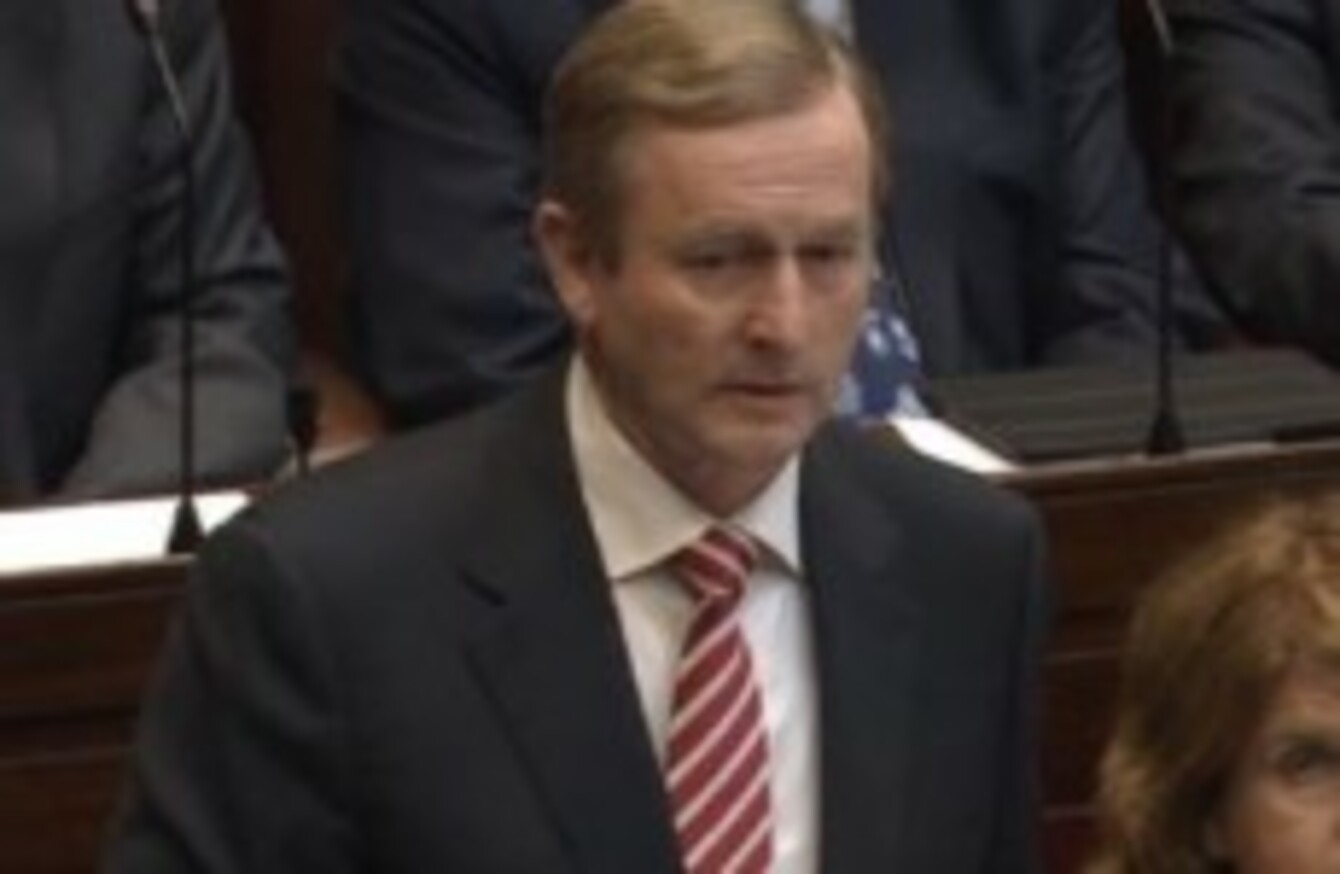 Image: Oireachtas Screengrab
Image: Oireachtas Screengrab
Updated at 4.30pm
TAOISEACH ENDA KENNY has said the Government will engage in a full consultation process with opposition parties and independent politicians as it works to establish a full Commission of Investigation into mother-and-baby homes run by religious orders.
It follows confirmation from the Children's Minister this afternoon that a wide-ranging probe will go ahead "with full statutory powers to examine all matters pertaining to mother-and-baby homes throughout the state".
Speaking in the Dáil, Enda Kenny said the investigation was being launched with a sense of sadness and a "sense of duty".
He said the Commission would examine "a period when women and particularly young women were silent and silenced".
The Taoiseach described the treatment of women in Ireland and poor women in particular as in many cases amounting to "an abomination" and said that there had been "a disturbing symbiosis" between Church and State.
"These were not the good old times that we were told about," Kenny said.
These were not times of happiness or comfort for a great number of our people.
Replying to a question from Fianna Fáil leader Micheál Martin he said the Minister for Children was "quite open to full consultation with members of the opposition".
"If this is not handled properly then Ireland's soul will lie, like the babies of so many of these mothers, in an unmarked grave.
"I think it's important that we try to get this as right as possible."
Kenny said the Government would also take on board Martin's request to set up a confidential helpline for those affected by the issue.
"It's for the stolen generations within families that we deal with this," Kenny said, adding that it was an opportunity for the country to begin dealing "with our not so glorious past".
"This is about our country, its about our people. Its not about apportioning blame in any one location."
"You can apologise to everybody, but where does it end."
He said the Government would meet with all relevant groups, including historians, in the course of carrying out the investigation.
Bethany Home
The Taoiseach also confirmed that the Bethany Home, an Evangelical Protestant mother- and-baby home in Rathgar in Dublin, would also be included in the new probe.
The former residents of the home were not including in the Government' redress scheme for resident of the Magdalene Laundries, and a number of groups had been calling for the institution to be investigated.
Answering a question from Sinn Féin leader Gerry Adams, the Taoiseach said:
It's one of a significant number of mother-and-baby homes that must be investigated.
The Commission of Investigation is expected to be established before the summer recess, and will be informed by the ongoing interdepartmental review being carried out across a number of government offices, which is expected to conclude this month.
At a press conference on the announcement, Children's Minister Charlie Flanagan said said he was "anxious" for the Commission to begin its work before the summer recess.
First posted at 3.50pm