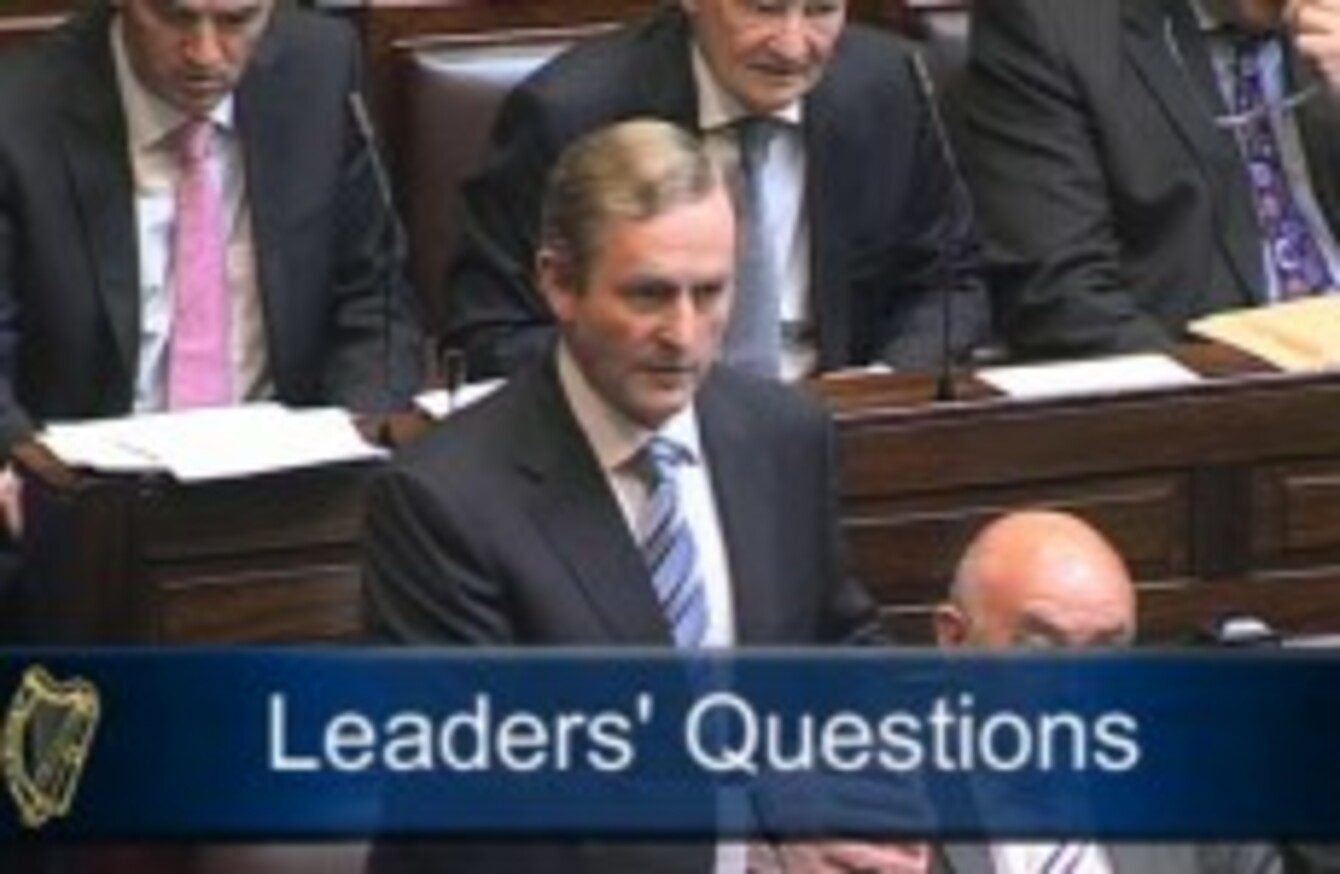 Enda Kenny speaking during Leader's Questions today.
Image: (Screengrab/Oireachtas TV)
Enda Kenny speaking during Leader's Questions today.
Image: (Screengrab/Oireachtas TV)
TAOISEACH ENDA KENNY stated during Leader's Questions today that some of the Magdalene Laundry women do not have time on their side and urged the religious orders to make a monetary contribution to the compensation scheme.
However, he added that he could not "force" the religious orders into making a contribution.
Paying their fair share
Sinn Fein's Gerry Adams asked the Taoiseach how the government were going to ensure that the religious orders were going to pay their "fair share" into the scheme. Kenny replied:
For over 60 years, nothing was done about this, nothing. Government after government, my own party included did nothing about this. Now we've done something about this.
He said that when he met the women from the Magdalene Laundries, what they wanted was the state to apologise and they wanted a system that was non-litigious and that would be quick and efficient.
He said he believed the system that is in place was the solution, but added that they can't complete the scheme without the help from the religious orders as they have all the records about who worked, attended and lived in the laundries. He added:
This agreement was not contingent of fifty-fifty or forced contribution from the religious orders. I would like to think that the religious orders would make a contribution here, but I can't force them to – this scheme was not designed on that basis.
Magdalene women
He said he was told by the women of the Magdalene Laundries that they didn't want tribunals,  "million dollar lawyers" or long term discussions.
I would say to the religious orders that we can't complete this without the help from the religious orders, in terms of the records and all of that, and I would ask them to reflect on making a monetary contribution here. I can't force them to do that.
He added that he also could not take away their charitable status. He also stated that he would not be going down the "legal route in a confrontational manner" with the religious orders.
In replying to the Taoiseach on the government's position on the matter, Gerry Adams urged Enda Kenny to publish the letters from the religious orders that stated they would not pay into the scheme.
"This is about accountability," said Adams, adding that the Taoiseach should demand the religious orders make a contribution as they "benefitted from the enslavement of women for their own commercial enterprises".