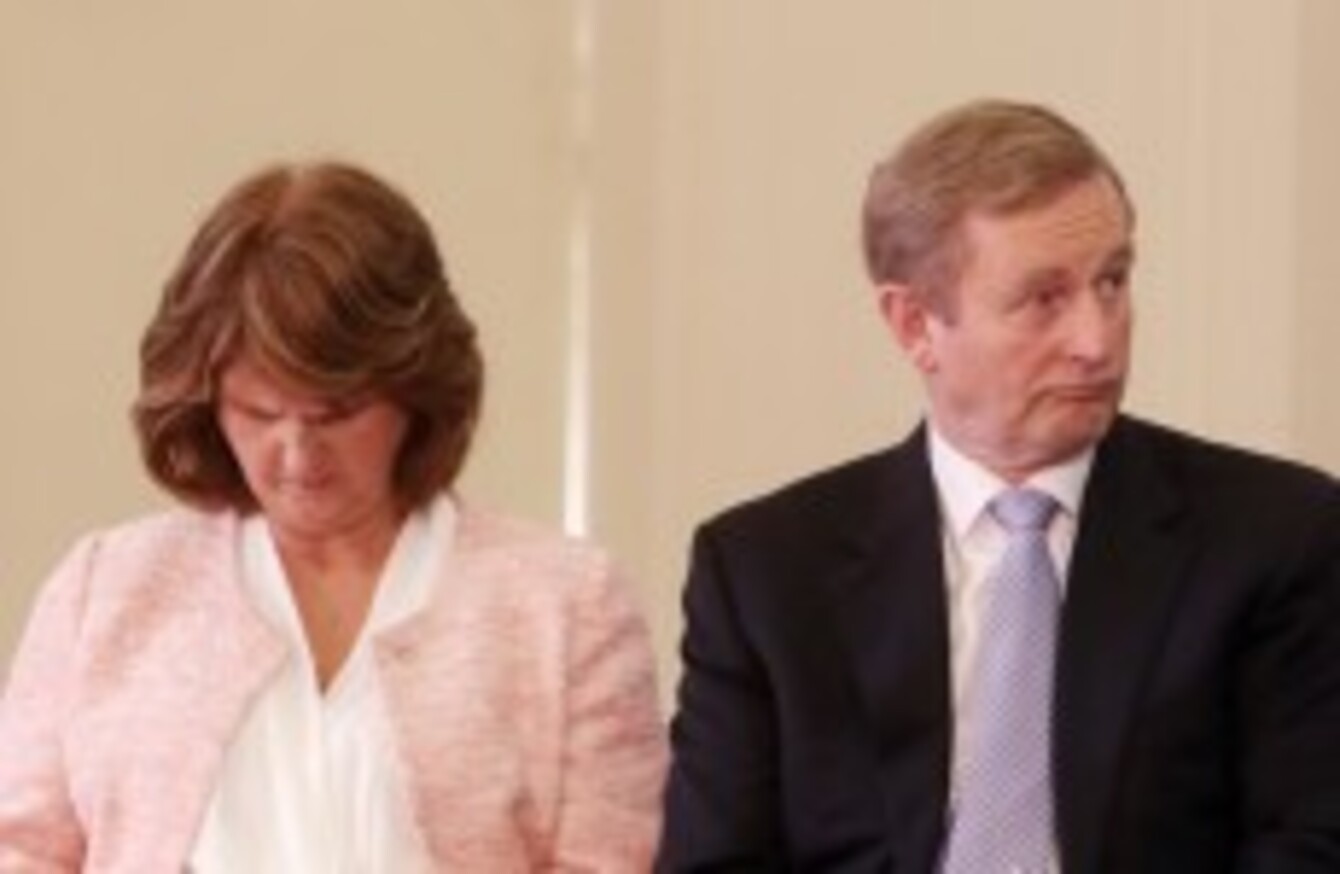 Joan Burton and Enda Kenny at a 1916 event in Dublin today
Image: Sam Boal/RollingNews.ie
Joan Burton and Enda Kenny at a 1916 event in Dublin today
Image: Sam Boal/RollingNews.ie
ALL ANYONE IN Leinster House can talk about this week is when the general election is going to be held.
"Are you November or February?" is pretty much how every conversation begins in the corridors.
Nervous politicians wonder if journalists have the inside track and vice versa. Those long enough at this game know there is no inside track, unless you can get into the mind of Enda Kenny.
This flurry of speculation was sparked by Kenny refusing to rule out an early election on Monday. Until then the Taoiseach had repeatedly stated that the election would be in "early 2016″.
Then all of sudden, at the opening of a power plant in his constituency, he was repeatedly unable to answer questions about the country going to the polls before Christmas.
On Tuesday he stonewalled questions in the Dáil, on Wednesday he teased a crowd of Fine Gael members at a fundraiser in the Shelbourne Hotel, teased journalists at a jobs event, then did some more stonewalling in the Dáil.
Today, he told reporters that he'd said all he had to say on the subject with this brief remark:
I've made my comments about that. Now, thank you very much.
But the significance of today's Irish Times lead story – 'November election looms as Kenny to reveal key pledge' – should not be underestimated.
It was written by the respected and experienced political editor Stephen Collins who is not one for getting ahead of himself.
If Collins is writing that Kenny is "leaning strongly towards calling a November general election" then it's a fair bet that that's exactly what is happening.
But the truth remains, as we wrote last week, that Kenny probably hasn't made his mind up one way or the other yet.
All the while politicians in Labour are becoming increasingly uneasy with the early election chat, not least leader Joan Burton. Last night she heard various members of her parliamentary party call for the government to go full-term and into early 2016.
The Tánaiste has repeatedly made clear that her preference is for an election next year . Over the last 36 hours she has indicated there have been assurances from Kenny to this effect. Except for one remark yesterday where she said there were "no guarantees".
Today Burton said her party intended to stay the course as she insisted she'd never been "a quitter". But the truth is that Burton's "no guarantees" comments are probably the most accurate overview of the situation.
The reality is that it is the Taoiseach's sole decision as to when he pays a visit to Michael D Higgins in Áras an Uachtaráin and asks him to dissolve the Dáil.
All the assurances in the world will not stop the Fine Gael leader, a ruthless political operator when he wants to be, from throwing Labour and Burton under the bus.
All logic and reason – the banking inquiry, various important pieces of legislation still to pass, and the Seanad by-election on 13 November – point to the general election not taking place until next year.
But this endless speculation threatens to make an early election a self-fulfilling prophecy whereby everyone, including Kenny, talks their way into the polling booth late next month.