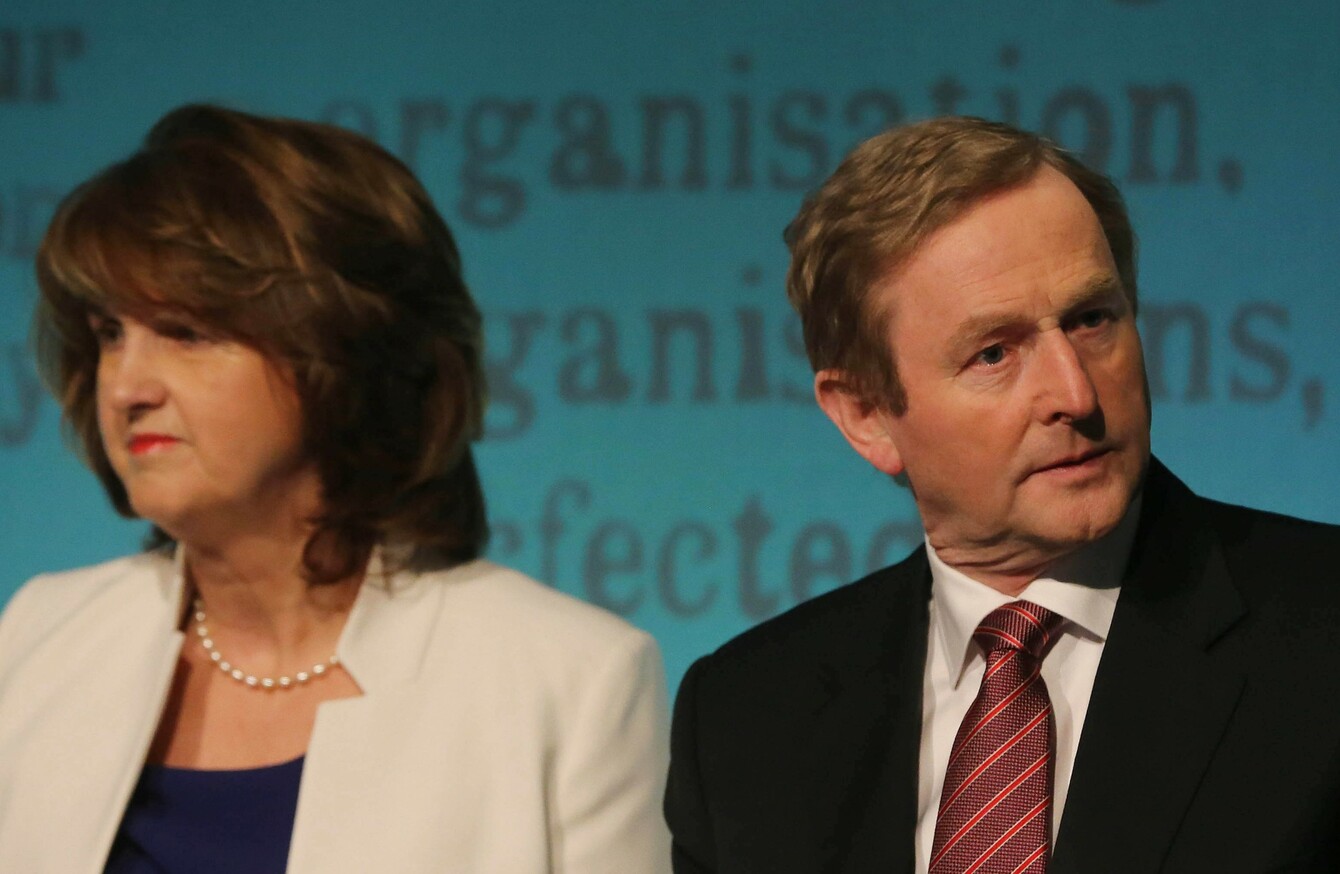 Image: Niall Carson
Image: Niall Carson
TAOISEACH ENDA KENNY was quizzed on his staff and their salaries by his former Government partner Joan Burton.
The question came months after it emerged that in January of this year – before the election and the formation of the new partnership government – three members of the Taoiseach's backroom staff were earning salaries above the €92,672 pay cap.
In a parliamentary question this month, Labour's Burton quizzed Kenny on the current make-up of his staff and what they are paid.
Kenny said that the following are the political staff employed in his private and constituency offices:
Mark Kennelly: Chief of Staff €156,380 – Dublin
Angela Flanagan: Special Adviser €87,258 – Dublin
Paul O'Brien: Special Adviser €87,258 – Dublin
Sarah Moran: Personal Assistant €77,275 – Dublin
Miriam O'Callaghan: Personal Assistant €72,546 – Dublin
Gerard Deere: Personal Assistant €68,293 – Castlebar
Teresa Diskin: Personal Assistant €68,293 – Castlebar
Marian Irwin: Personal Assistant €65,000 – Castlebar
John Lohan: Personal Assistant €55,415 – Dublin
AnnMarie Durcan: Personal Secretary €46,315 – Dublin
Tommy English: Personal Secretary €37,588 – Dublin
All of the above staff are on contracts, said the Taoiseach.
In addition, he employs two assistant principal officers in Dublin, one higher executive officer in Dublin, two executive officers in Dublin, and seven clerical officers in Dublin.
In comparison, in January of this year here's what the Taoiseach's 17 staff were paid during the previous Fine Gael-Labour coalition:
During the previous government Joan Burton had one Chief of Staff, three advisers, one press officer, one personal assistant, one personal secretary, and one "correspondence coordinator", whose total wage bill came to €592,187.
Mark Kennelly, the Taoiseach's long-running right-hand man, has worked with the Fine Gael party over the last 25 years, having previously advised Michael Lowry in 1995/1996 when the Tipperary man held the position of Minister for Transport, Energy and Communications. He was first appointed Chief of Staff in 2001. He is the highest-paid special adviser in government.
Paul O'Brien was also hired by Kenny in 2011. He had previously been a policy advisor at Fine Gael HQ. Meanwhile, Angela Flanagan is yet another Fine Gael policy adviser who was brought into Kenny's inner circle in 2011.
Kenny has also established a Parliamentary Liaison Unit "to facilitate the enhanced relationship between the Government and the Oireachtas with a view to ensuring the timely implementation of the Government's legislative programme".