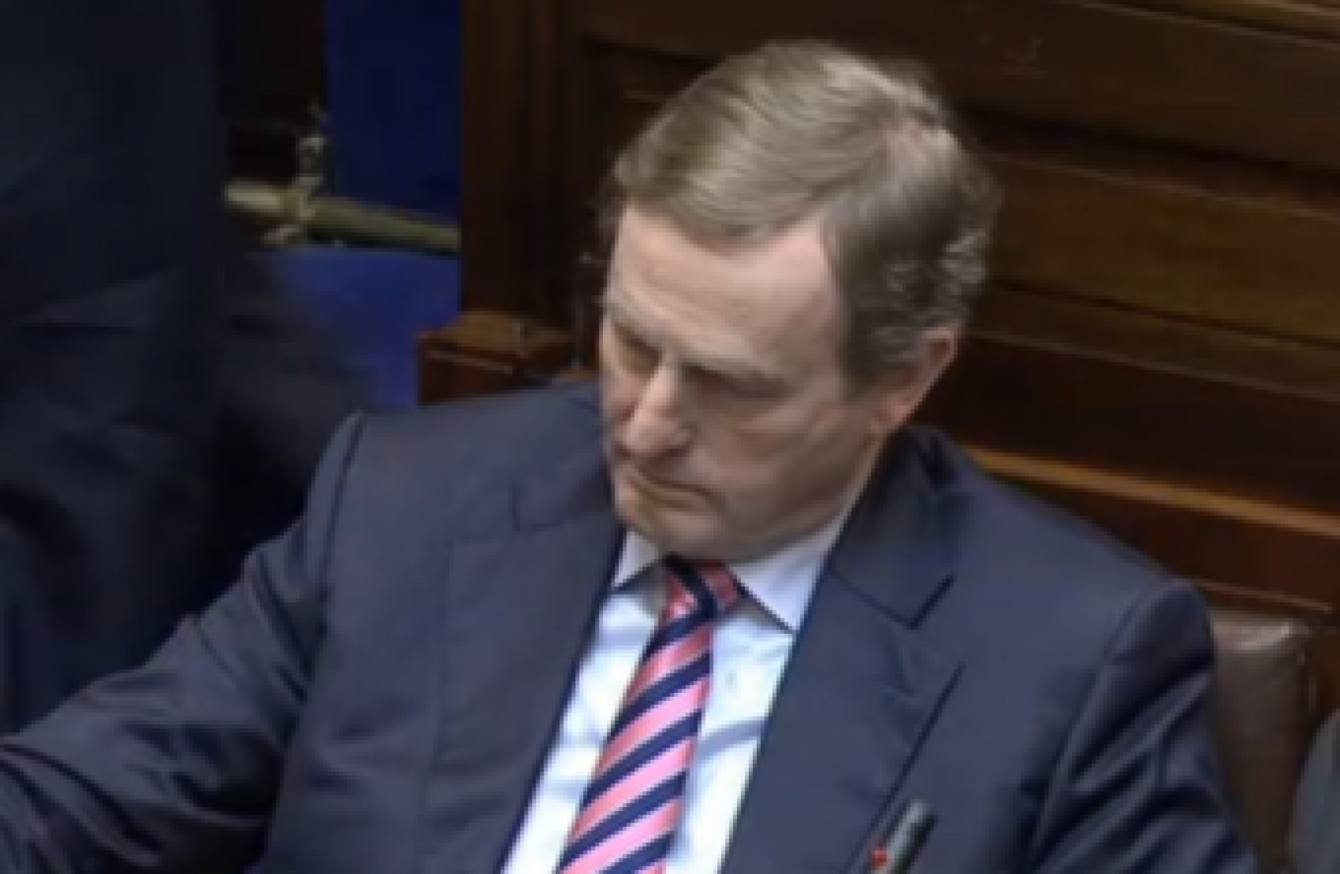 Enda Kenny in the Dáil this afternoon
Image: Oireachtas TV
Enda Kenny in the Dáil this afternoon
Image: Oireachtas TV
Updated 10.35pm 
ENDA KENNY HAS has resigned as Taoiseach after the Dáil failed to re-elect him or anyone else as Taoiseach this afternoon.
Despite the resignation, Kenny will continue as an acting Taoiseach until such time as he is re-elected or a successor is found.
The Fine Gael leader failed to win the confidence of TDs in a vote this afternoon after he was proposed for re-election by Fine Gael's new TD Noel Rock.
This evening, the Taoiseach's office confirmed that Kenny conveyed his resignation to President Michael D Higgins.
Efforts to elect Micheál Martin, Gerry Adams and Richard Boyd-Barrett to head the next government were also defeated.
The proposal to re-elect Kenny was defeated by 94 votes to 57, with seven Labour TDs joining Fine Gael deputies in supporting Kenny. Six TDs abstained.
A proposal to make Fianna Fáil's Micheál Martin the next Taoiseach was also defeated by 108 votes to 43, with abstentions from independent TDs Denis Naughten, Mattie McGrath, Noel Grealish, Michael Collins and Michael Harty.
The vote to elect Sinn Féin's Gerry Adams as Taoiseach was defeated by 116 to 24 with 16 abstentions, while a proposal to make AAA-PBP's Richard Boyd Barrett was also defeated by 111 votes to 9.
With none of the four nominees elected Taoiseach, no government can be formed and Kenny will now tender his resignation to President Michael D Higgins later.
Speaking in the Dáil following the four votes, Kenny confirmed he will resign as Taoiseach in accordance with his constitutional obligation.
He remains on as caretaker Taoiseach, heading a caretaker government, until a new government is formed. Kenny confirmed he will continue to fulfil his obligations as Taoiseach, including travelling the United States for St Patrick's Day next week.
We did not get everything right over the past five years, nor we were able to achieve everything we hoped to.
Kenny said he is committed to working so that "the people get the government they need and deserve and that they have given their verdict upon".
"It seems to me, from many of the contributions, as if a substantial number of people do not want to serve in government," he said, adding:
Those of us who accept the responsibilities of the mandate given have a duty to face up to those responsibilities and deal with them in the best way.
The process of forming a government is expected to take a number of weeks but may not yield a government at the end of it.
'Do not let the Irish people down'
Prior to the votes, a lengthy Dáil debate heard several speakers urging Fine Gael and Fianna Fáil to go into government together.
Among them was Labour leader and outgoing Tánaiste Joan Burton who urged Fianna Fáil and its leader Micheál Martin to do what her party did five years ago and put the national interest before party.
"Even though Fianna Fáil presided over and created the crash, I believe there is an onus on that party to step up to the plate and seek to remedy their wrongs," she said.
In 2011, the Labour Party didn't stand idly by in our own best interests. We stood by the Republic. Fianna Fail should do likewise now.
She said that Labour, with its seven TDs, will provide "principled responsible opposition".
#Open journalism No news is bad news Support The Journal

Your contributions will help us continue to deliver the stories that are important to you

Support us now
Her colleague Brendan Howlin called for parties in a position to form a government to do so.
Green Party leader Eamon Ryan told the Dáil how his two grandparents hated each other's politics "but they got into bed together for 50 odd years and it seemed to work".

Sinn Féin's Pearse Doherty said that Enda Kenny "betrayed" the mandate he received at the last election.
The Donegal TD was heavily critical of the discussion around Dáil reform in recent days, saying this was not an issue raised on the doorsteps during the election
The Independent Alliance leader Shane Ross said that the grouping would not support any nominee for Taoiseach but will "enthusiastically" support those who embrace the alliance's charter for change.
"You cannot simply unite to block radical reform in this country," he said.
Newly-elected independent Danny Healy-Rae said the two largest parties had to form a government and "give over the posturing because time is slipping by".
The people voted, the people have spoken and it's up to the parties to throw away the past, the future is what we want for today.
More to follow…