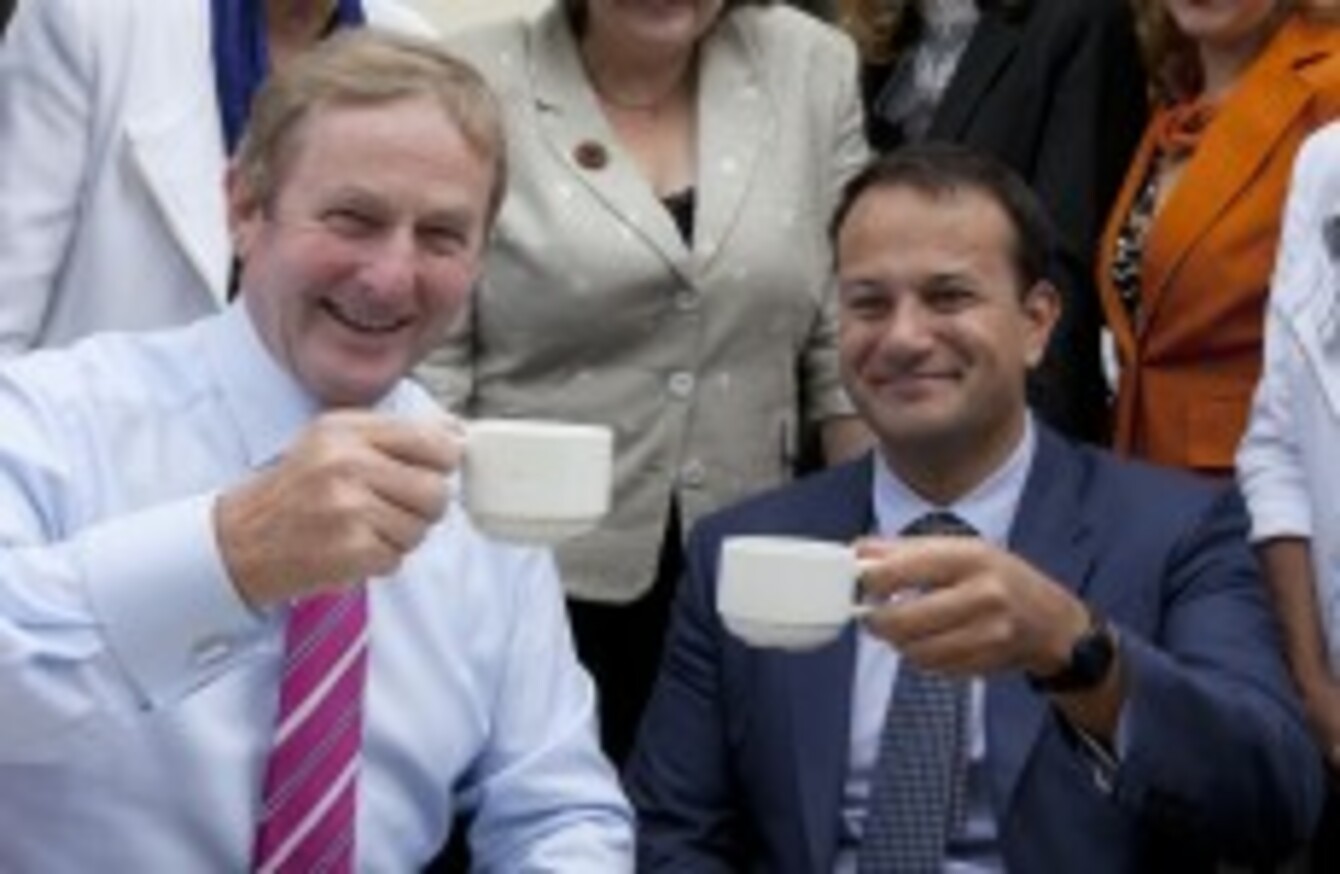 Taoiseach Enda Kenny and Minister for Health Leo Varadkar make up over a cuppa during a coffee break during day two of the annual Fine Gael Think-In.
Image: Eamonn Farrell/Photocall Ireland
Taoiseach Enda Kenny and Minister for Health Leo Varadkar make up over a cuppa during a coffee break during day two of the annual Fine Gael Think-In.
Image: Eamonn Farrell/Photocall Ireland
ENDA KENNY HAS been attempting to put an end to a week of media focus on apparent differences between the Taoiseach and his health minister, Leo Varadkar, on health policy.
"People want to make public rows about speculation about politics," he said, later noting that such speculation was "normal procedure".
It follows days of public pronouncements from the two men about plans for the Department, and follows another revelation about the Health budget this morning in the Irish Times.
The newspaper reports how Department officials, in their confidential submission on the Government's review of expenditure, warn that almost 300 beds could be closed and thousands of operations cancelled if cuts of several hundred million euro are brought in.
Responding to the report, the Taoiseach said that the Minister for Public Expenditure, Brendan Howlin, had written to all Departments asking them to outline all the options they had to consider "to meet the ceiling of expenditure that we have put in".
The Taoiseach was speaking in an interview on RTÉ's Morning Ireland, which was broadcasting from Cork this morning as Fine Gael continued it's 'think-in' party conference.
Enda versus Leo 
The Taoiseach has issued a number of public rebukes to Varadkar in recent days, in the wake of the publication at the weekend of briefing documents provided to the Minister by officials, and a radio interview on Monday in which he speculated about possible tax cuts in the Budget.
In the documents, uploaded to the Department of Health website last Friday, civil servants warned that Government plans to dissolve the HSE were "unworkable".
The Minister later re-iterated that the HSE would not be scrapped this year, as envisaged by his predecessor, James Reilly. Varadkar also said he couldn't put a deadline on when free GP care for the under-sixes would be brought in.
He also plans to delay the introduction of universal health insurance.
Source: PA Wire/Press Association Images — Leo Varadkar
This was met with a number of remarks by the Taoiseach at press events in the following days, in which he opined that it was always easy to produce hundreds of pages of documents of "why things can't be done".
He also said that he expected Varadkar to "do his job" — and in an interview with Pat Kenny rounded on the 'Sir Humphreys' in the Department.
Again this morning, Kenny complained that as as soon as the new Minister took office "obviously the first document he was presented with was what he cannot do".
And, regarding plans for the Department, he insisted:
There's a coherence to the plan the Government have here and that is to move to a system of universal health insurance, where every person is central to the system and where their medical needs are based on their medical requirements.
#Open journalism No news is bad news Support The Journal

Your contributions will help us continue to deliver the stories that are important to you

Support us now
Later, he said:
"We must continue to reform and keep our patients central to the health system.
I expect Leo Varadkar, as the new Minister for Health, will oversee that programme to get the best options and the best results, both for a changed health system and for better care and services for our patients.
Speaking yesterday, Varadkar said he didn't mind being "slapped down or scolded".
"I'm a big boy and I am willing to take a degree of criticism from time to time. But at the same time this isn't about me, it's not about my dignity, it's not about my ego.
 It's about frontline staff and it's about patients and it's about our health services which affect all of us and I think everyone in government needs to get behind our health services.
The party will be keen to move on from the row as its think-in continues today in Fota.
(Follow our Political Editor, @oconnellhugh and @TJ_Politics for the latest from the think-in throughout the day).