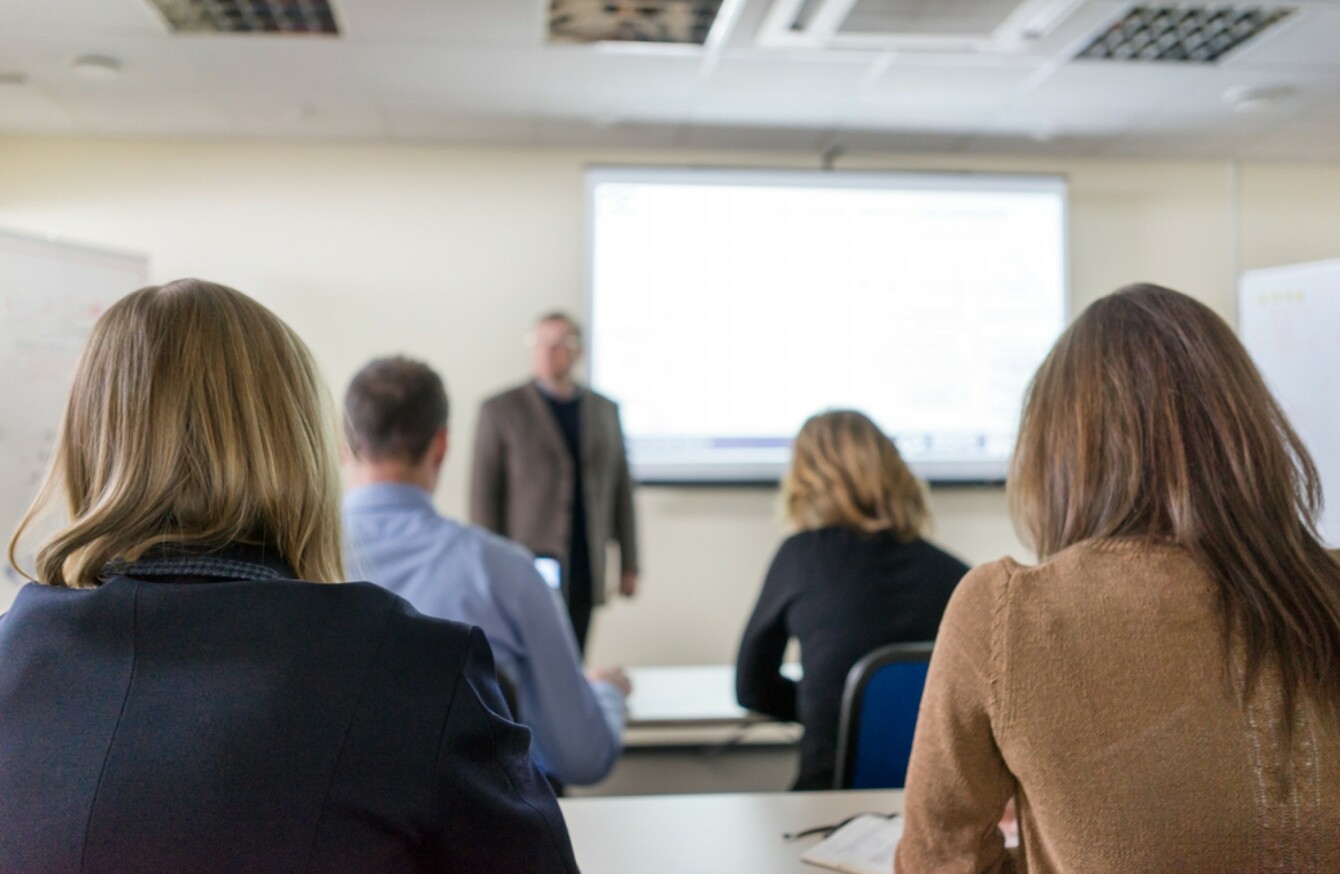 Image: Shutterstock/Elena11
Image: Shutterstock/Elena11
ENGLISH LANGUAGE SCHOOL teachers gathered outside the Department of Education on Wednesday to focus attention on the lack of regulation in their industry.
Teachers say that zero-hour contracts or no contracts at all are common in the sector, and that there's great differences in their rates of pay.
Despite requests from unions, the government has refused previous requests to meet with representatives of English Language Teachers, as they are employees of privately run companies.
Many of these companies provide government-accredited English classes that form part of Ireland's visa process.
In 2014 and 2015, a dozen English language schools closed suddenly, leaving students who had already enrolled and paid for the classes stranded.
It prompted the government to introduce new regulations in an effort to stem the flow of closing schools.
At this week's protest, teachers spoke to TheJournal.ie about the fear in the industry to speak about their rights as employees in what is already uncertain employment.
The most common problems, according to teaches and union representatives who spoke at the event, are 'bogus self-employment', different rates of pay, a lack of job certainty and no pay for sick days, holidays, or preparations for lessons.
"There are rules for what teachers must provide for students," one teacher said, "But nothing about what schools must give teachers."
Another teacher said that the rate of pay he's received over the past three and a half years varied from €12 – €22 an hour.
"That might seem fine," he said, "But that's a 40 hour week to get those figures, where as the maximum public sector teachers work is a 22 hour week."
Keith Murdiff, the chair of the newly-formed Unite ELT branch, says that he believes the reason the government has refused to meet with English Language Teachers up until now is because they 'haven't been organised'.
"I've worked full-time as an English Language Teacher for 10 years. Yet I have no sick pay entitlement, paternity leave or holiday pay.
"As a father, I worry every day that if my children got sick, I couldn't afford time off to take care of them.
Banks and lenders laugh at you when you explain the vagaries of your contract. I'm proud to be an ELT, and I love my job. I just want to be treated like every other worker.
#Open journalism No news is bad news Support The Journal

Your contributions will help us continue to deliver the stories that are important to you

Support us now
In a statement to TheJournal.ie, the Department of Education said the reason they would not meet with English teachers is because it is out of the government's remit:
"The majority of English language schools in Ireland are privately run. The relationship between teachers and private providers of education is based on a private contract, and issues relating to working conditions are a matter between the two parties and do not come under the remit of the Department of Education and Skills.
"If teachers working in the English language sector have a concern about their terms and conditions of employment they should contact the Workplace Relations Commission which offer a range of services to employees, including mediation, adjudication and inspection.
"This has previously been communicated to Unite by the Department."
The Department said that an amendment is due before an Oireachtas Committee in relation to the introduction of the International Education Mark (IEM), which would regulate the industry further.
This would, according to the Department, "include a requirement that all obligations concerning national employment legislation are complied with by education and training providers seeking to access the Mark".
Most teachers TheJournal.ie spoke to on Wednesday said that they didn't think they would stay as an English teacher for long, but would consider it as a more viable option if better working conditions and job certainty was guaranteed.
"Nobody stays in this industry for long because of the uncertainty," one teacher said. "The banks won't touch you. It's something people do in between jobs, or before going travelling because of the working conditions in the industry."