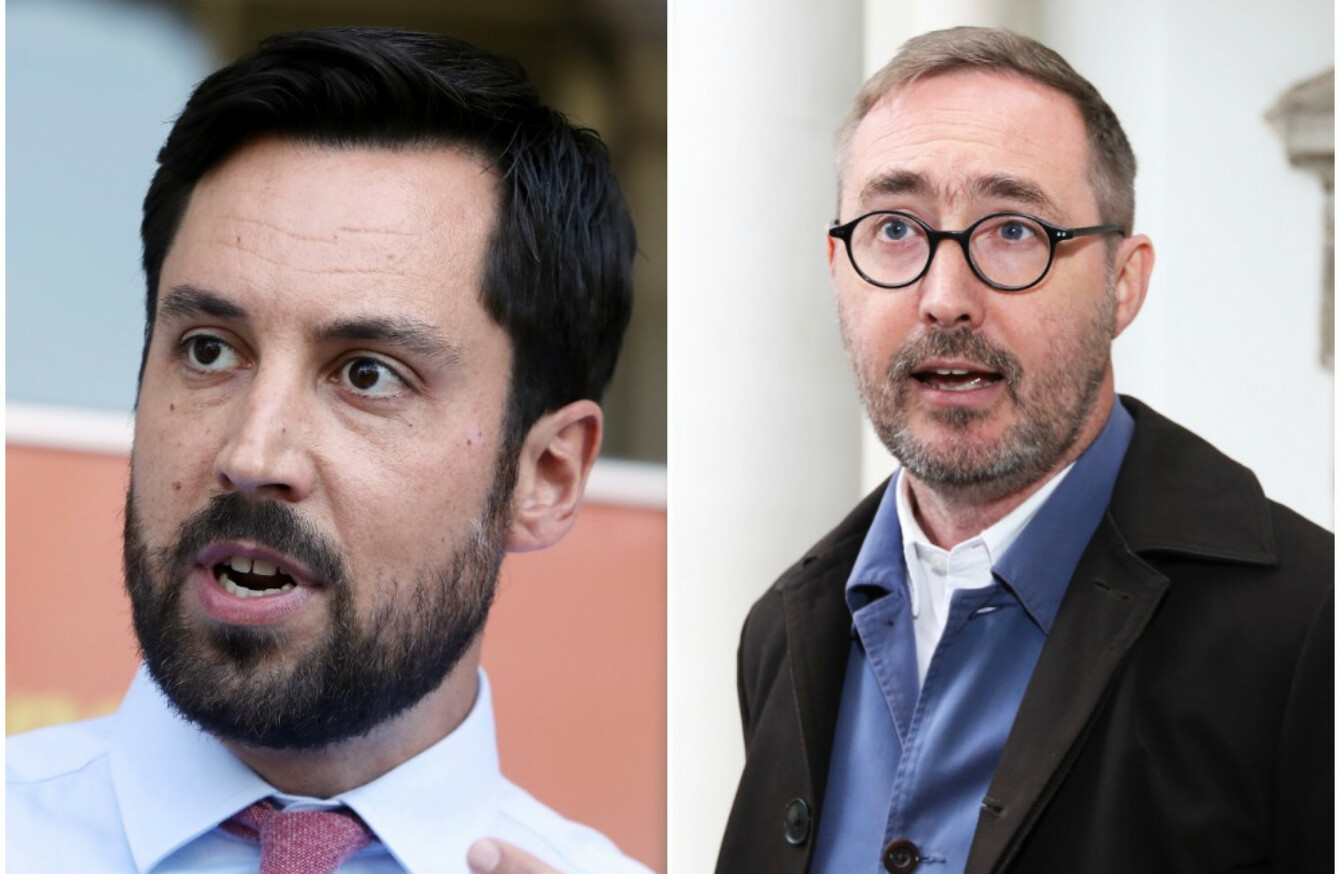 Eoghan Murphy and Eoin Ó Broin
Image: RollingNews.ie
Eoghan Murphy and Eoin Ó Broin
Image: RollingNews.ie
Updated Sep 11th 2018, 6:34 PM
MINISTER FOR HOUSING Eoghan Murphy has accused Sinn Féin of "playing bad politics" and being "totally devoid of solutions" on housing after the party submitted a motion of no confidence in him.
Sinn Féin today submitted the motion of no confidence in Minister Murphy, which will be debated in the Dáil on Tuesday 25 September. 
Earlier, Fianna Fáil leader Micheál Martin defended his party's decision not to support Sinn Féin's motion of no confidence in Murphy. 
Speaking outside Leinster House this morning, Sinn Féin spokesperson for housing Eoin Ó Broin said that the housing crisis has "gone from bad to worse" during Fine Gael's time in government. 
Outlining why he is submitting the motion, Ó Broin said: "Eoghan Murphy has been in office for 15 months and what have we seen? A 25% increase in homelessness, a 34% increase in child homelessness, a 40% increase in pensioner homelessness.
"The core of this is as follows – the problem is Rebuilding Ireland, the government's plan, is not working."
He added that "a credible minister" would go to Cabinet and say "we need a change of plan".
"Instead, what is Eoghan Murphy doing? He's criticising everybody else for his own failures and he's failing his policies are working," Ó Broin said.
"Our view is very clear, he has to go." 
'Garner attention'
No backing from Fianna Fáil
Earlier this month, Fianna Fáil's Micheál Martin said his party will not support the motion. 
Speaking on RTÉ's Sean O'Rourke programme, Martin said he had an obligation to support the government on certain issues as part of confidence and supply.
When asked about whether his party would support the Sinn Féin motion, he said: "No. I've said this before the summer. Motions of no confidence are not going to build a single house. We're going to focus on the budget to get a prioritisation around housing."
Speaking today, Ó Broin said that he was "deeply disappointed" by Martin's "very quick decision to reject the Sinn Féin motion". 
 The motion of no confidence will read as follows:
This Dáil notes that:Fine Gael have been in office for seven years and during that time homelessness has increased to unprecedented levels, house prices and rents have spiralled out of control, and tens of thousands of households are unable to access secure and affordable homes.Rebuilding Ireland has been in place for two years and has clearly failed to address the causes of our housing crisis. Underinvestment in social and affordable housing and over reliance on the private sector has exacerbated the crisis. Eoghan Murphy has been Minister for Housing for 15 months and, on his watch, homelessness has increased 25%, child homelessness has increased 34%, pensioner homelessness has increased 40%; rents have increased 7% and house prices 6%, and social housing delivery remains glacial, not a single affordable home has been delivered by any central government scheme, private sector output in the main is overpriced and unaffordable, and vacant housing stock remains higher than the norm in comparable countries.
This Dáil:Does not have confidence in Minister for Housing Eoghan Murphy and calls for him to be removed from office.Calls on the Government to accept that Rebuilding Ireland has failed and to urgently introduce a new housing plan that will meet social and affordable housing need through an ambitious programme of public housing provision and tackle homelessness through a greater focus on prevention and reduction of the length of time adults and children spend in emergency accommodation.
"There's going to be a real cost if he continues to support Eoghan Murphy and Rebuilding Ireland, and that cost will be increased homelessness, longer housing waiting lists, increased unaffordability and the housing crisis is going to get worse and worse," he said. 
"It's time for Micheál Martin to put up or shut up," he said. 
"He either stands with the people who are suffering from Murphy's failures or he continues to support a failing minister and a failing housing policy".
#Open journalism No news is bad news Support The Journal

Your contributions will help us continue to deliver the stories that are important to you

Support us now
Previous motions
This is not the first time that Sinn Féin has threatened to put down a motion of no confidence in the housing minister. 
The threat of a motion of no confidence was raised after earlier this year when Murphy was criticised over his handling of the homelessness crisis and the government's efforts to tackle the housing shortage.
But it was announced at the Sinn Féin Ard Fheis in June that the party would drop the motion of no confidence in Murphy.
Speaking earlier this month, Sinn Féin leader Mary Lou McDonald said Murphy is "failing and out of touch". 
"Sinn Féin would make the difference in housing. The policy of this government is failing the homeless, failing those renting and those who strive to own a home. We now have a generation of workers who will never afford to own a home," she added. 
Latest figures show that the number of homeless people and families in the State has increased to a record new level. 
The Department of Housing has recorded that there were 6,024 adults and 3,867 children in emergency accommodation during the week of 23-29 July.
This represents a decrease of 24 adults but an increase of 43 children on the previous month, meaning an overall increase of 19 people.
The number of families affected also increased from 1,754 to the latest number of 1,778.
With reporting by Christina Finn, Sean Murray