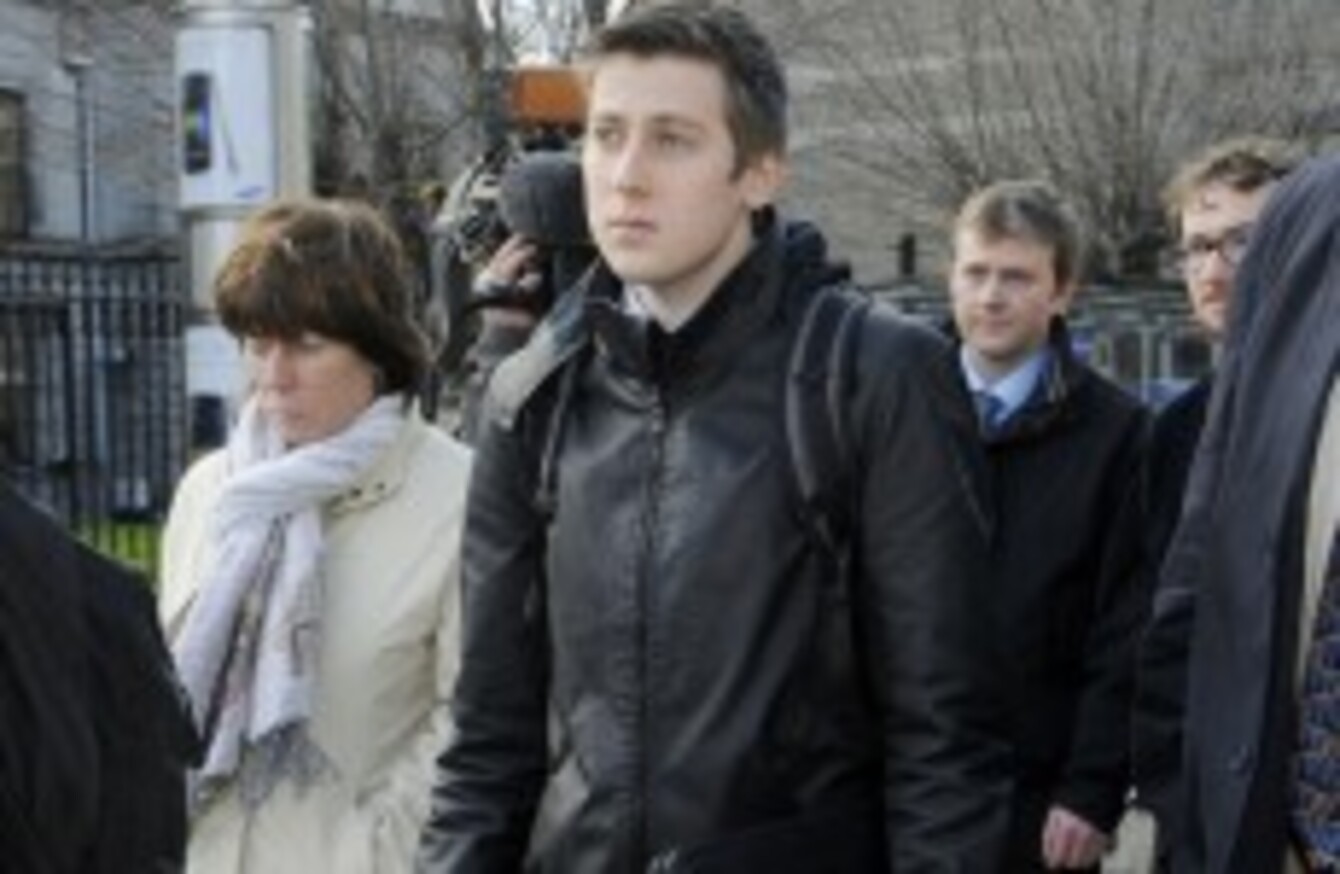 McKeogh arriveing at court last year.
Image: Laura Hutton/Photocall Ireland
McKeogh arriveing at court last year.
Image: Laura Hutton/Photocall Ireland
STUDENT EOIN MCKEOGH has been granted a temporary stay on the costs awarded against him in a case against six newspapers over their reporting of his legal dispute with Google and Facebook.
McKeogh, a business and Japanese student in Dublin City University, was falsely accused in an online video of having dodged a taxi fare.
In January of last year, McKeogh lost a case which sought to prevent a number of newspapers including the Star, the Independent, the Irish Times and the Sunday Times from reporting his name. Costs in the case were subsequently awarded against him with the execution enforcing the order delayed until today.
In the High Court this morning, Justice Michael Peart granted a further stay on the order so that McKeogh's counsel could decide whether or not to make an appeal to the Supreme Court.
McKeogh changed his solicitor in July and Pauline Walley SC acting on his behalf had argued that, as a result, more time was needed to consider an appeal.
Walley had argued that McKeogh's "young life had already been blighted" by being defamed online. She said that if he was now required to pay tax costs associated with the order against him it would be "blighted further" because "his credit reputation would be significantly damaged".
She argued that as a young business student this would particularly affect him and added these should be "the best and most carefree years of his life".
Walley said that a further reason for the stay order to be granted  was because her client's case was of significant public interest. Despite losing the case against the newspapers, she argued that there were indeed substantive issues involved and her client should be given credit for that fact.
Walley "emphatically disagreed" with the contention by counsel for the Sunday Times that the plaintiff had "no basis" for an appeal.
In awarding the stay on the costs issue Justice Peart accepted that it was clear that there had been a breakdown of the relationship between the client and his previous solicitor. He added that the "arguability of an appeal if you can call it that" was not a matter to be dealt with by the court now.
Judge Peart gave counsel for the plaintiff 21 days to give an initial response on any possible appeal.
Defamatory content
Counsel for Google and Facebook did not speak during today's hearing.
In May of this year the High Court told both companies to examine whether it was possible to remove the offending material completely from the internet.