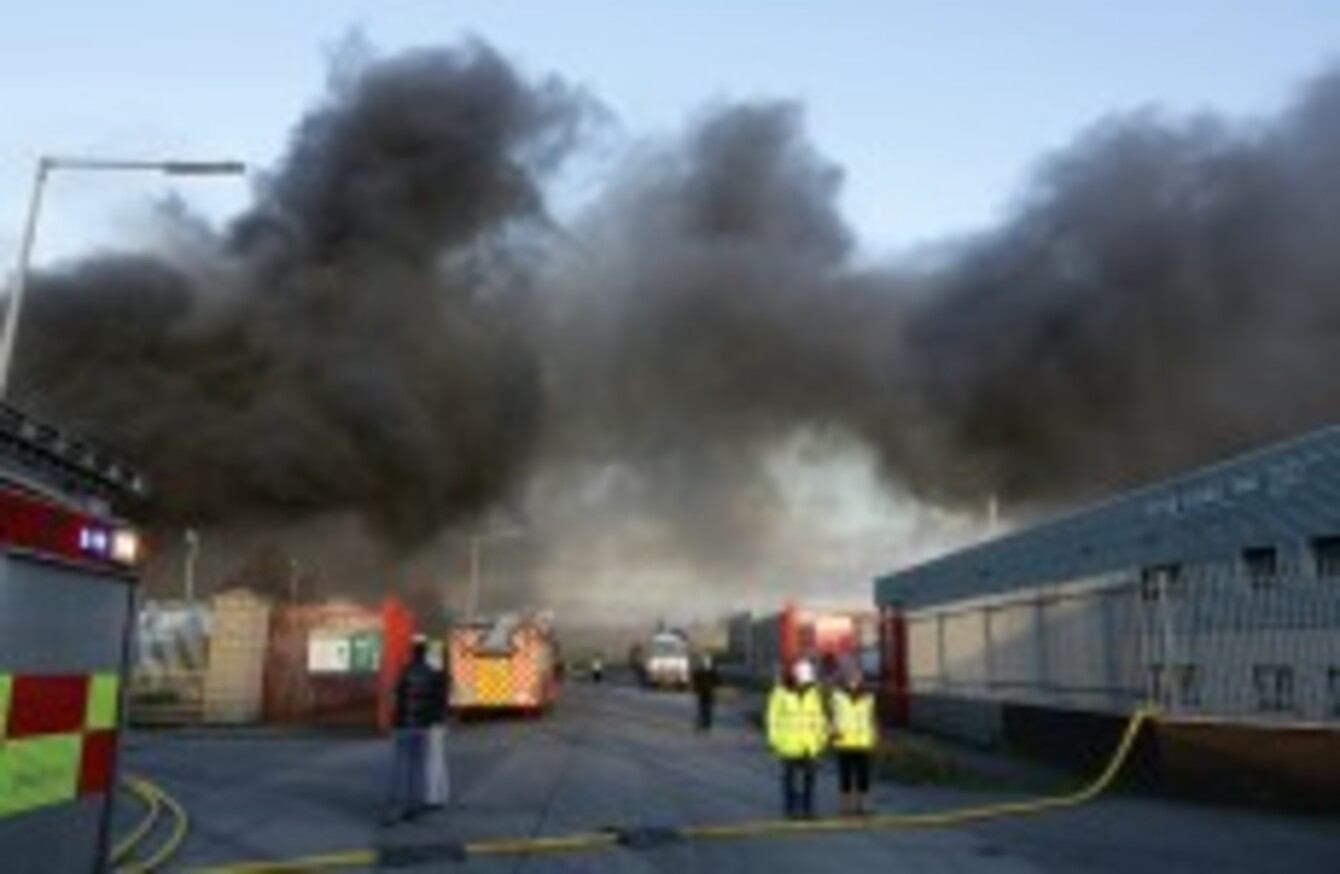 Ballymount Fire in January 2014
Image: Laura Hutton/Photocall Ireland
Ballymount Fire in January 2014
Image: Laura Hutton/Photocall Ireland
THE FIRE AT the Oxigen recycling plant in Ballymount burned for over a week in January, causing areas in and around the plant to be closed off.
The Environmental Protection Agency today published its report into the air quality impact of the fire in Dublin 22, stating that "the air quality impact of the fire was localised and transient and there is no significant potential for any long-term health impacts as a result of the incident".
In compiling the report, the EPA consulted with the Health Services Executive with regard to the human health impacts related to the fire.
Monitoring of the air at the time of the fire in January found that the most significant impact of the fire on air quality was focused in the vicinity of the fire and dispersion of the plume diluted its impact across the greater Dublin area. High wind speeds assisted in the dispersion of the smoke plume so the down-wind concentration of the pollutants in the plume was reduced.
The report said there were elevated levels of pollutants recorded in the smoke plume at the time of the fire, indicating the potential for short-term effects such as discomfort for exposed individuals.
However, the most elevated pollutant levels were recorded inside the boundary of the area cordoned-off by the gardaí, which is zoned for industrial use and has no residential households.
The EPA said that no businesses were open within the cordon when the elevated pollutant levels were measured.
"Residents outside the cordon in the vicinity of Ballymount Industrial Estate who followed the health advice that issued at the time of the incident; to shelter indoors and avoid physical exertion, are unlikely to have been exposed to elevated pollutant levels for any significant period of time or to have experienced prolonged symptoms," said the report.
The Minister for the Environment Phil Hogan today welcomed the report and commended the work of the EPA, the gardaí and the fire service for their work at the "serious incident".
Hogan added:
 I am relieved that the EPA's assessment of the air quality impact has shown that public exposure to elevated levels of pollutants was minimal.

Nonetheless I appreciate that the fire was distressing for residents in the area, particularly vulnerable people with respiratory illnesses or cardiac conditions.

The incident highlights the importance of clean air for our public health, and that we have expertise to effectively monitor and assess the impact of significant air pollution episodes.
Minister Hogan added that it was of the "utmost importance that the causes of this incident are fully investigated and that any appropriate follow up action is taken to minimise the risks of a similar incident occurring in the future".
The EPA is continuing its investigations into the incident from a licence compliance perspective, after which further enforcement action may be considered.