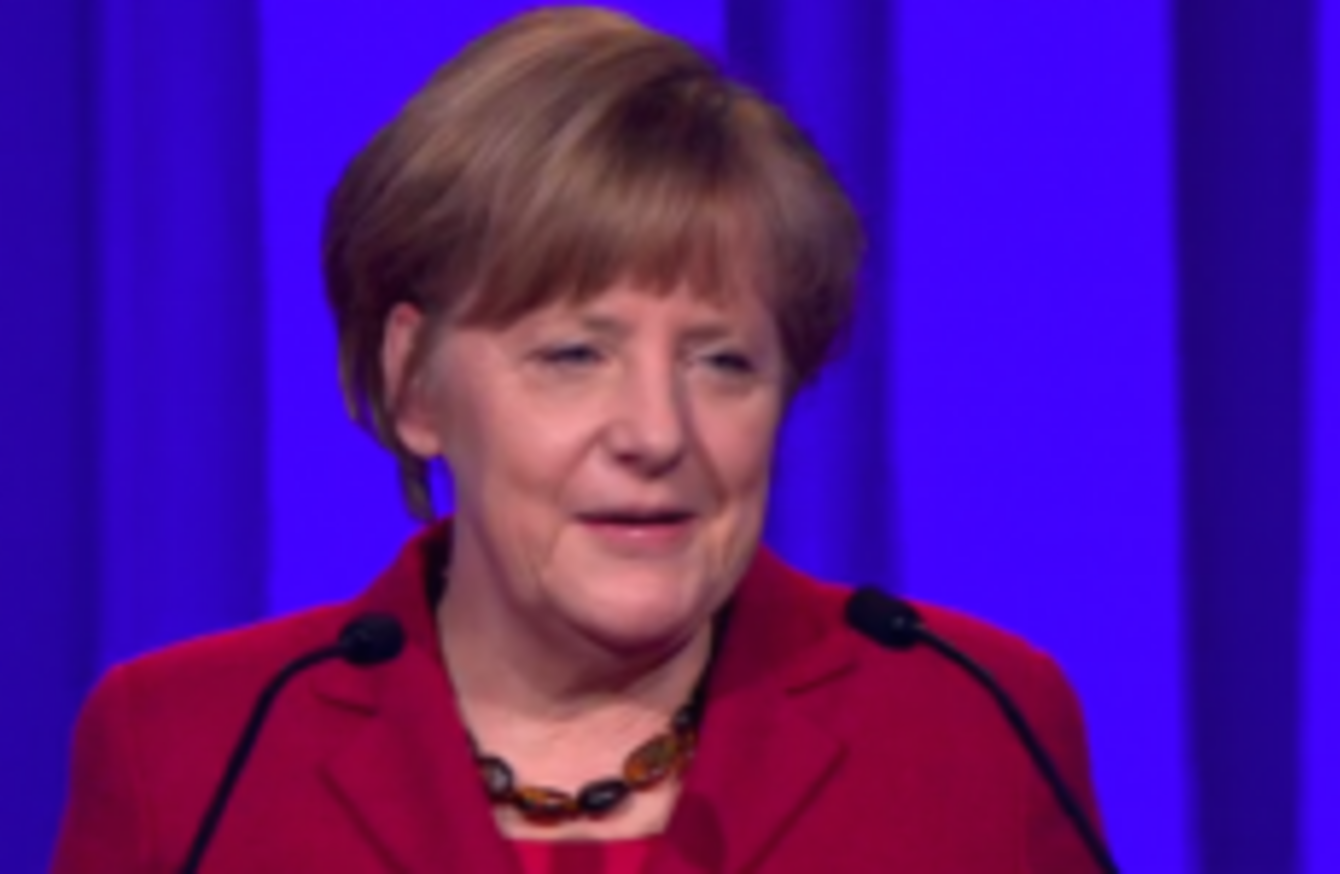 Angela Merkel addressing the EPP this afternoon
Image: Screengrab via EPP/Gavan Reilly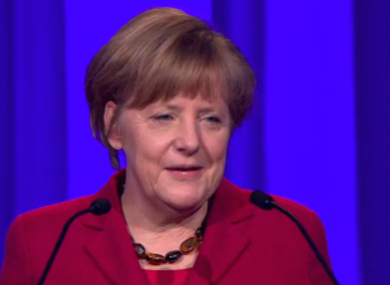 Angela Merkel addressing the EPP this afternoon
Image: Screengrab via EPP/Gavan Reilly
Updated 10.45pm
GERMAN CHANCELLOR ANGELA Merkel has praised the Irish people and has told the European People's Party congress that the country has "braved" difficult times.
Addressing EPP delegates on day two of the conference, she said Ireland was a country that "has gone through difficult times but has braved those times".
She said that Ireland has been successful in its Troika programme and said that because of that "you've been able to be the first ones to leave the bailout".
The congress has this afternoon selected former Luxembourg president and Eurogroup head Jean-Claude Juncker as the EPP candidate for the European Commission. He beat trade commissioner Michel Barnier to the nomination.
Earlier, Taoiseach Enda Kenny told the European People's Party's annual congress that Europe has been brought back from the brink of catastrophe, as day two of the event got under way in Dublin this morning.
Kenny formally opened the second day of the EPP Congress with over 2,000 delegates attending the gathering of the largest pan-European political party.
While day one was devoted to the crisis in Ukraine, today's event has focussed on the European elections and the selection of the EPP candidate for head of the European Commission to succeed the outgoing Jose Manuel Barroso.
Angela Merkel arriving at the Convention Centre in Dublin this morning. Pic: EPP Flickr
Making his ultimately unsuccessful pitch to delegates this morning, Barnier paid tribute to Kenny and said that the EPP had been "the party of responsibility" whose members had "led the world's response" and "together we had saved the eurozone".
In his speech, Juncker said he is a "true European" pointing to his experience in serving on the European Council for 19 years.
Kenny said this morning that the EPP, which will battle with the Socialists and Democrats for control of the European Parliament, can approach the May elections "with a strong degree of confidence because we have helped bring Europe back from the brink of economic catastrophe".
A dozen heads of EU states are in the Convention Centre today, including Spanish prime minister Mariano Rajoy who told delegates that what Ireland has done economically "deserves our respect".
"It was very difficult. Now, things are better," he said, adding that the Irish government has made "the decisions that needed to be made".
He added: "The right decisions have been made and they've been made by EPP governments. We have to go on working in the same way."
Greek prime minister Antonis Samaras said that bailed-out countries had proved doubters wrong, saying: "We believed in Europe, we believes in ourselves and we made it happen."
He warned that the crisis must mean growth and not extremism, hitting out at "short-sighted demagogues".
There has been strong praise from several heads of State for Ireland's economic progress in recent years. European Council President Herman van Rompuy said: "Ireland is an example for many, many in Europe."
First published 10.53am