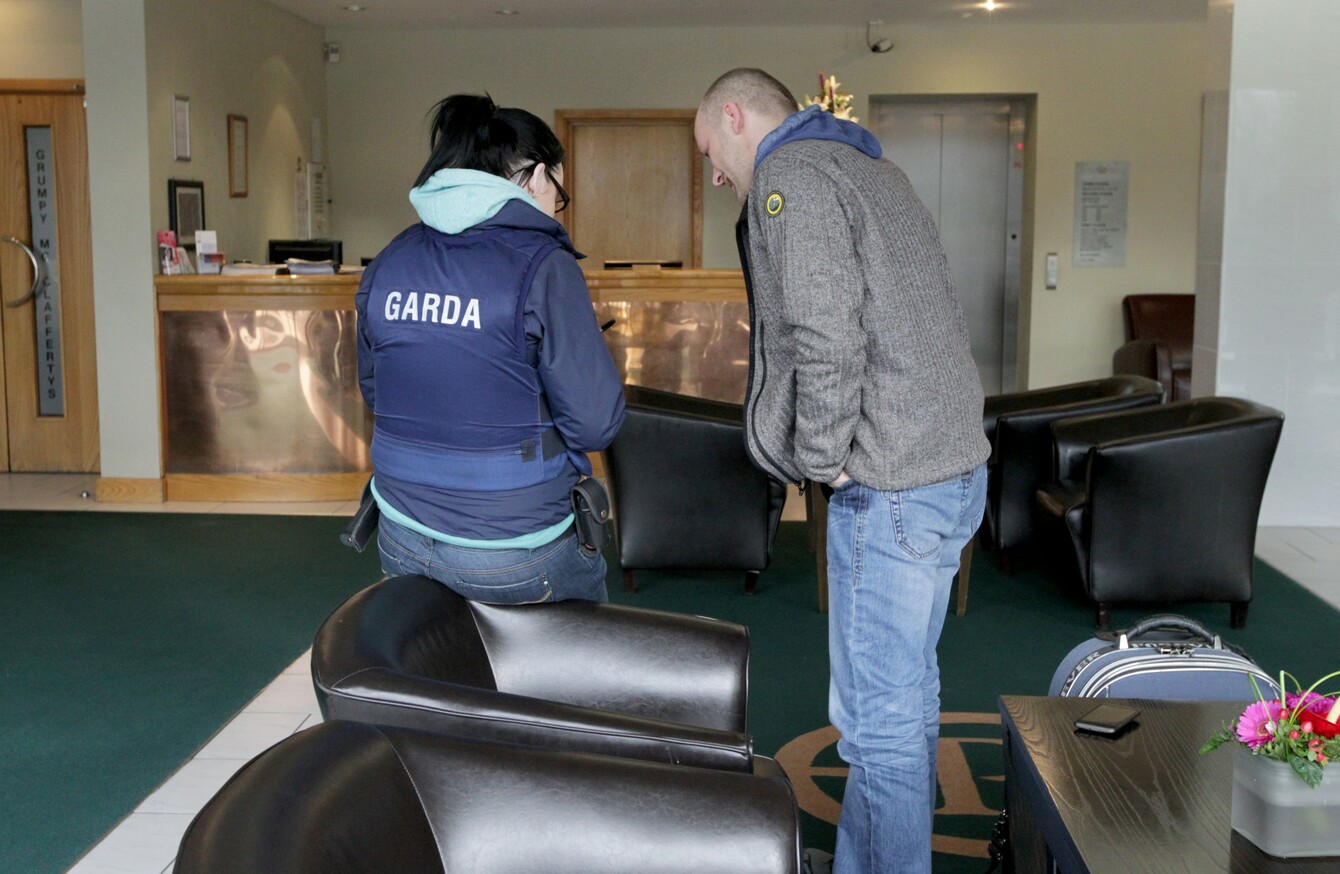 Gardaí at the Plaza Hotel following the death of Sonia Blount.
Image: Mark Stedman
Gardaí at the Plaza Hotel following the death of Sonia Blount.
Image: Mark Stedman
A MURDER TRIAL has been told that a Dublin man assumed a false identity in order to meet his ex-girlfriend in a hotel room, where he strangled her.
The prosecutor was giving his opening speech today in the trial of a 35-year-old man Eric Locke, accused of the murder of 31-year-old Sonia Blount three years ago.
He is charged with murdering the mother-of-one at a room in the Plaza Hotel in Tallaght on the 16 February 2014.
The Dubliner, with an address at St John's Park East in Clondalkin, has pleaded not guilty. However his barrister, Patrick Gageby SC, has said "the defence admits that the accused caused Blount's death".
Remy Farrell SC, prosecuting, told the jury that Blount was a working, single mother of a three-year-old son when she began a brief relationship with Eric Locke in late 2013.
He said it would be clear that Locke had not taken the ending of that relationship well, and that he seemed to have threatened suicide. He said he continued to send her text messages for a considerable time, and that she blocked him from contacting her through Facebook in February 2014.
"It would seem that Locke was very unhappy about the fact," said Farrell. "From Blount's point of view, there matters lay."
Farrell said that by mid-February, Blount had received contact from a man called Shane Cully on Facebook. He said the private messaging had started with banter.
"It became a little more risqué, intimate," he said, explaining that there had been a suggestion that they would meet up, implicitly, for a sexual encounter.
"It is important not to judge," said Farrell. "You may feel that it was unwise."
However, he pointed out that Blount was not on trial.
Texts
"The chat resulted in this arrangement being made that on the evening of the 15th, Sonia Blount would meet Shane Cully in the Plaza hotel in Tallaght," he said.
Farrell explained that 15 February had been an important day for the deceased, having celebrated her son's third birthday party with family, who thought she was going out with a female friend that night.
"She was probably never really going to go out with the friend," he said. "What she had arranged was a secret date with a stranger."
She checked into the Plaza Hotel around 9pm. Shane Cully was going to come along later and asked that a keycard be left for him at reception.
"Later that evening, somebody did arrive at the Plaza hotel, but it wasn't Shane Cully," said Farrell. "There never was a Shane Cully. What he (Locke) had done was he had assumed this false identity and had made contact with Sonia Blount."
Farrell said this seemed to have been done for one purpose only, to ensure she was on her own in a hotel room.
He told the jurors that what happened in the room on his arrival was a matter for them. He said it was clear that Locke had cable ties, masking tape and a realistic-looking airgun when he went into the bedroom.
"The prosecution case is that they are items he brought there with the intent of overpowering and dominating Blount," he said.
#Open journalism No news is bad news Support The Journal

Your contributions will help us continue to deliver the stories that are important to you

Support us now
He explained that Blount had been found lying on the floor of the room with a garment shoved into her mouth. She had died of asphyxiation and strangulation.
Farrell said that the accused had admitted to gardaí that he had strangled her, but said he didn't mean to kill her. He had suggested that she became distressed when he saw the items he had with him, that he panicked and strangled her.
He said that much of the evidence would focus on the communication between the two and that the jury would be able to see the arc of their relationship from their text messages.
Farrell said the jury would be asked to concentrate on the mental state of Locke in this case and would hear from psychiatrists.
"When you go off to deliberate, assuming the prosecution has proved to you that Eric Locke killed her intentionally, you then must consider diminished responsibility," he said.
He explained that the defence of diminished responsibility, which the defence must prove, was where a person's mental disorder reduced their responsibility for the unlawful killing.
"The prosecution will be suggesting to you that there is much to be learned from looking at what he brought to the room to ascertain what was going through his mind at the relevant time," he said.
The trial continues before Justice Michael Moriarty and a jury of eight men and four women. It's expected to last about two weeks.
Comments have been turned off as legal proceedings are ongoing.