An ESB substation in Finglas
Image: Laura Hutton/Photocall Ireland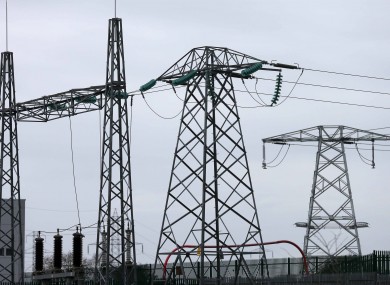 An ESB substation in Finglas
Image: Laura Hutton/Photocall Ireland
Updated 19:58
THE PLANNED STRIKE by ESB workers has been averted after trade unions and management reached an agreement over the company's pension scheme this afternoon.
In a statement the ESB Group of Unions – which speaks for the four main unions in the company – said the agreement was a "landmark victory" for employees.
"The resolution is on the basis of the Union Mandate to protect the ESB Pension Scheme as a Defined Benefit Pension Scheme and to maintain existing agreements being fully met," the statement says.
"As a result the ESB Disputes Committee have confirmed that Strike Notice will be withdrawn".
ESB said the resolution of the issue will protect the company's finances, and said a strike would have had damaging consequences for households, businesses and the economy.
Minister for Energy Pat Rabbitte said the settlement was "unqualified good news at this critical juncture of the year".
The trade dispute was resolved at 4.30pm today following intensive talks at the Labour Relations Commission over the weekend.
The row centred on a €1.6 billion deficit in the semi-state company's pension scheme, with unions arguing that the company had breached a 2010 agreement to retain it as a defined benefit scheme. The strike had due to begin on Monday 16 December.
The text of the agreement states that the scheme is a defined benefit pension scheme, and that whenever deficits arise, both sides will engage with each other to agree arrangements to deal with them.
The unions were strongly critical of media coverage of the proposed strike, saying that workers had been "publicly vilified for nothing more than protecting themselves and their families against an attempted destruction of their bought and paid for pension rights".
"The workers in ESB, their representatives and the wider trade union movement have drawn a line in the sand in relation to this unprovoked attack on their terms and conditions of employment," the Group of Unions said.
"Their unity and determination were the key elements in this success".
ESB welcomed the withdrawal of strike notice by the unions.
"The resolution of the issue protects the financial strength of ESB – there will be no additional liabilities on ESB's balance sheet," the company said in a statement. "Therefore the company can continue to invest in critical electricity infrastructure in Ireland and continue to provide a return to its shareholders as planned".
"The agreement recognises ESB's existing obligations under the terms of the scheme and there will be no change to the accounting treatment of the scheme in the company's financial statements as a result".
Both sides thanked the LRC for intervening in the dispute.
Pat O'Doherty, the chief executive of the ESB, said the company regretted the unnecessary worry and uncertainty caused by the threat of power outages.
Separately, Energy Minister Pat Rabbitte praised both sides. "Unions and management deserve credit for ending the uncertainty that threatened to do disproportionate damage to the country's best interests," he said.
Originally published 17:32