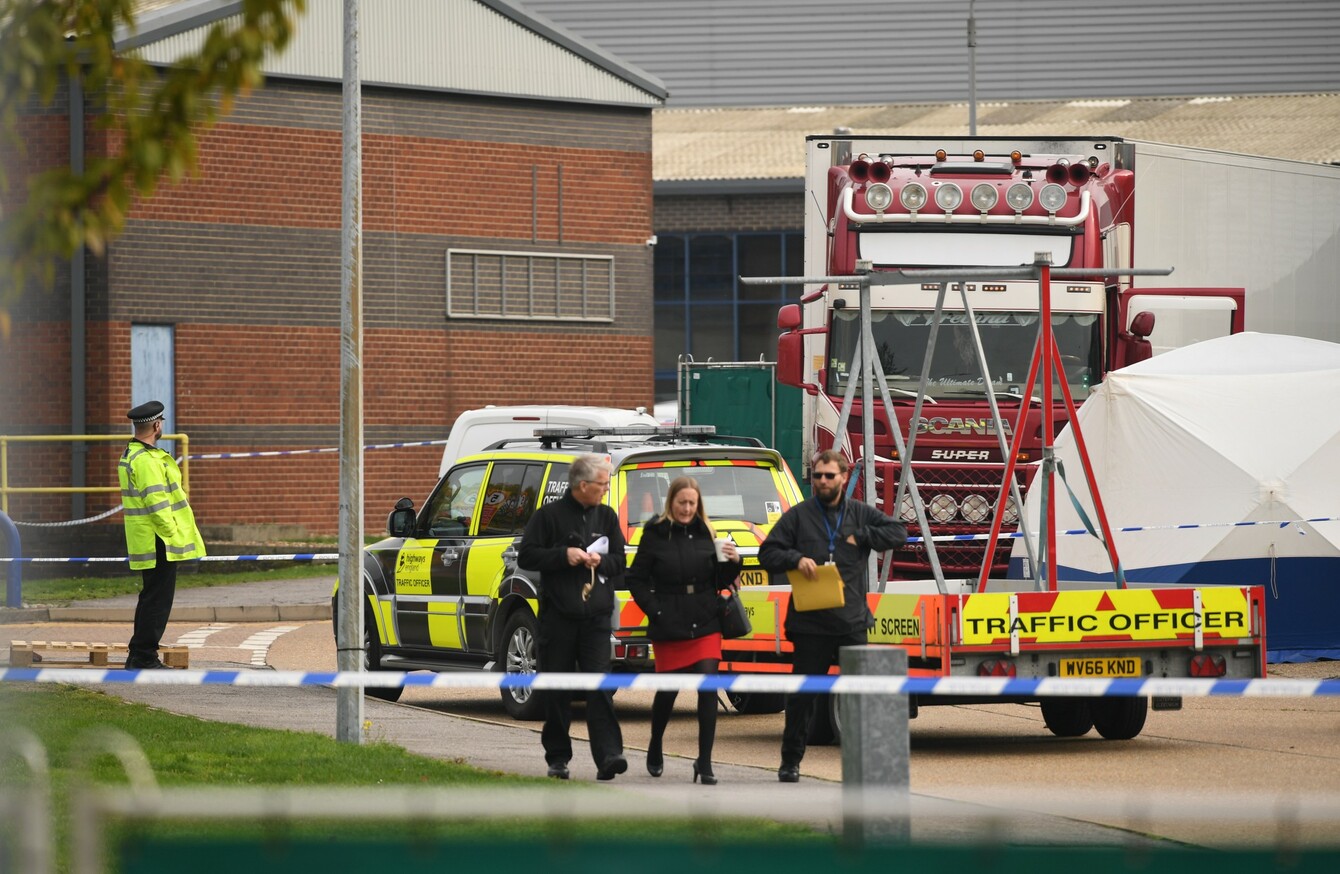 Police activity at the industrial estate with the lorry behind a cordon.
Image: Stefan Rousseau
Police activity at the industrial estate with the lorry behind a cordon.
Image: Stefan Rousseau
Updated Oct 23rd 2019, 12:51 PM
A LORRY CONTAINER carrying 39 dead bodies has been discovered in Essex in the United Kingdom.
A 25-year-old-man from Northern Ireland has been arrested on suspicion of murder following the discovery.
Police believe the lorry entered the UK via Holyhead at the weekend and gardaí are working with UK counterparts to establish the facts of what happened. 
Essex Police say they were called to the scene at Waterglade Industrial Park, Eastern Avenue, Grays by the ambulance service at 1.40 am this morning.
Emergency services were also present but the 39 people were pronounced dead at the scene.
It was originally reported that the whole lorry – tractor and trailer – had travelled into the country through Holyhead.
In an update this evening, Essex police said they now believe the trailer part of the lorry where the bodies were discovered travelled separately by vessel direct from Zebrugge in Belgium into Purfleet in England. 
"After further enquiries, we now believe that the trailer travelled from Zeebrugge into Purfleet, and docked in the Thurrock area shortly after 12:30am this morning. The tractor unit of the lorry is believed to have originated in Northern Ireland," police said in a statement. 
Police are working on the assumption that the tractor and trailer connected and left the port shortly after 1.05am. Officers were called around 30 minutes later after ambulance staff made the grim discovery at Waterglade Industrial Park in Eastern Avenue in nearby Grays.
Police say early indications suggest that 38 of the dead are adults and one is aged in their teens. No details about the gender of the individuals has yet been released. 
"This is a tragic incident where a large number of people have lost their lives. Our enquiries are ongoing to establish what has happened," Chief Superintendent Andrew Mariner said this morning.
"We have arrested the lorry driver in connection with the incident who remains in police custody as our enquiries continue," Mariner added. 
The East of England Ambulance Service (EASS) said it was called to the scene in the early hours of this morning but the individuals were already dead. 
Source: TheJournal.ie/YouTube
The service said it sent "five ambulances, Hazardous Area Response Teams and a car" to the scene.
"Unfortunately 39 people had died prior to our arrival," EASS said in a statement. 
A cordon remains in place at the scene and the business park remains closed.
Holyhead is regularly used as a port accepting vessels that have travelled from Ireland.
At a news briefing this morning, Deputy Chief Constable Pippa Mills of Essex Police was asked if police knew of the lorry's route and whether it came through Ireland. 
"Obviously that will be a key line of inquiry and if anyone has got any information relating to that lorry since entering the country on 19 October then please do contact us," she said. 
An Garda Síochána said this morning that it is "monitoring the developing investigation in the UK and will provide every assistance possible".
The registration of the lorry is being investigated and it is belived that the lorry travelled frequently between Dublin and Holyhead. 
Minister for Justice Charlie Flanagan has shared his condolences following the tragedy and confirmed that gardaí are assisting with the investigation. 
"Saddened at horrific news emerging this morning from Essex. Gardai assisting Essex Police towards establishing the facts. My Dept in receipt of ongoing information and updates. Thought & prayers with loved ones and families of those who tragically lost their lives," Flanagan tweeted. 
Seamus Leheny, Northern Ireland policy manager for the Freight Transport Association said that if the lorry had come from Bulgaria, getting into Britain via Holyhead was an "unorthodox route".
He said: "People have been saying that security and checks have been increased at places like Dover and Calais, so it might be seen as an easier way to get in by going from Cherbourg or Roscoff, over to Rosslare, then up the road to Dublin."
"It's a long way around and it'll add an extra day to the journey."
Mills added this morning that what happened was "an absolute tragedy" and said that Essex Police will "continue to work alongside many other partner agencies to find out what led to these deaths".
"Please appreciate we are in the early stages of what will be a very lengthy investigation," she said. 
Mills added that it was "a complex scene" and that the identification of the victims "remains our number one priority".
Paige Wade, who was driving past the industrial park at 4.15am, told the PA news agency that there was a lot of police activity at the scene this morning. 
"I had just finished work while driving up Motherwell Way and all you could see was blue flashing lights, as I was driving past there was police tape to cordon off the start of Eastern Avenue.
I knew it was serious because of how many police cars and ambulances were there, but the police had parked their cars across the whole access of the road so you couldn't see anything.
"There's always lorries around there as they park up there for the night."
Reaction
UK Prime Minister Boris Johnson said in a tweet this morning that he was "appalled" by the incident. 
UK Home Secretary Priti Patel said that she is "shocked and saddened" by the "utterly tragic incident".
"Essex Police has arrested an individual and we must give them the space to conduct their investigations," she said.
Speaking this afternoon, Patel said that "things are moving quite quickly" with the investigation.
- With reporting from Garreth MacNamee and Press Association