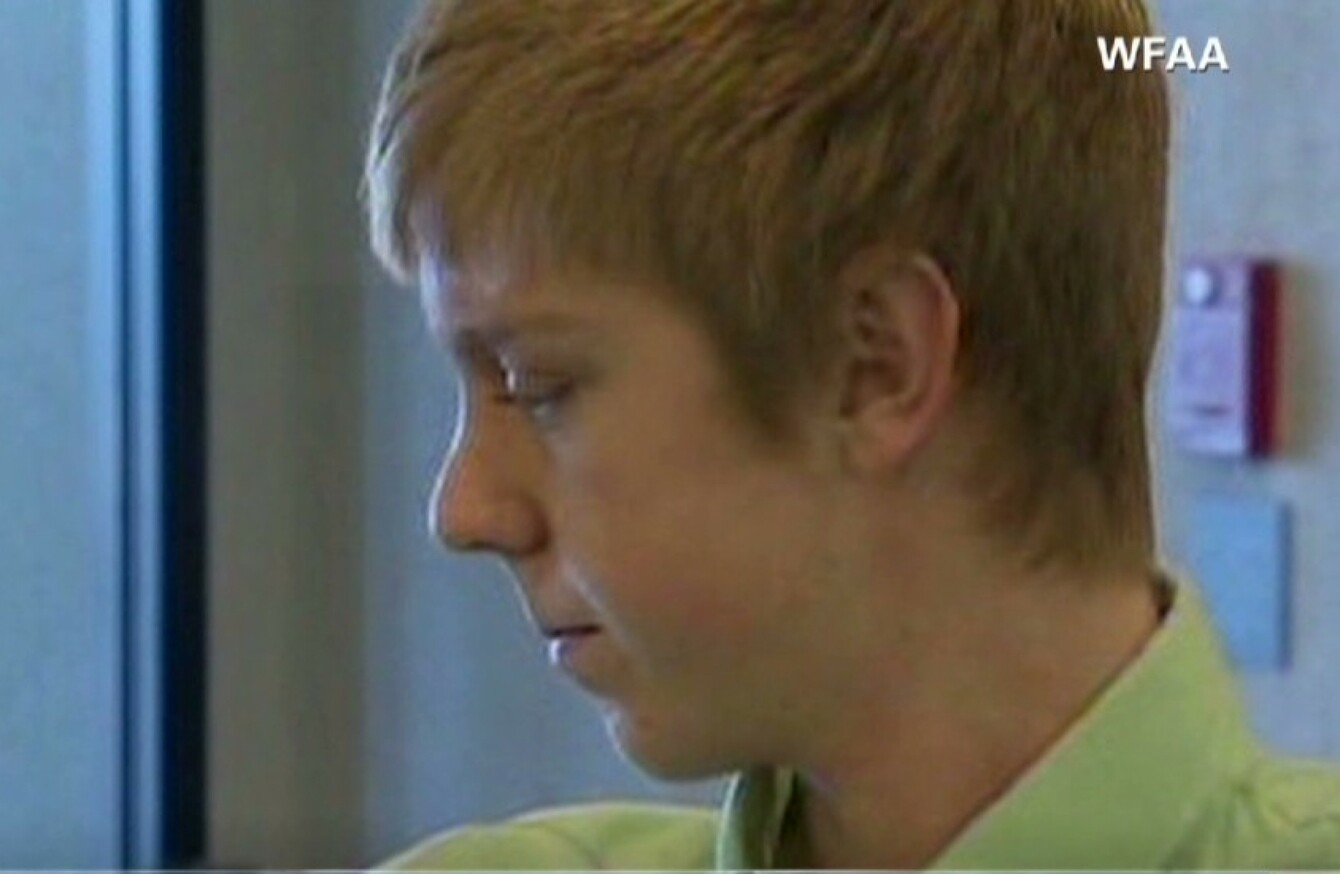 Image: Screengrab/CNN
Image: Screengrab/CNN
POLICE IN TEXAS have launched a manhunt for a wealthy teenager described as suffering from "affluenza," after he apparently violated the terms of his probation for causing a deadly drunk-driving accident in 2013.
Ethan Couch was 16 when he crashed his pickup truck into a group of pedestrians and another vehicle, leaving four dead and several seriously injured.
He had a blood-alcohol level of nearly three times the legal limit.
The son of millionaire parents, Couch made headlines during his trial when a psychologist testifying on his behalf claimed he suffered from "affluenza" – a neologism coined from affluence and influenza, implying that financial privilege made him unable to understand the consequences of his actions.
The manhunt began after the now 18-year-old missed a mandatory meeting with his probation officer last week.
'You can run…'
The FBI and US Marshals Service, which specialises in chasing fugitives, joined the search after authorities put Couch on the country's most wanted list.
"You can run, but you're always going to be looking over your shoulder," Tarrant County Sheriff Dee Anderson told CNN.
We're not going to give up. We're going to come after you. We're going to find you, wherever you are.
Prosecutors had sought 20 years in prison for Couch, but judges handed him a surprise sentence of mental-health treatment and a decade of probation.
The leniency shocked many Americans, especially because the teen expressed no remorse and spent not even a night behind bars.
Violation of terms
The controversy reignited this month after the emergence of a video showing Couch at a party taking part in a drinking game, which violated the terms of his probation.
Police showed up at his home to find it empty with no forwarding address.
The teenager's flight, apparently with his mother, has prompted outrage across the country.
"This is egregious. 'Affluenza' aside, Ethan Couch appears to show blatant disregard for the law, and he must be held accountable," said Colleen Sheehey-Church, president of Mothers Against Drunk Driving (MADD), in a statement.
Sheriff Anderson admitted the young man had slipped through the net.
"He got a big jump on us because he was gone before any of us knew that he was missing," he said.
"This is a family that knows how to game the system and has done so from the start," he added, saying Couch may have fled the country.