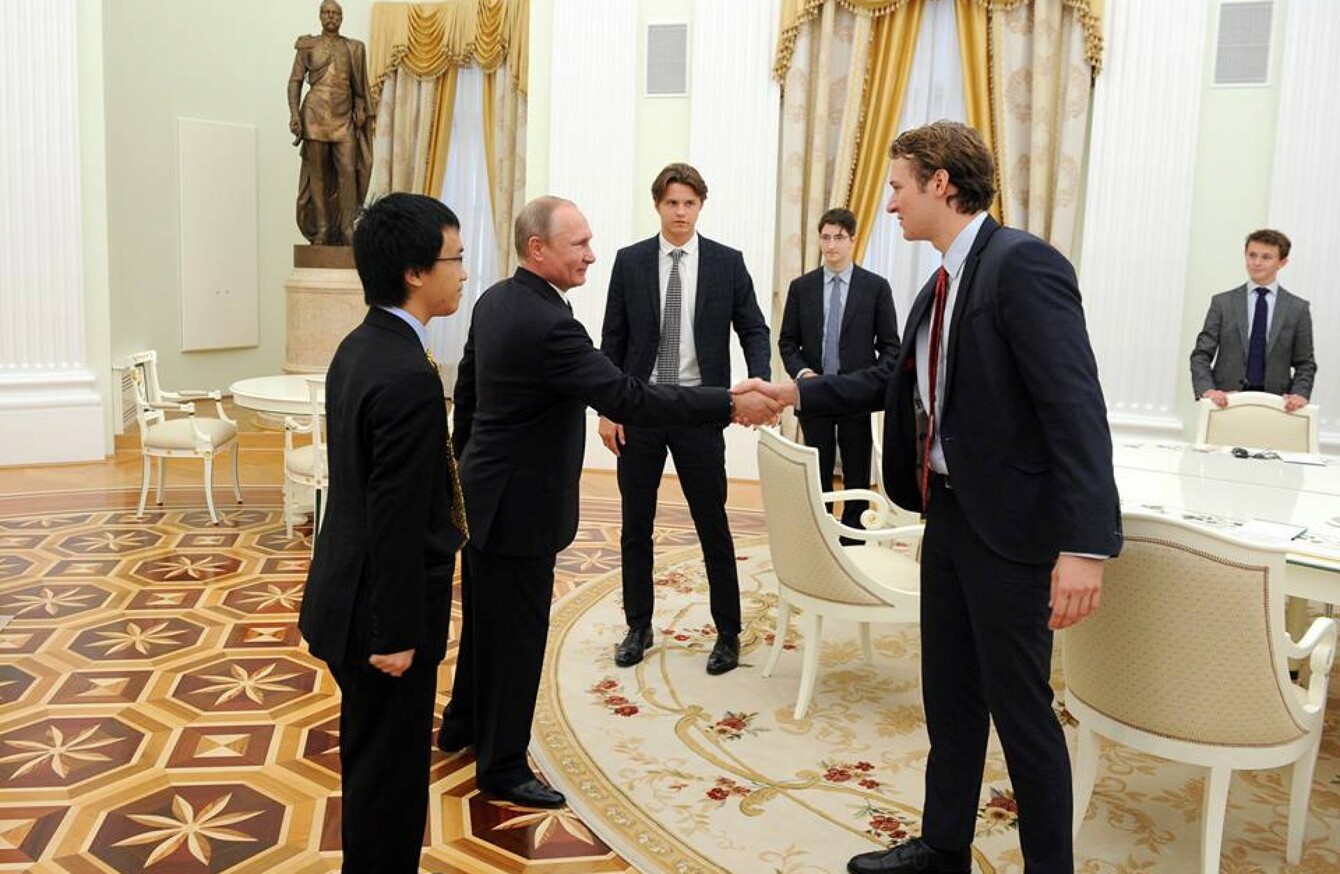 Image: Facebook
Image: Facebook
YOU MIGHT EXPECT your typical Old Etonian would feel quite at home with Russian President Vladimir Putin. And so it proved.
The strongman leader has kept Queen Elizabeth II and the Pope waiting, but recently found time to meet a group of students from Britain's most privileged school.
Kremlin spokesman Dmitry Peskov today confirmed that Putin held an hour-long audience with students from the prestigious school about a week ago, in the same room where the Russian leader met Syrian dictator Bashar Al-Assad.
David Wei, one of those present at the meeting, wrote on Facebook in a post that was later deleted: "It took me a total of 10 months, 1,040 emails, 1,000 text messages, countless sleepless nights, constant paranoia during A2 exam season, declining academic performance … but here we are.
Guys, we truly gave Putin a deep impression of us and he responded by showing us his human face.
A Facebook post from a US scholarship programme identified one of those on the trip as Trenton Bricken, of Duke University's class of 2020.
According to the post, Bricken "took a quick break from his Duke orientation this week to be part of a delegation from his high school to visit Russia. This visit was hosted by the Russian government and included a two-hour private meeting with President Vladimir Putin!"
Peskov, the Kremlin spokesman said a Russian Orthodox monk, Archimandrite Tikhon, who acts as the president's spiritual adviser, set up the meeting after giving a speech at the world-famous boarding school.
"It was an absolutely private visit by the boys and the meeting was not public," Peskov told journalists, saying Putin took part in "an open discussion".
"It was interesting for both the president and for the boys but it would be wrong to give more details as it really was a private conversation which was not intended to be publicised."
The British media has reported on the unlikely encounter after some of the students involved posted pictures of themselves meeting Putin and posing in the Kremlin.
One of the students, Trenton Bricken – who apparently finished his time at Eton this summer – wrote on Facebook that: "He was small in person but not in presence."
He posted a picture of himself shaking the Russian strongman's hand, prompting some wry commentary online – not least from the Ukrainian embassy in Britain.
Old Etonians include Prince William and Oscar-winning actor Eddie Redmayne as well as former Prime Minister David Cameron – who fell out with Putin over the crisis in Ukraine – and current UK foreign minister Boris Johnson.
The meeting with the public schoolboys came ahead of Putin's first encounter with new British leader Theresa May at the G20 in China, with both sides saying they are interested in improving the dire relations between their two countries.
With reporting from AFP. - © AFP, 2016