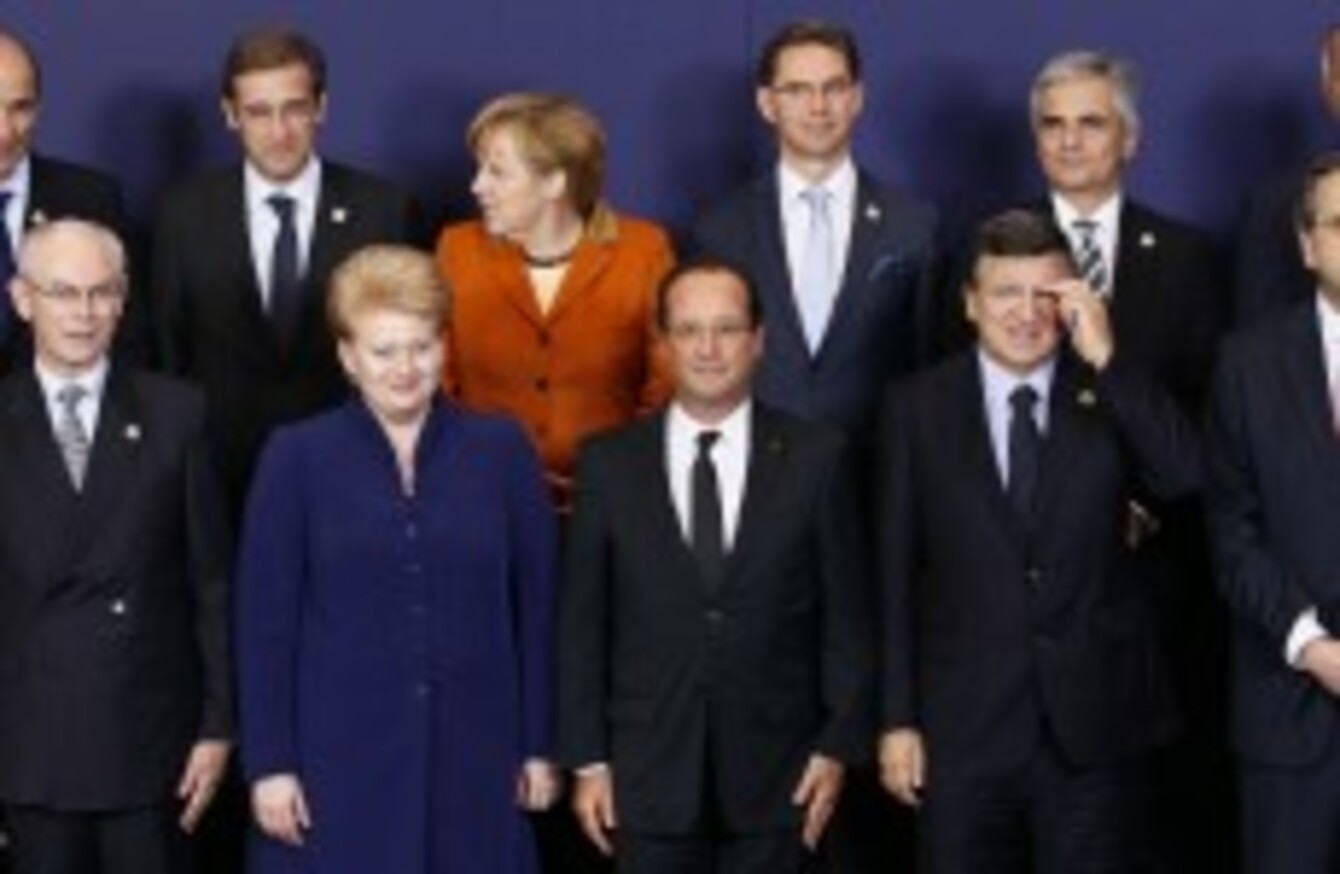 Image: Remy de la Mauviniere/AP/Press Association Images
Image: Remy de la Mauviniere/AP/Press Association Images
EUROPEAN UNION LEADERS have agreed to create a single supervisor for banks in countries that use the euro — without saying when it would become fully operational.
The deal, reached at a summit of EU leaders in Brussels, represented a shaky compromise between the Germans and French, who had been tussling over how to shore up the eurozone's stricken banking system — one of the main causes of Europe's debt crisis.
Compromise
France has been pushing to get all 6,000 banks in the 17 euro countries under the supervision of one European body by the end of this year. Leaders agreed in June that, once a supervisor is in place, struggling financial institutions would be able to tap Europe's emergency bailout fund, the European Stability Mechanism, directly.
At the moment, money to help out banks has to go through a country's government — placing more strain on state finances. In Ireland's case, the government's attempts to rescue failing banks forced it into a bailout. Some fear Spain could face that fate, too.
But Germany's Chancellor Angela Merkel, wary of using taxpayers' money to prop up other countries' banks, had tried to put the brakes on the plan, insisting that creating the supervisor should be done slowly and that "quality must come before speed."
The compromise included something for both — all 6,000 banks will be included, as France had wanted. But there is no firm deadline for the single supervisor to be up and running — other than to say that the "objective" is to finish the legal framework by January 1, and that work on its operational implementation "will take place during the course of 2013."
Despite the lack of a deadline, French President Francois Hollande declared victory and presented a much more ambitious timeline than his colleagues, claiming the supervisor could be up and running within weeks or months of January 1.
Hollande hailed the steps as pushing the eurozone toward a "banking union" that he said would protect "all countries touched by the virus of bank failures."
The debate over the supervisor was especially intense because countries belong to the EU but don't use the euro are nervous that the new system could make banks in the eurozone look so safe that investors will pour into them. They are also concerned that the eurozone countries will vote as a group on regulations that affect all EU members.
Challenges
However, many challenges remain. Unemployment in the region is at a record 10.5 percent and, growth is grinding to a halt around the continent. There are still concerns Greece might default on its loans — even after two bailouts — and be forced to leave the eurozone.
Leaders praised the progress it said Greece had made toward reforming its economy and balancing its budget, though, without a new report by international lenders, no decision could be taken on badly needed continued aid for country.
Greece's bailout creditors — the EU, the International Monetary Fund and the European Central Bank — have been engaged in tough negotiations in recent weeks over more budget cuts.
In addition, the question of whether Spain will ask for a bailout itself looms. The government in Madrid said this week that it would decide in the coming weeks — although it is still hoping it can avoid asking for any kind of aid.