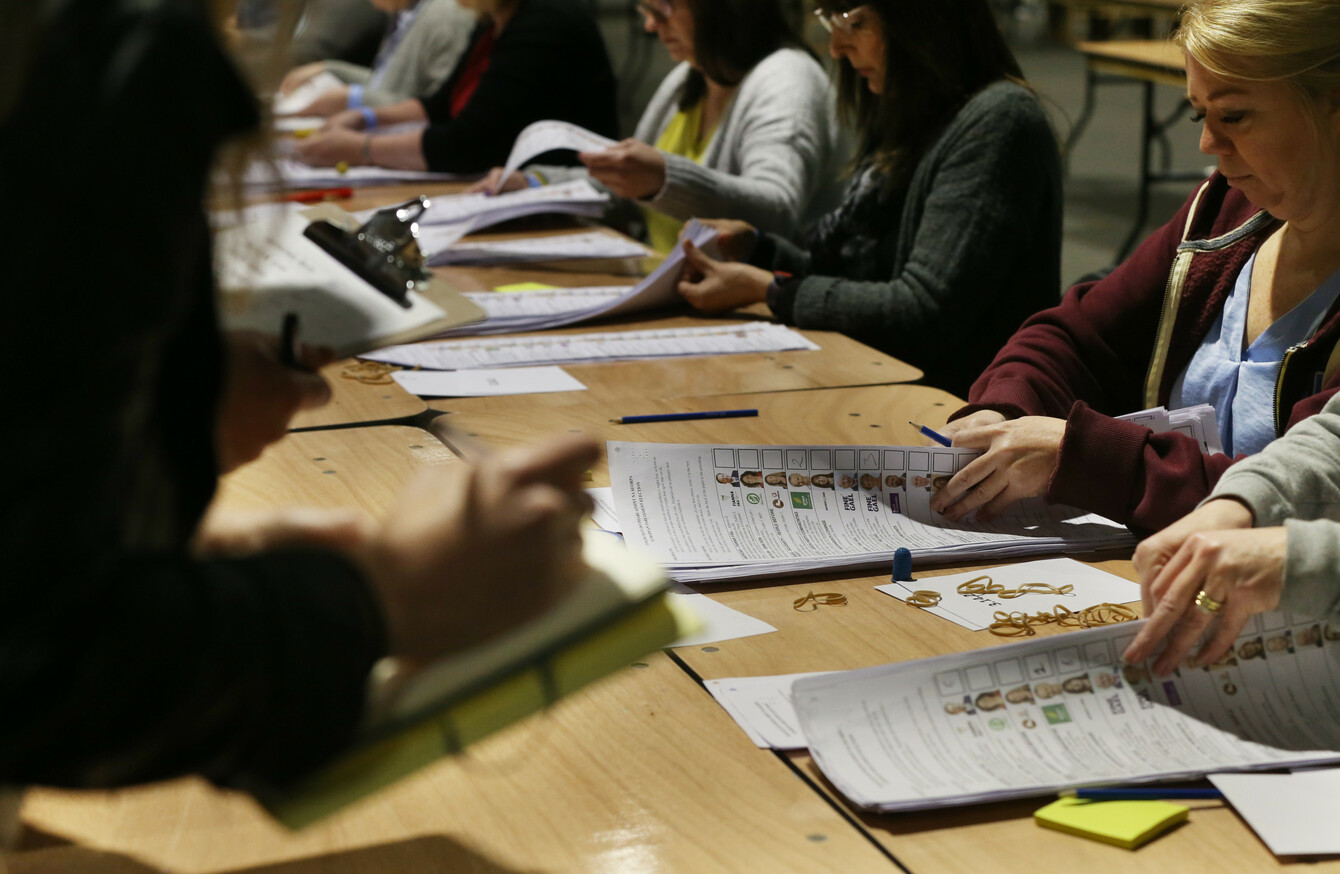 File photo.
Image: Sam Boal/Rollingnews.ie
File photo.
Image: Sam Boal/Rollingnews.ie
Updated May 29th 2019, 11:00 PM
GREEN PARTY CANDIDATE Grace O'Sullivan has inched just 327 votes ahead of Sinn Féin's Liadh Ní Riada in the nail-biting battle for the final seat.
Fianna Fáil's Billy Kelleher was elected in the last count, and his surplus of around 11,786 votes was shared out among the final four candidates in the race for the final seat.
Ni Riada has called for a full recount of the votes, which the Ireland South returning officer has said will commence from 9am tomorrow.
Wallace and Clune are certain to be elected, with the latter making a spectacular comeback through eliminated candidate's transfers.
Here's the state of play at the moment:
Ireland South
Elected: Sean Kelly (FG), Billy Kelleher (FF)
Seats remaining: Three (including one for when Brexit happens)
Billy Kelleher was officially declared elected after reaching the quota earlier this evening, joining Sean Kelly in taking two of the five MEP seats.
His surplus was then divvied out to the four candidates left who haven't been eliminated: Mick Wallace (I4C), Deirdre Clune (FG), Grace O'Sullivan (Greens) and Liadh Ní Riada.
Wallace +3,292 (112,441)
Clune +3,077 (101,012)
O'Sullivan +2,611 (98,706)
Ní Riada +2,806 (98,379)
If the table is frozen as it is, O'Sullivan is due to take the Brexit 'cold-storage' seat, inching ahead by just 327 votes.
Earlier in the day Clune got a huge injection of over 20,000 transfers and jumped into contention, after getting just 64,000 first preference votes.
She was just 2,000 votes behind Ní Riada before the  Malcolm Byrne transfers, where she got a whopping 8,192 votes.  
A recheck is due to start in the morning.
Midlands North-West
Elected: Mairéad McGuinness (FG), Luke 'Ming' Flanagan (Ind), Maria Walsh (FG), Matt Carthy (SF)
Seats: 4 seats, none of which are Brexit 'cold-storage' seats
Heavily tipped after her strong performance on RTÉ and the exit poll results, Green Party candidate Saoirse McHugh was eliminated in Midlands North West late last night.
Fianna Fáil's Brendan Smith was eliminated today too, with his transfers propelling Walsh to third place, ahead of Sinn Féin's Matt Carthy, who is now their only MEP from Ireland.
'Ming' has been a strong performer from the beginning, transferring well and reaching the quota in the end.  
Walsh, the former Rose of Tralee, also did well in the end.
For political watchers, a look at how Casey did off transfers from Fianna Fáil voters is an interesting one: he got 8,439, but that's less than Maria Walsh or Luke 'Ming' Flanagan did.
Casey previously said he'd like to lead the party, even if Fianna Fáil were having none of his overtures, and he was tipped to be fighting for the party's vote in that region.