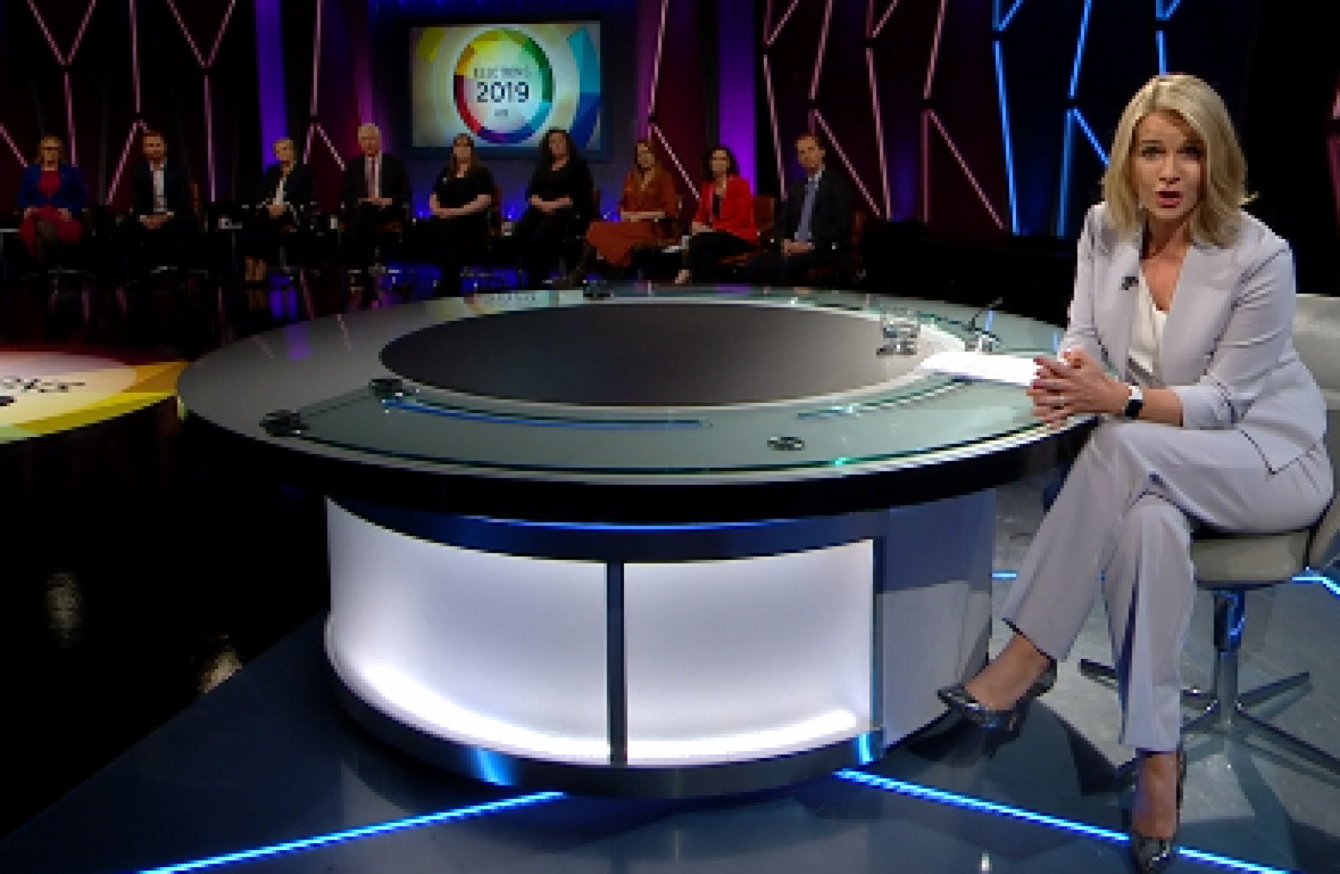 Image: RTÉ
Image: RTÉ
CLIMATE CHANGE, HOUSING, the security budget and the actual powers of an MEP were some of the major topics discussed during last night's EU election debate. 
Candidates for the Dublin constituency gathered in RTÉ's Claire Byrne Live studios to put forward why they believe the electorate should vote for them. 
The debate grew a little heated at times, as hopefuls from different sides of the political divide took potshots at each other's records, but it remained mostly calm and respectful throughout. 
Just 10 of the 19 candidates participated, with RTÉ's criteria for the debate precluding the others. Although a pre-recorded message from the remaining candidates was played on the show. 
The Dublin constituency contains a mix of former TDs and ministers and relative newcomers, with four seats up for grabs. 
Sinn Féin's Lynn Boylan is the only sitting MEP seeking reelection, meaning at least three new MEPs will be elected in the constituency. 
It's been forecasted that former Fine Gael Justice Minister Frances Fitzgerald will top the poll, with former Fianna Fáil TD Barry Andrews coming second and Lynn Boylan not far behind. 
Independents4Change's Clare Daly, the Green Party's Ciaran Cuffe and Labour's Alex White are also all well in the running, but campaigning is far from done. 
The Social Democrats' Gary Gannon, Rita Harrold from Solidarity, Independent Alice Mary Higgins and the Workers' Party Éilis Ryan were the other featured candidates. 
The debate
Lynn Boylan kicked off last night's debate by referencing the rise of right-wing and far-right populist politics of Europe, and positioning herself and her party as the "antidote" to that.
"The best antidote to the far right is progressives, like myself, who go in there and want social justice and equality at the heart of the European project," she said. 
"You can't just go in there fawning and gushing like some nodding dog and going everything is perfect here because the citizens know it isn't," she said. 
Clare Daly also referenced the rise of the far-right and Brexit, stating that they were caused by "millions of European citizens being left behind". 
"We have record levels of inequality between nations and within nations," she said, taking aim at the "neoliberal agenda" and the EU in its current form. 
Meanwhile, Barry Andrews said that far-right arguments had to be dealt with and faced "robustly" and it was important to win the argument. 
"The very fabric of the EU is threatened and we need to confront the threat by electing centrist pro-EU MEPs," he said, saying that Fianna Fáil would form part of the ALDE Group in the parliament.
Éilis Ryan also took aim at right-wing governments in the EU, likening them to governments in Ireland, stating that Fine Gael was "in bed in the right with Europe". 
"The rise of the far-right has been created by a succession government… that have done great damage to workers," she said. 
Meanwhile, Senator Alice Mary Higgins said that it was "really, really important" that Ireland sent MEPs who "are going to be strong and clear on each issue".
Equality, environment, peace and the economy were the most pressing issues listed by Higgins. 
Gary Gannon – a councillor from the north inner city – said that he has represented a community that had experienced "the very worst" of austerity and other conditions imposed on people.
Gannon said that these are the conditions that lead to the rise of the far right. 
Climate change 
Climate change and the measures needed to combat it will be a significant focus in any future European Parliament. Candidates were asked last night whether they supported an increased carbon tax being put on ordinary citizens. 
The Green Party's Ciarán Cuffe was questioned on whether measures to tackle climate change would have to be introduced at the expense of economic growth. He said Europe could have "green growth". 
"The climate crisis is real and we need to tackle it," he said. 
I don't think it has to be that painful, in fact I think there's huge opportunities for people in tackling climate change.
He said he was in favour of a carbon levy, but that it needed to be given back to people in another form. Lynn Boylan, Clare Daly and Solidarity's Rita Harrold said they did not support a carbon tax on ordinary people. 
"I'll just remind people that if the government or the EU comes at ordinary people with another unjust and unfair tax there will be a massive non-payment campaign," she said, stating that companies needed to be taxed properly first.   
Gary Gannon said he supported a switch to green energy while Labour's Alex White – a former energy minister – said that the country was "in a transition". 
He said that other candidates were talking up the problems and running away from solution.
"We need to get sense here. What we need to understand that this is a transition and it's going to be a massive mobilisation," he said. 
Housing 
Housing was another hot topic issue on the agenda, with candidates trading barbs on each other's policies. 
Frances Fitzgerald said that the Fine Gael government was making progress in tackling the housing crisis. 
"It is actually being dealt with, it's a big challenge," she said, saying that the country had improved economically in recent years.
"In relation to housing, I think it's important that we have more discussion in relation to affordability," she said.
Éilis Ryan his back at Fitzgerald, saying that the former minister's memory "has been known to fade". 
"And it's clear that her memory in relation to housing seems a bit weak," she said. 
There are 4,000 children homeless tonight. That is the only thing that should be starting this debate.
Candidates also discussed increasing the EU defence budget, with conflicting accounts over what it could be spent on and whether the money would be better spent elsewhere.
Barry Andrews referenced the Christchurch New Zealand mosque attack as a reason for Irish people to be concerned about security measures.
He said some issues including cyber security were being addressed by Pesco, the EU body that aims to boost military cooperation between countries. 
Rita Harrold replied: 
"What are you talking about? What on earth would a massive international army have done about Christchurch?", to which Andrews replied that everyone present was against an EU army.
Irish voters go to the polls in the local and European elections this Friday. The electorate will also be voting on the divorce referendum.