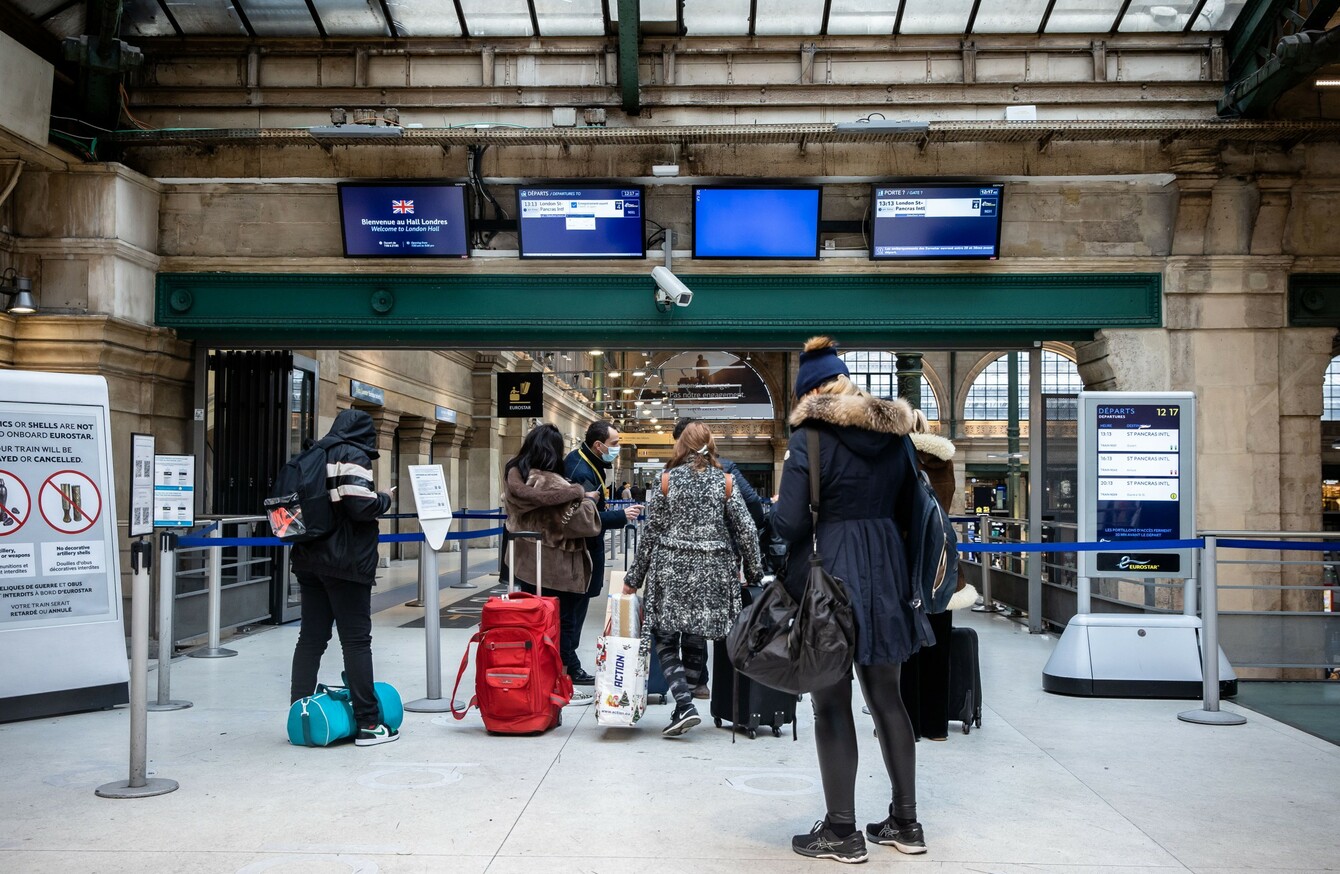 Image: Xinhua News Agency/PA Images
Image: Xinhua News Agency/PA Images
Updated Dec 22nd 2020, 9:26 PM
OVER 350 IRISH residents stranded in Britain have been brought back to Ireland on two "repatriation flights" this evening, the Department of Foreign Affairs have confirmed. 
The flights consular flights were operated by Aer Lingus and Ryanair with "a smaller number" also brought back to Ireland on ferry routes.
Under new advice issued today by the HSE, anyone arriving into Ireland from Britain should self-isolate for two weeks regardless of whether they have received a Covid-19 test.  
The developments comes after it was confirmed earlier today that the current restrictions on travel from Britain to Ireland are set to remain in place until at least 31 December.
The government first introduced a suspension on flights and passenger ferries from Britain on Sunday night for an initial 48-hour period. 
The measure was introduced as a precaution due to the spread of a new variant of Covid-19 in Britain.
The Irish government has confirmed this afternoon that the restrictions are to remain in place "until at least 31 December" and that it will be "kept under constant review in the light of unfolding information and circumstances". 
Speaking about the measures this afternoon, Transport Minister Eamon Ryan referred to it as "a transport crisis" but said that it was an action that needed to be taken. 
"I think it's appropriate for us to run it to the end of this month because we still need clarity on what's exactly happening with this variant and on that basis I think it was the right decision," he said. 
Ryan also added that the government has been helping people who live in Ireland return from Britain. 
"We've two flights, repatriation flights you might call them, coming in this evening," he said.
It is it is exclusively those for people who are resident in Ireland currently find themselves caught in the UK, because of the immediate nature of these restrictions.
The DFA has confirmed this evening that these flights have arrived, adding:
The government has agreed that a very limited service will continue during the period of the current travel restrictions in order to assist Irish-bound passengers who were transiting through British airports when the restrictions were imposed, or Irish residents who can prove that they were only temporarily in Britain, and need to get back to Ireland. This service is not available for citizens normally resident, studying or working in Britain.
Aer Lingus has said that it will not operate commercial passenger flights while the restrictions are in place. 
"Customers whose flights have been cancelled will be contacted by Aer Lingus directly, and are entitled to a refund, voucher or rerouting at a later date," the airline said. 
Responding to Ireland's flight ban on Sunday, Ryanair has said that customers who had booked flights to and from Britain between will be offered "practical alternatives" including free rescheduling and refunds. 
EU intervention
As part of the slew of countries banning flights from the UK, the European Commission has moved to streamline the approach and lift outright bans. 
In a statement this afternoon, the commission said travel from Britain to member states should be "discouraged" due to fears about the mutant variant of coronavirus, but that outright bans on movement should be lifted.
It recommended a joint approach from EU members after individual countries imposed emergency restrictions over the past few days. 
Asked about the statement from the European Commission, Ryan said it was "making a legal case"  but that "we also have to judge the health issue". 
"I think the reasoning for them is because the UK  is still a member of the European Union up until 31 December," he said. 
The most dramatic action had come from France, which closed its border to lorries crossing the Channel, leading to more than 1,500 HGVs being trapped in Kent.
The new EU-wide approach recommended by the commission would, however, allow essential travel, and would encourage the facilitation of the transit of passengers.
Flight and train bans "should be discontinued given the need to ensure essential travel and avoid supply chain disruptions", the commission said.
#Open journalism No news is bad news Support The Journal

Your contributions will help us continue to deliver the stories that are important to you

Support us now
🔵 Recommendation by @EU_Commission to ensure coordinated approach to 🇬🇧 travel restrictions:

➡️Non-essential travel discouraged, but transit should be facilitated.
➡️Flight & train bans should stop: need to avoid supply chain disruption.https://t.co/4oSbI7MbCo#coronavirus pic.twitter.com/hLLKTxruOD

— Daniel Ferrie 🇪🇺 (@DanielFerrie) December 22, 2020
EU justice commissioner Didier Reynders said "member states should take coordinated action to discourage non-essential travel between the UK and the EU".
But "at the same time, blanket travel bans should not prevent thousands of EU and UK citizens from returning to their homes".
Transport commissioner Adina Valean said: "Within the EU, it is crucial that transport workers are exempted from any restrictive measures."
Talks between the UK and France to resolve the crisis at the Channel have included discussions on testing HGV drivers.
The EU's recommendation suggested rapid tests should be used to avoid disruption.
- With reporting by Press Association