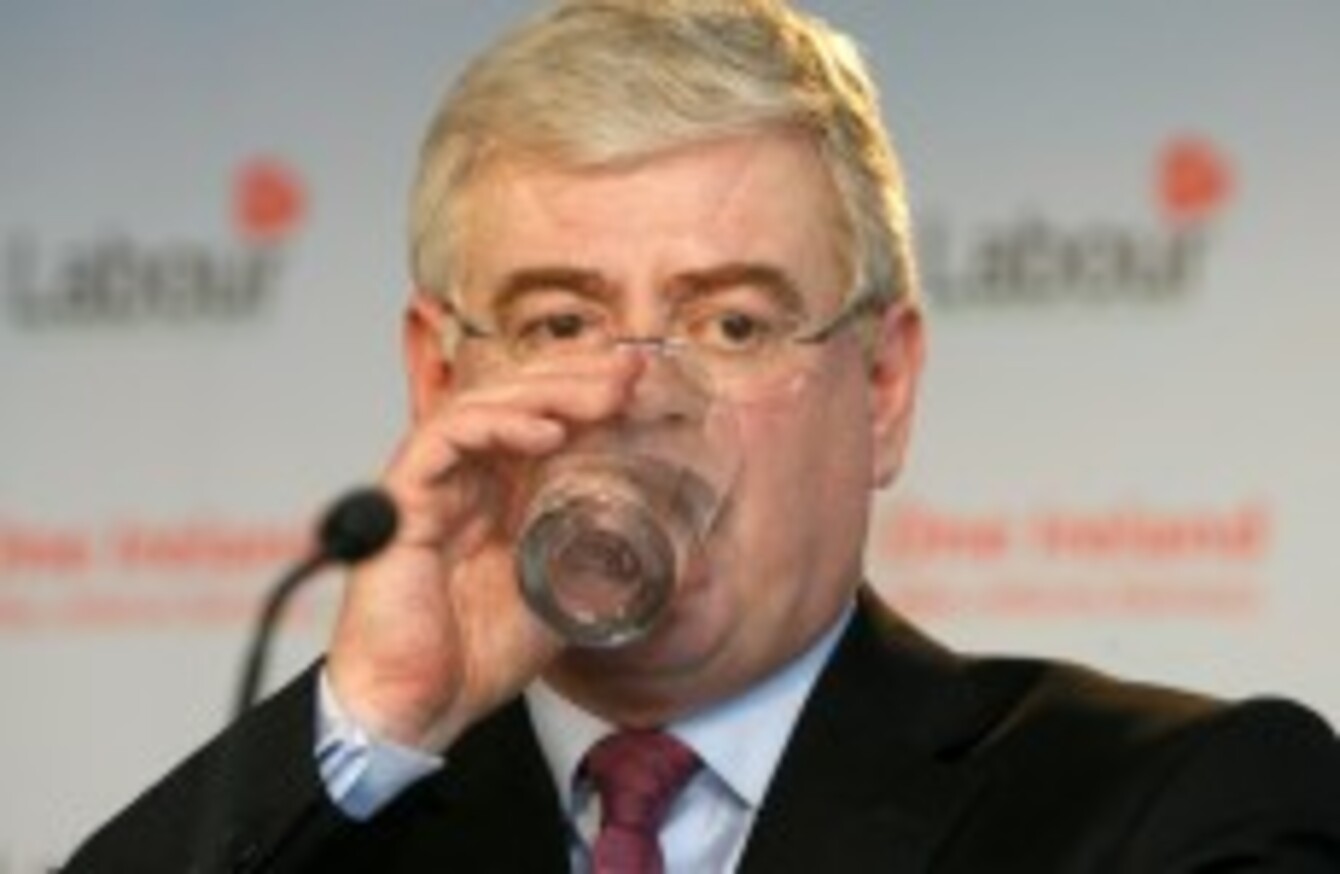 Labour leader Eamon Gilmore has faced a call to step down from one of his own MEP's today.
Image: Mark Stedman/Photocall Ireland
Labour leader Eamon Gilmore has faced a call to step down from one of his own MEP's today.
Image: Mark Stedman/Photocall Ireland
PHIL PRENDERGAST HAS felt this way for quite some time.
This morning the Labour MEP articulated a view she has held since at least before the weekend – that Eamon Gilmore should step down as party leader. Yet it was only today that she decided to make that view public.
There's nothing like a poll to focus the mind and the Irish Independent and Sunday Independent's Millward Brown poll, which has run over recent days, has done just that for all the political parties and the independent candidates running for the European Parliament.
Dozens of candidates are battling out for just 11 Irish seats in the European Parliament. There are four seats each in Midlands, North West and Ireland South and three up for grabs in Dublin.
The first sampling of the public's views on the candidates running for the European elections has thrown up some intriguing results, though it should be noted that there is a sizeable margin of error of +/- 4.3 per cent and a smaller sample size than most opinion polls.
'Kick up the arse'
Nonetheless for Fine Gael the poll serves as what one party source described as "a long overdue kick up the arse".
There seemed an inevitability about the election of FG's Mairead McGuinness in the vast Midlands North West (MNW), Brian Hayes in Dublin and Seán Kelly in Ireland South. Yet the weekend's poll shows that none of them can take anything for granted.
McGuinness faces considerable competition from independents in MNW with Luke 'Ming' Flanagan and Marian Harkin both polling strongly, just behind Thomas Byrne of Fianna Fáil and Sinn Féin's Matt Carthy, who may be relatively unknown but is an impressive speaker and will almost certainly take a seat.
If McGuinness is to win a seat it seems she will do so at the expense of party colleague and incumbent MEP Jim Higgins who could be in trouble though the weekend poll has the pair both on 11 per cent – not good reading for either.
In Dublin, Hayes, who had been expected to top the poll, is languishing in third behind independent Nessa Childers whose transfer-friendliness puts her in a strong position to take a seat. Sinn Féin's Lynn Boylan is relatively unknown but the SF brand is strong enough to indicate she should also do well.
In Ireland South, Brian Crowley's huge personal vote is unmatched anywhere else. Crowley could run without the Fianna Fáil banner and would still romp home. Kelly languishes third in the poll, behind Sinn Féin's Liadh Ni Riada, but the transfers from Fine Gael's other two candidates should help him.
Kelly's running mates Simon Harris and Deirdre Clune now look at best to be in a straight battle for one seat. It was no surprise then that Harris subtly criticised Clune last week while being careful not to refer to her by name.
Labour pains
The most newsworthy response to this poll has been Prendergast's decision to call for the Labour leader to go. She clearly feels that her 4 per cent rating requires dramatic action. That Prendergast lags behind Ballyhea anti-bondholder protestor Diarmuid O'Flynn, who has no money and few resources, says it all.
Her decision to burn Eamon Gilmore will leave her isolated by her Labour colleagues and is unlikely to significantly help her chances of retaining her seat. Watch for her constituency rivals to slam her at every opportunity for the cynical way in which she has only now decided to turn against Gilmore.
Prendergast's call for Joan Burton to be the party leader is to many outside the party the most obvious choice. But Burton does not enjoy the popularity inside the Labour parliamentary ranks that she does outside of it. Gilmore's position is secure right now, but a bad election will, as one TD put it this morning, "rock the boat".
That bad election would include the party not returning any MEPs which is now a distinct possibility. Senator Lorraine Higgins is unlikely to take a seat in Midlands North West and and 'Dublin's MEP', as Labour likes to call her, Emer Costello is also in trouble.
Trouble for Micheál Martin?
The boat could also be rocked in Fianna Fáil if it has a bad election which is now looking a distinct possibility based on this poll. While Crowley is a dead cert and a seat in Midlands North West – most likely Thomas Byrne over Pat 'The Cope' Gallagher – looks likely, the party is in trouble in Dublin where Mary Fitzpatrick's failure to win a seat would compound the party's problems in the capital.
It would also raise fresh questions about Micheál Martin's leadership. These questions were already being asked this past weekend and are likely arise again should the party underachieve in May.
While the poll does not make good reading for any of the so-called establishment parties, Sinn Féin will have a spring in its step this week as it looks on course to win a seat in each of the three constituencies, a huge electoral leap for the party if it transpires.
Sinn Féin, Greens and independents
It's long been the tradition that Sinn Féin does well in opinion polls but not in the actual vote, but such is their strength in this particular poll it's hard not to think that it will translate on 23 May. If it doesn't then there will be plenty of soul-searching within the party as to why it continues to underachieve at the ballot box.
But make no mistake, this has been a good weekend for Sinn Féin that will bolster them on the campaign trail in the coming weeks.
A word also for the Green Party whose Dublin candidate, former minister Eamon Ryan, polled strongly at the weekend and is in with a very good chance of taking a seat which would be a remarkable coup for the Greens considering they were wiped out at the general election three years ago.
Finally, there will be a number of independent candidates who will be also be bolstered by this poll.
In Midlands North West, Luke Ming Flanagan has only been campaigning for a fortnight yet has put in a strong showing while Marian Harkin always knew she would have to fight hard to retain her seat, but will be pleased with her strong showing.
In Ireland South, there is a lack of independents but the aforementioned Diarmuid O'Flynn will be encouraged by his showing and if any independent is to succeed there – unlikely as it is – it will probably be him.
But the big story for independents is in Dublin where Nessa Childers is defying expectations and will now be strongly fancied to take a seat, hoovering up the disaffected Labour votes, creating more trouble for Eamon Gilmore whose could have done without today's developments.