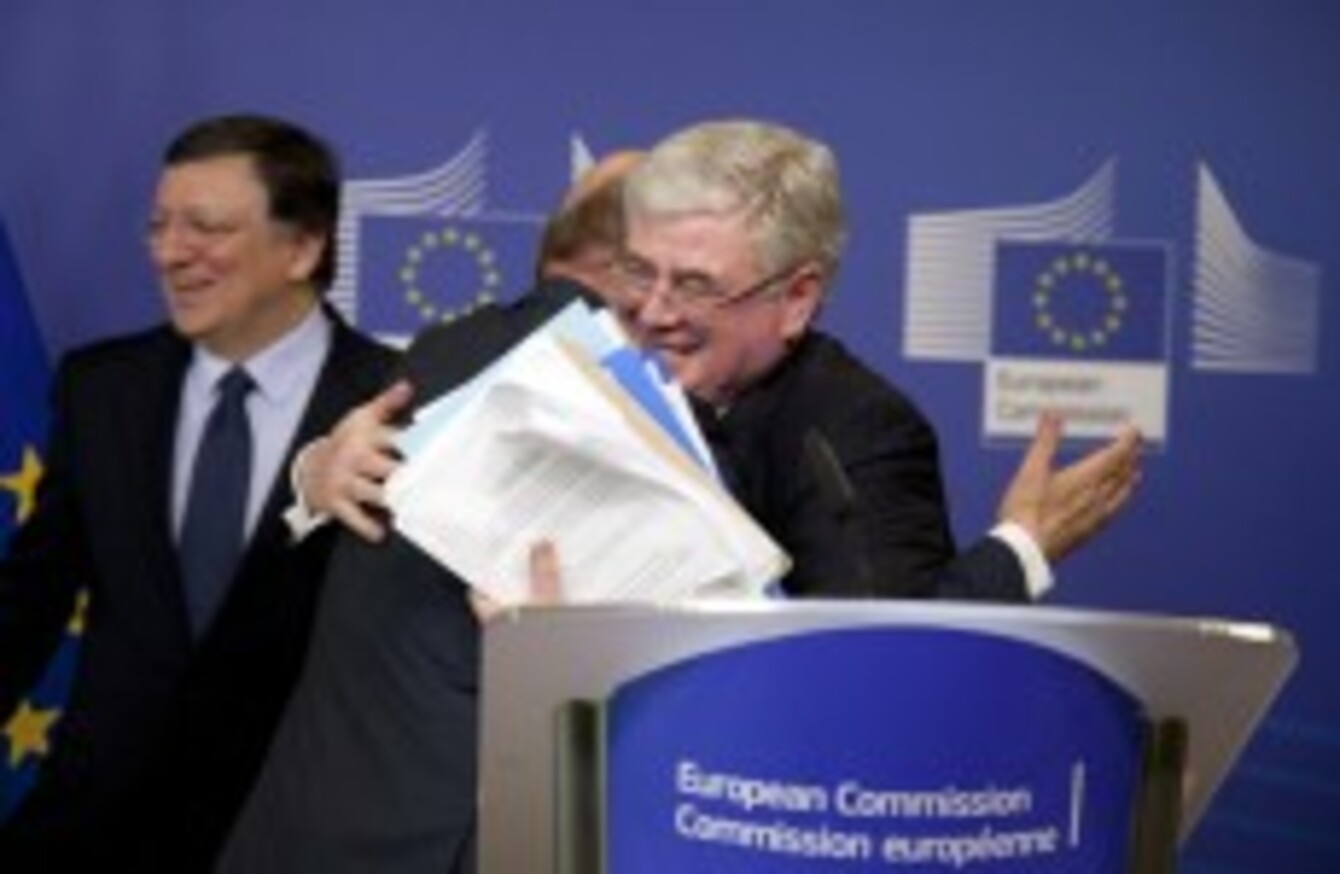 Tánaiste Eamon Gilmore hugs Martin Shultz, the president of the European Parliament, after the budget was agreed
Image: AP Photo/Virginia Mayo
Tánaiste Eamon Gilmore hugs Martin Shultz, the president of the European Parliament, after the budget was agreed
Image: AP Photo/Virginia Mayo
THE EUROPEAN PARLIAMENT has endorsed a compromise proposal on a hotly contested trillion-euro EU budget for 2014 to 2020 that had been held up by months of squabbling between governments, the parliament and the EU executive.
A political resolution on the European Union's proposed budget for the seven-year period, which cuts spending for the first time ever, was agreed with 474 votes in favour, 193 against and 42 abstentions.
The resolution contained a revised budget proposal that had been approved last week by the EU's heads of state and government.
The € 960 billion budget still faces one last hurdle in the European Parliament, a formal vote for final adoption to be held in September or October.
"Today is a good day for Europe," said Budget Commissioner Janusz Lewandowski.
We have spared no effort over the last two years to reach this point by helping the European Parliament and the Council (of EU states) find common ground on what is traditionally the most complex, the most sensitive and the toughest negotiations in the European Union.
Parliament and the executive European Commission had been at odds with austerity-minded EU hardliners Britain, Germany and the Netherlands, who early this year shot down plans to increase spending and instead pushed through a historic three-percent cut.
After tough and lengthy negotiations, a compromise deal was reached last week that won a green light from the EU's heads of state and government at a summit.
"The European Parliament has opened the way for putting in place a seven-year growth and jobs fund," Lewandowski added.
Notably at stake are plans to quickly put billions of euros into measures to help Europe's 5.6 million unemployed people under the age of 25.