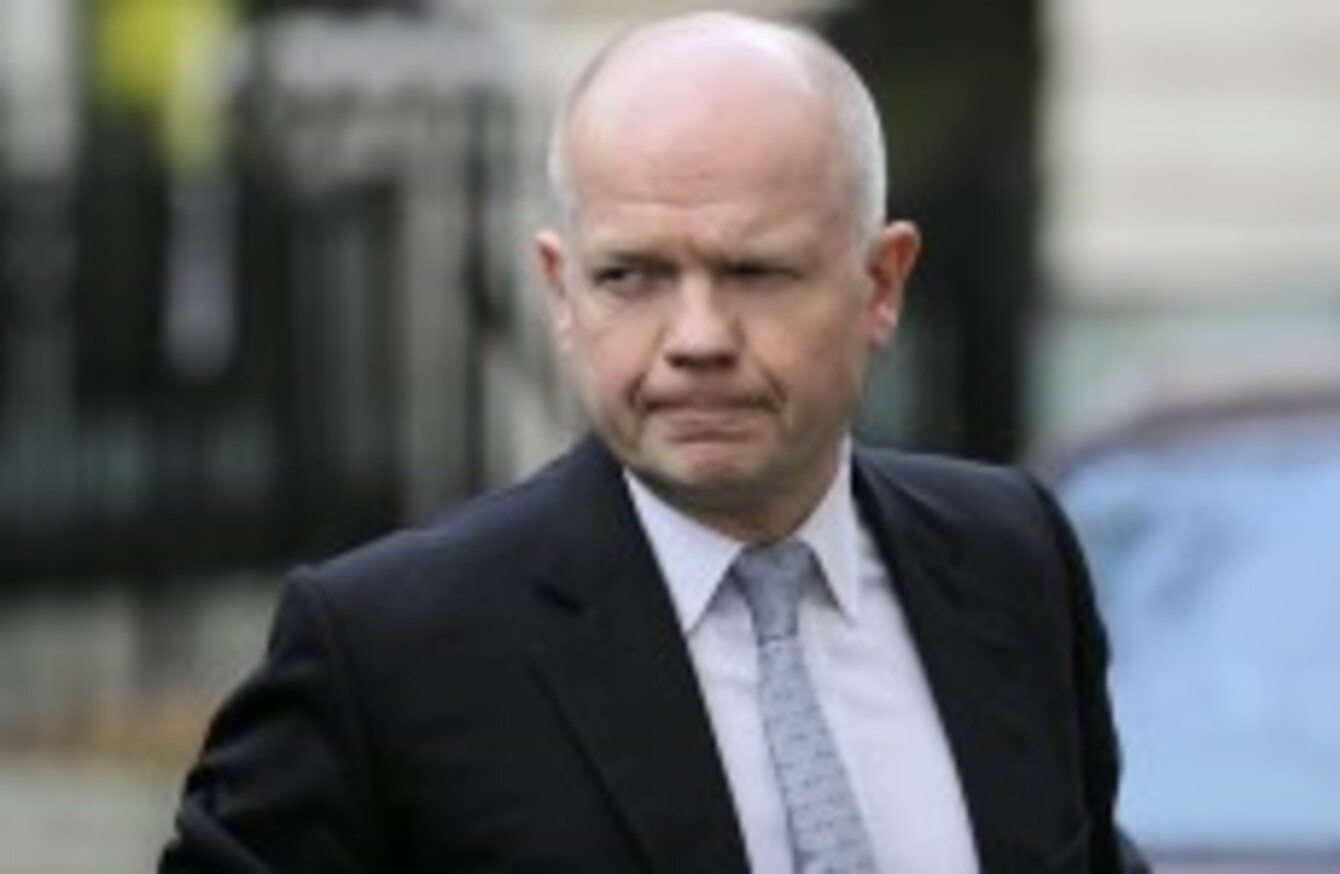 British Foreign Secretary William Hague
Image: Sang Tan/AP/Press Association Images
British Foreign Secretary William Hague
Image: Sang Tan/AP/Press Association Images
SEVERAL EUROPEAN COUNTRIES have stepped up pressure on Iran following an attack on the British embassy in Tehran on Tuesday.
Yesterday, the British Foreign Secretary William Hague announced the expulsion all Iranian diplomats from the UK, the immediate closure of the Iranian embassy in London, and the withdrawal of British diplomatic staff from Iran.
"If any country makes it impossible for us to operate on their soil, they cannot expect to have a functioning embassy here," Hague said.
Speaking to the House of Commons yesterday afternoon, Hauge insisted there had been "some degree of regime consent" in the incident – despite an expression of regret by the Iranian Ministry of Foreign Affairs over the attacks.
France also recalled its ambassador to Iran yesterday in order to hold consultations following the attacks, as did Germany and the Netherlands, reports the BBC.
Meanwhile, Italy has summoned the Iranian ambassador to Rome to give assurances that Italy's mission in Tehran is not in danger, and Norway announced it was closing its embassy as a precaution.
Attacks
On Tuesday, hundreds of anti-British protesters stormed the embassy building and residential compound in Tehran, smashing widows, burning representations of the British flag, setting a car alight and shouting "Death to England".
The attacks were notably reminiscent of those on the US embassy following the Iranian Revolution – an event also preceded by increasingly strained ties between Iran and Western powers.
Protesters calling for the closure of the British embassy on Tuesday labelled the compound a "den of spies" — the exact phrase used by militants storming the US Embassy in Tehran in 1979.
The 1979  incident led to a hostage situation that last for 444 days, and so badly affected relations between the two powers that diplomatic relations between Washington and Tehran remain severed to this day.
Nuclear programme
The protesters were reacting to Britain's recent decision to impose further economic sanctions on Iran over its disputed nuclear programme. Iran is currently subject to a raft of sanctions relating to a range of sectors and services by the EU, UN, United States, Canada, Australia, Japan, Switzerland, South Korea, India and Israel.
The ongoing argument about Iran's nuclear programme and ensuing sanctions led to Iran's parliament approving a bill to downgrade relations with Britain over the weekend.
Iran insists it is developing nuclear technology for peaceful means, but other nations have raised concerns over a possible attempt to create a nuclear weapon. A recent report by the Atomic Energy Agency suggested that Iran was working on the design of a nuclear bomb.
EU foreign ministers are to meet in Brussels today to discuss a way forward following the AEI's findings, Reuters reports.