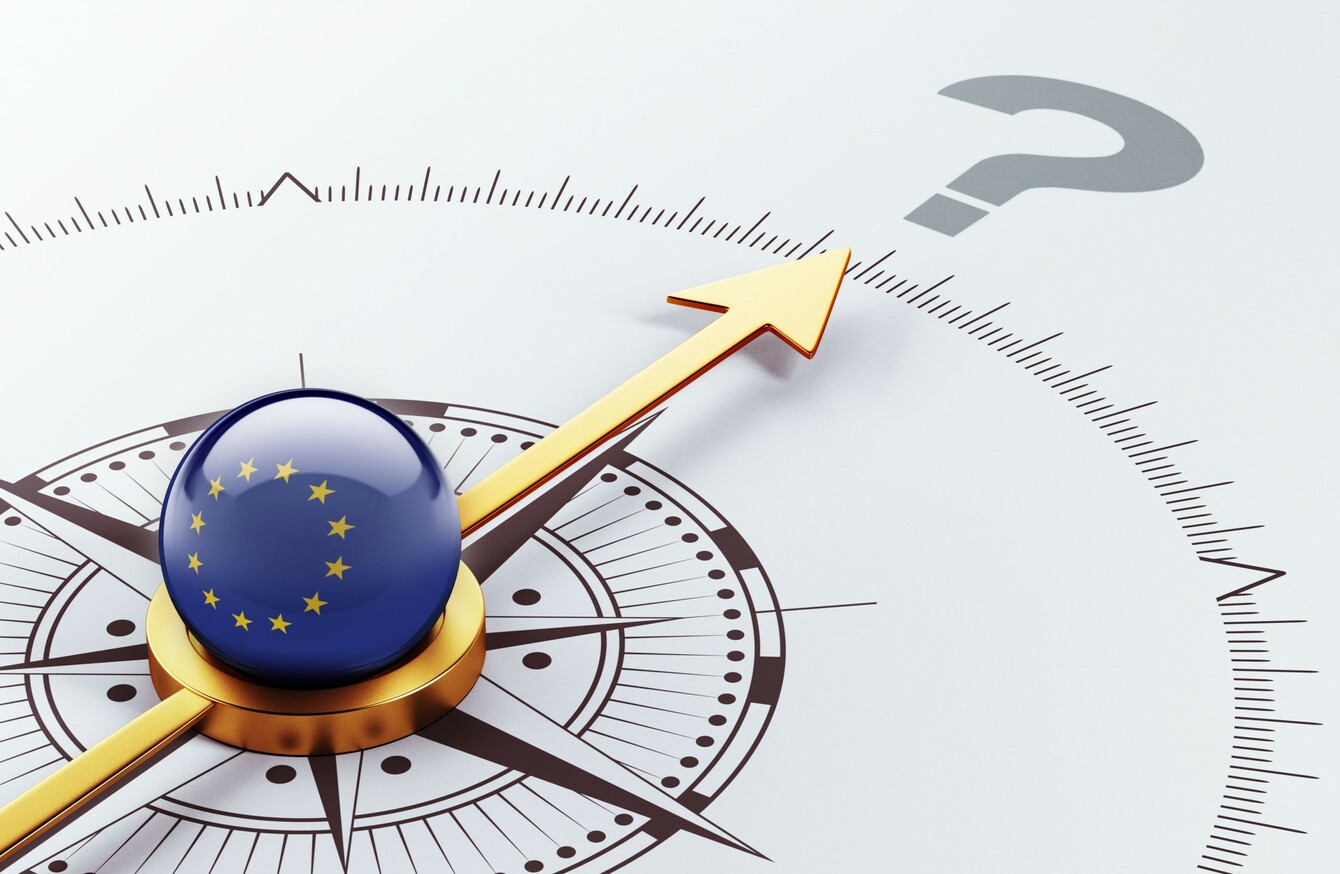 Image: Shutterstock/xtock
Image: Shutterstock/xtock
WHAT IS GOING to happen next in Europe is anyone's guess.
The intense negotiations between Greece and the heads of EU financial institutions last year was the first major signal of the European Union's weakness.
What followed was Greece's left wing Syriza party reneging on its promise to end austerity and continuing to implement financial policies which Prime Minister Alexis Tsiparas argued strongly against before his election.
With Brexit to reckon with in the New Year, we're forced to stare in the face of the flaws that go with the EU, which was created out of hope for a peaceful Europe bound together by free trade, unlimited movement of citizens, and a unified approach on issues such as climate change and upholding human rights.
Other EU developments that hint at fractures within the organisation include the Belgian region of Wallonia grinding an EU trade deal with Canada to a halt, and the differing opinions on how to meet the demands created by the migrant crisis.
And that's not to mention the rise of far-right parties across Europe, threatening to bring the continent back to it's World War past rather than a prosperous future.
So where is it headed?
With upcoming elections in both France and Germany, you'd wonder whether the EU's political representatives are feeling a little on edge about the future of the project.
So we asked a few Irish Members of the European Parliament (MEPs), including the Vice-President of the European Parliament.
Mairead McGuinness MEP and Vice-President of the European Parliament, says:
"In 2017, the European Union is facing a number of challenges – individually they are not existential challenges, but cumulatively they could cause problems:
The start of Brexit negotiations and unravelling 40 years of integration
Elections in the member states with uncertain outcomes
A resurgent Russia
A USA that seems to be moving towards protectionism and nationalism
Populism
Terrorism
Economic and technological change
Youth unemployment.
"But it is too early to sound the death knell for the European Union. One of the benefits of Brexit is that it has prompted debate, in the European Parliament and elsewhere, on how the European Union needs to continue to evolve to deal with these challenges."
Brexit
And what a debate it has sparked.
The referendum on the 23 June fractured the symbiotic and peaceful foundations of Europe in the hope that individual countries will come out better off because of it.
Whether Britain does thrive outside of the EU depends on the deal they cut with other member states, but McGuinness says that the negotiations will be important for the other 27 member states too.
"Brexit could kill or cure Europe. It is our choice and determination which will determine the outcome and as I see it, the EU-27 are strong in their resolve to remain united and forward looking. Brexit has to be dealt with but it cannot consume the EU when there are other things to do.
People are fearful of the future and are not sure that Europe is doing all it should for them. There is also a sense that the EU may be interfering too much in member state issues, being too prescriptive. We need to debate these issues and deal with them rather than allowing these ideas to fester.
Surprisingly, other MEPs don't seem too concerned by Brexit as it's not mentioned much (either that or they're sick of talking about it).
Things that concern them far more is the perception that the European Union is for 'elites' and where far-right politics might take Europe.
Elites
Matt Carthy who represents Sinn Féin and the Midlands North West, is slightly more concerned about Europe compared to his Fine Gael counterparts.
"The European Union now faces a very real existential crisis. More and more citizens across all European states have become disconnected with the whole direction of the EU project.
The cause of this isn't populism or refugees or even Brexit. It is the failure of EU leaders to respect the democratic process, the concerns of citizens and the needs of society.
He disagrees with the idea of breaking up the European Union, and says instead there needs to be reform to salvage the traits worth saving.
"There are areas in which there is clearly a role for a European Union such as tackling climate change, delivering financial and corporate transparency and addressing the migration crisis.
"But the EU is failing on all these fronts because its leaders are concentrating instead on absorbing powers which should rightly be the business of national parliaments."
McGuinness agrees that this is an issue, saying "In 2017, the EU needs to be strong and resolute – and it needs to work for citizens. Citizens need a sense of ownership of the EU: that it is there for them, not just for so-called elites, and that they are part of the project."
Far-right
The biggest concern for Europe seems to be the rise of far-right politics as a solution for economic difficulty and a protest against multiculturalism.
Deirdre Clune says that MEPs will be "closely watching" the results of elections in France, Netherlands and Germany, as some candidates promise to take their countries out of the EU if elected.
Brian Hayes agrees with his Fine Gael colleague, and goes a step further, to say that "Europe's biggest threat right now is the rise of nationalist politics".
At a time of unprecedented peace and stability across the EU – we now face the enemy within. And that enemy is nationalism.
"We know to our cost from European history, the totally destructive forces that nationalism can unleash. The EU has over the past 50 years provided a bridgehead away from war and nationalism and towards cooperation and peace.
#Open journalism No news is bad news Support The Journal

Your contributions will help us continue to deliver the stories that are important to you

Support us now
"It's not perfect by a long shot and certainly needs reforming, but without the EU smaller counties, like Ireland, would face a very uncertain future dominated by larger counties in their region.
A European country
All MEPs say that the dismantling of the European Union would be disastrous for Ireland, with Brian Hayes suggesting that "Ireland would be the biggest loser from a breakup of the EU".
"We depend on trade more than most because we are small and need to export. The break up of the EU means no single market for our goods and services and would represent the biggest challenge to our economy since independence.
The break up of the EU means no Euro, no EU supervision of our banks, no ESM which stands behind the Euro, no access to the ECB? Do we want that after the Irish banking crises?
Clune says that more needs to be done to communicate with citizens about what happens in the European Union.
"For instance, what does completing the Single Digital market mean? To me it means that a business in a remote spot in West Cork with access to high speed broadband can operate in any state across Europe without a single barrier.
"It means that a consumer in West Kerry can purchase services or products from any point in Europe free from geo-blocking, taxes or tariffs. All the elements involved in delivering these scenarios are part of ongoing work in Brussels."
Between 1972 and 2014, Ireland received €72.5 billion from the EU, while it contributed approximately €30 billion to invest in infrastructure, education, research and other services.
'Fight back'
Meanwhile, Hayes agrees that the EU is worth keeping, but that it does need to change: "Without necessary reforms, such as complete banking union and economic convergence, the Euro will not deliver its potential and the Europe will continue to be the sick man of the world".
Even Carthy, who would come from a party of Eurosceptics, agrees that the bond between the 27 remaining EU countries should be saved:
"We need a new Europe based on social solidarity and co-operation among states, not the current drive towards a neo-liberal superstate. Above all, the EU must insert democratic values into the centre of all its decision-making."
McGuinness says that the European Union has qualities that are worth fighting for, and that "it's time to fight back and talk about what Europe means, the good it has done and what remains to be done".
"We are not good at saying what Europe does well. It's sometimes forgotten that EU membership is voluntary and involves member states sharing responsibilities in some policy areas.
Member states also need to be more responsible and stop blaming the EU for all national problems.
It is often member states at the Council who fail to take decisions or block decision that result in the EU looking like it is ineffective.
"There are lots of problems facing us, but our job as politicians is to find solutions and not to just wring our hands in despair."