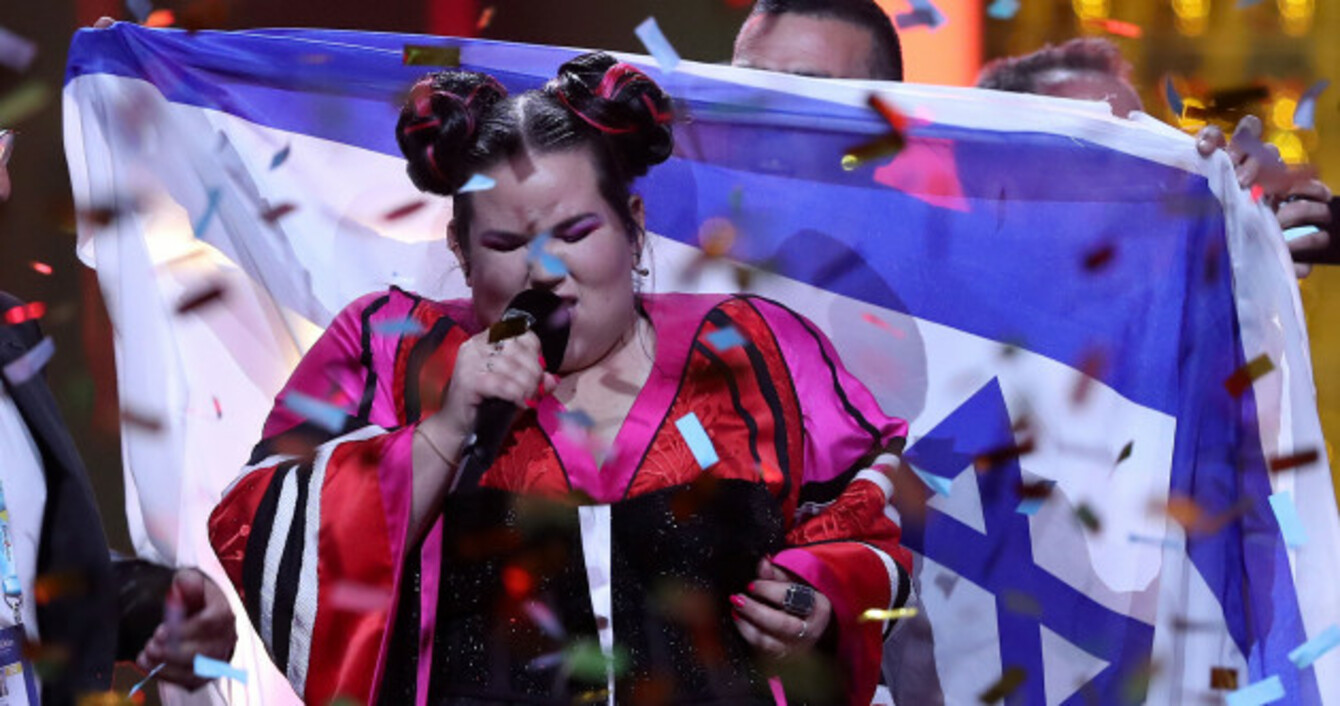 Eurovision Song Contest winner, Netta, of Israel.
Image: Pedro Fiuza
Eurovision Song Contest winner, Netta, of Israel.
Image: Pedro Fiuza
FIANNA FÁIL LEADER Micheál Martin is unlikely to support calls to boycott next year's Eurovision Song Contest, which is due to be held in Israel.
However, Martin said his party is considering a Bill tabled in the Seanad by Independent Senator Frances Black that aims to prohibit Ireland from trading with any companies originating in an occupied territory.
This would include the area of the West Bank including East Jerusalem.
Over 3,300 people, mostly Irish artists and media personalities, have signed a petition to support the boycott of the Eurovision, including the contest's commentator Mike Murphy, former Eurovision winner Charlie McGettigan, music legends Christy Moore and Frances Black and Senator David Norris.
Calls for Eurovision boycott
This week, they took to the streets to protest against the illegal Israeli occupation of territories, stating that a boycott would send a strong message from Ireland.
Earlier this month Sinn Féin called on RTÉ and the Irish government to boycott the song competition.
Source: TheJournal.ie/YouTube
The popular song contest is due to be held in Israel in 2019 after the country's entry, Toy by Netta, won the competition with a total of 529 points.
Calls for a boycott comes following protests along the Gaza border against the US embassy opening in Jerusalem that saw 60 Palestinians killed last month by Israeli troops.
'I have never been a boycott fan'
When asked by TheJournal.ie this week if he would support such a move to boycott the song contest, Martin said:
I think the Eurovision is neither here nor there to be frank in terms of the profound crisis that Palestine represents, particularly Gaza…
I have never been a boycott fan, but we are looking at the issue of illegal settlements and the occupied territories Bill which Frances Black has sponsored and we are carefully considering that in terms of its passage through the Oireachtas.
Urgent political engagement "of substance" is what is needed in the Middle East, he said.
"I think the continued expansion of illegal settlements is a real issue now, we have been very patient with Israel and others in that regard, and I think the European Union has to engage with Israel in terms of the illegal expansion, because that is jeopardising the prospect of a two-state solution in which we support."
Martin said the situation in Gaza "is getting worse by the day".
"The rights of Gazans, ordinary Gazans, are being trampled on to an unacceptable degree," said the Cork TD.
Negative step taken by the US
There is an urgent need for "fresh input" from global leaders in order to get peace talks off the ground, he said, adding that he believes the expansion of illegal settlements and the decision by US President Donald Trump to move the US embassy in Jerusalem was a "very negative step".
"Now we will reflect on what is the best response to that," said Martin, who added that his party has been in discussions with various groups and governmental organisations.
The party's foreign affairs spokesperson, Niall Collins, as well as jobs spokesperson Billy Kelleher travelled to Palestine this week.
"They are going to come back to me and we will have a more informed discussion arising from their visit," said Martin.
Prohibiting Ireland from trading with Israeli settlements 
The Bill, which was tabled in the Seanad by Independent Senator Frances Black, aims to prohibit Ireland from trading in goods and service from Israeli-occupied territories. The Bill, which was first discussed in February of this year was adjourned until July.
The Bill seeks to "prohibit the import and sales of goods, services and natural resources originating in illegal settlements in occupied territories".
Earlier this week at a concert in Dublin, former Pink Floyd star Roger Waters urged people to support the Occupied Territories Bill 2018.
In the Israeli-Palestinian conflict both sides claim the West Bank as legitimately belonging to them. Both argue they have claim to the region citing reasons such as family heritage, international law, Biblical history and politics.
Jewish settlements have been set up in the West Bank since it came under Israeli occupation in 1967 following the Six-Day War. The settlements have created difficulties and conflict with the Palestinians, who are excluded from certain Israeli-only roads and forced to go through a number of security checkpoints.
This video by Vox provides a good explainer about the settlements in the region.
#Open journalism No news is bad news Support The Journal

Your contributions will help us continue to deliver the stories that are important to you

Support us now
The background to the Bill 
The Bill does not mention Israel or Palestine by name but is aimed at stopping Irish trade with the Israeli settlers and settlements which are seen by many in the international community as illegal.
Senator Frances Black said that her Bill is not a boycott of Israel or a ban on Israeli products.
"We must be accurate on this. We are making the same distinction the EU makes between goods from Israel and goods from illegal settlements beyond its borders," said Black.
Opposition parties including Labour and Sinn Féin as well as independent senators voiced their support for such a move to prohibit trade – however whether or not the Bill passes will ultimately depend on whether Fianna Fáil decides to support it.
The Bill has been delayed for a number of months, due it being adjourned following discussions between Senator Black and Tánaiste and Foreign Affairs Minister Simon Coveney.
The Tánaiste sought the extra time stating that he would use the few months to use Ireland's influence with Europe and the US to try to make progress in Israel.
Since making this statement, the Coveney has visited with Israeli Prime Minister Benjamin Netanyahu on the issues, describing their conversation as "frank".
Voicing his concern about the Bill earlier this year, Coveney recognised that to prohibit the import and sales of goods from the territories would "send an important signal to the Palestinian people".
However, he argued that the memory of such a signal may fade over time and Ireland's reputation would be of a country willing to go it alone, rather than a country determined to influence, persuade and bring others with Ireland.
The Israeli Embassy in Ireland has slammed the Bill, saying that it "only offers an incentive to those who wish to boycott Israel and stands in stark contrast to the guiding principles of free trade and justice".
The Bill is due to be voted on in the Seanad on 11 July.