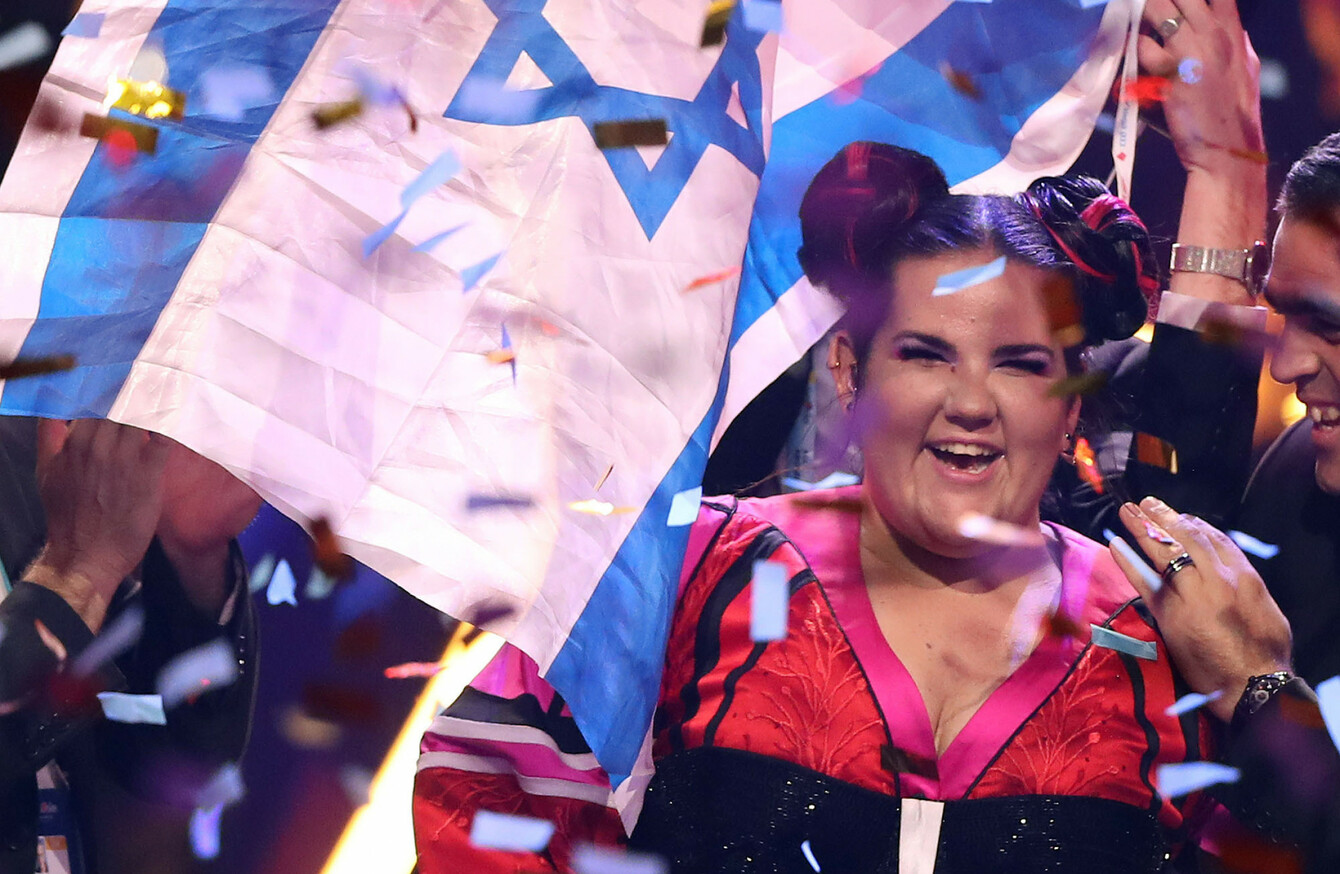 Israel's Netta celebrates her win.
Image: SIPA USA/PA Images
Israel's Netta celebrates her win.
Image: SIPA USA/PA Images
THE FIRST SUGGESTIONS that Ireland should stage a boycott of next year's Eurovision sprang up on social media even before the Champagne corks had been swept from the floor in Portugal's Altice Arena. 
Singer Netta's triumph in the competition with a tune inspired by the #MeToo movement meant that Israel had won the right to stage the contest in 2019: "Next time in Jerusalem," as the artist herself put it.  
Since then, a not-insignificant array of Irish personalities – from politicians to former song contest winners and presenters – have added their voices to calls for Ireland to stay away from the Israel-hosted show next year. 
Tánaiste Simon Coveney has said it's not something the government would back, insisting that withdrawing from the songfest would only "polarise things even further". Meanwhile, DUP leader Arlene Foster, reacting to Sinn Féin's call for a boycott, observed on Twitter: "You couldn't make it up!!!"
Eurovision boycotts have happened before, however. And not just once or twice. Rarely a year went by in the late 197os without Greece, Turkey or some other nation withdrawing from the contest for geopolitical reasons. 
Indeed, many Arab states who are entitled to take part under EBU rules have a longstanding policy of non-participation in the annual event – largely because of Israel's presence. 
The first ever symbolic withdrawal from contest wasn't as a result of political posturing, however. As Eurovision expert and RTÉ jury selector Paul G Sheridan explained, it was more to do with musical differences. 
"The very first one was in 1964," Sheridan said. 
Sweden, who had been participating for six years up to that point, decided to boycott the '64 contest. It was mainly to do with the fact that artists in the country regarded it at the time be a sort-of mediocre song festival. There was an artist's strike in Sweden that year so they decided on that particular occasion not to participate.
A larger-scale withdrawal from the 1970 contest is (in Eurovision circles at least) the best known boycott of the competition. 
It was all down to what had happened the previous year when, for the first time in its decade-and-a-half history, four countries – the UK, Spain, France and the Netherlands – were declared joint winners. 
There was no rule to allow for a tie-break at the time, Sheridan explained. "The Scandinavians reckoned it was an absolute farce." 
Finland, Sweden and Norway pulled out the following year, as did Portugal and Austria -  leaving just 12 countries to compete (this was the year, incidentally, of Ireland's first win when Dana's All Kind's of Everything took the top prize). 
Greece and Turkey began their tit-for-tat withdrawals in the mid-70s in the wake of the Turkish invasion of Cyprus. It wasn't until 1978 that both countries appeared together in the line-up. 
Around the same period, several North African countries had brief flirtations with the contest. Tunisia planned to enter, but then decided against it. Morocco actually did send an act in 1980, but haven't been back since.
Turkey, meanwhile, hasn't sent anyone to the contest since 2012. The head of the country's national broadcaster said recently that they weren't planning to return anytime soon, putting the decision down to the presence of LGBT singers.
Eastern tensions 
The Eurovision somehow managed to survive the fall of the Iron Curtain and the entire 1990s without any major diplomatic incidents. In more recent years, problems directly involving Russia or relating to disputes between countries within its sphere of influence have cropped up from time to time. 
Georgia pulled out in 2009 after a row over lyrics making less-than-oblique references to Vladimir Putin, for instance; in 2012, the contest was staged in Azerbaijan but Armenia pulled out; and tensions over Crimea led to the banning of Russia's singer from the Ukraine-hosted contest just last year. 
The European Broadcasting Union – which is, essentially, an alliance of public broadcasters in Europe and surrounding nations – is responsible for staging and distributing the contest each year. As Sheridan, our song contest expert, explained, the union tends not to impose sanctions on member countries when disputes like this arise. 
They were going to impose sanctions on the Ukraine which eventually didn't come to pass because they were happy with how the Ukranians staged the contest that year.
Source: TheJournal.ie/YouTube
In terms of the Irish campaign to withdraw from the 2019 contest, almost 8,000 people have now signed an online petition backing the move.
Figures like Christy Moore, former song contest winner Charlie McGettigan and Senator David Norris staged a high-profile demonstration earlier this summer throwing their support behind the boycott – citing continued human rights abuses and breaches of international law. 
The Israeli government, as you might imagine, has said it is "saddened" at the boycott effort and stressed the contest's status as a cultural event. Past Israeli artists, notably 1998 winner Dana International, had also played a role in bringing the issue of trans identity into the mainstream, a statement from the embassy noted. 
Political commentator and Eurovision aficionado Johnny Fallon says there would invariably be knock-on complications in the unlikely event of an Irish boycott. 
"There have been contests in Israel before," he said – noting that Ireland has never withdrawn from the competition for political reasons over our five decade Eurovision history. 
To actually withdraw is making a very political statement and that is much more political than actually attending it, to be quite honest.
It does politicise the competition and there would be knock on effects from that then… Do you then have to stay out every year that a country like Israel might win? Do you then have to boycott other countries too, like Russia?
We could end up with a litany of precedents because once you've decided to politicise it you really are politicising it to a huge degree. 
Fallon added:
If you look at the history of Eurovision the countries where this has happened, it's mostly the North African countries who for years have been entitled to go and to attend and some of them have – but they have all pulled out because of Israel's involvement in it. So you tie yourself into it – there will always be a knock-on effect.
The final say on Irish participation rests with RTÉ – and so far there's been no indication of any surprise announcements from the national broadcaster regarding the 2019 contest. 
In fact, according to Sheridan, the broadcaster's head of delegation made it clear at an RTÉ-hosted Eurovision forum last month that he was not in favour of a boycott, insisting that it was a cultural event that should not be politicised. 
In Israel, meanwhile, plans to stage the contest are proceeding apace. And in spite of Netta's exhortation back in May that Jerusalem would host the event, it's been named as just one of three possible venues for the 2019 Eurovision. 
We'll likely hear further pleas, from home and abroad, not to politicise the song contest. 
Judging by the early evidence, however, Israel's hosting of the event will likely lead to a few more diplomatic wrangles between now and next summer. 
Already in Israel, senior politicians are taking aim at the EBU after media reports of a letter from the broadcasting union insisting that visitors are allowed into the country for the contest regardless of their political opinions.
The public security minister called the letter ridiculous, and implored that Prime Minister Benjamin Netanyahu should refuse to accede to such "delusional conditions".