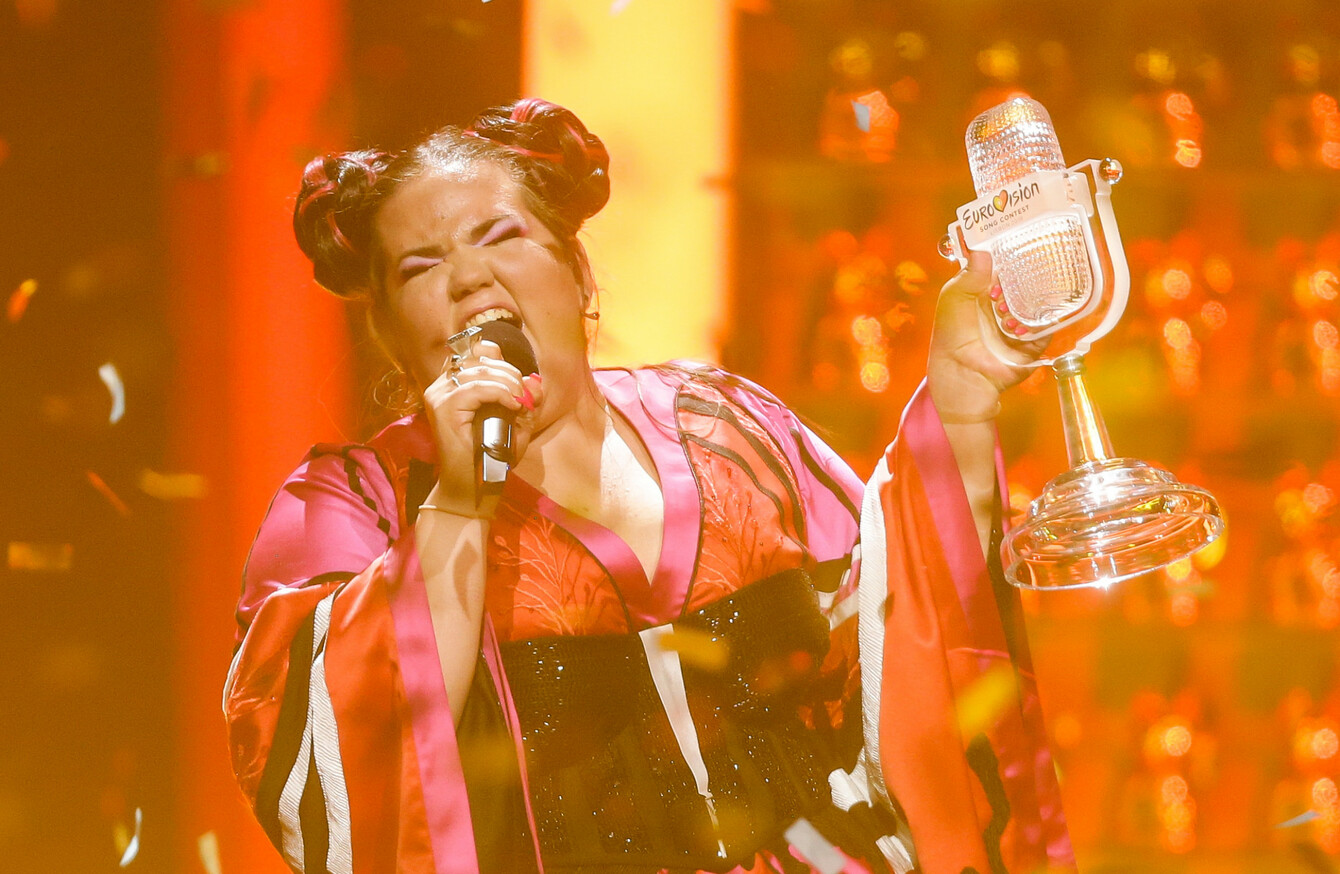 Image: DPA/PA Images
Image: DPA/PA Images
ISRAEL'S PUBLIC BROADCASTER says it has resolved a funding dispute that threatened the country's chance to host next year's Eurovision Song Contest, hours ahead of a European deadline.
The country in May won the right to host next year's Eurovision when Israeli singer Netta Barzilai won the 2018 contest in Lisbon with a song inspired by the #MeToo movement against sexual harassment.
But a financial dispute between the Israeli Broadcasting Corporation (known as Kan) and the Israeli government threatened to derail the plans, with a €12 million deposit due to the European Broadcasting Union this evening.
State-owned Kan had sought additional government funding to cover the cost, while the finance ministry government insisted it pay from its existing budget.
But Kan radio announced this evening that "the Eurovision crisis is over!"
"The broadcasting corporation will today deposit the €12 million guarantee for hosting the competition," it said in a news report.
The guarantee is to cover cancellation of the competition in Israel in the event of circumstances beyond the corporation's control such as war or natural disaster, it added.
Should the broadcast from Israel have to be cancelled and the deposit forfeited, Kan and the government would agree financial help for the broadcaster between themselves, the radio quoted the corporation's board as saying.
"Kan sees great importance in hosting the Eurovision in Israel for the state in terms of exposure and image and as an economic booster," the radio quoted management as saying.
"The corporation believes that the government of Israel will do all in its power to ensure the holding of a proper and dignified Eurovision in Israel and will fulfil its obligations."
Another possible obstacle to the show could come in the form of pressure on participants from the global Boycott, Divestment and Sanctions movement against Israel over its occupation of Palestinian territory.
There are also concerns that ultra-Orthodox Jews may protest against violations of the Jewish Sabbath, preventing the event taking place on a Saturday night when it is usually held.
#Open journalism No news is bad news Support The Journal

Your contributions will help us continue to deliver the stories that are important to you

Support us now
Barzilai's victory in May led to an outpouring of pride and public celebration in Israel.
Crowds broke out in song in Tel Aviv's Rabin Square, with many jumping in the fountain there, as well as at Jerusalem's main open air market.
The winning country hosts the event the following year, and the opportunity for Israel to do so was seen by many as a major victory against the boycott campaign.