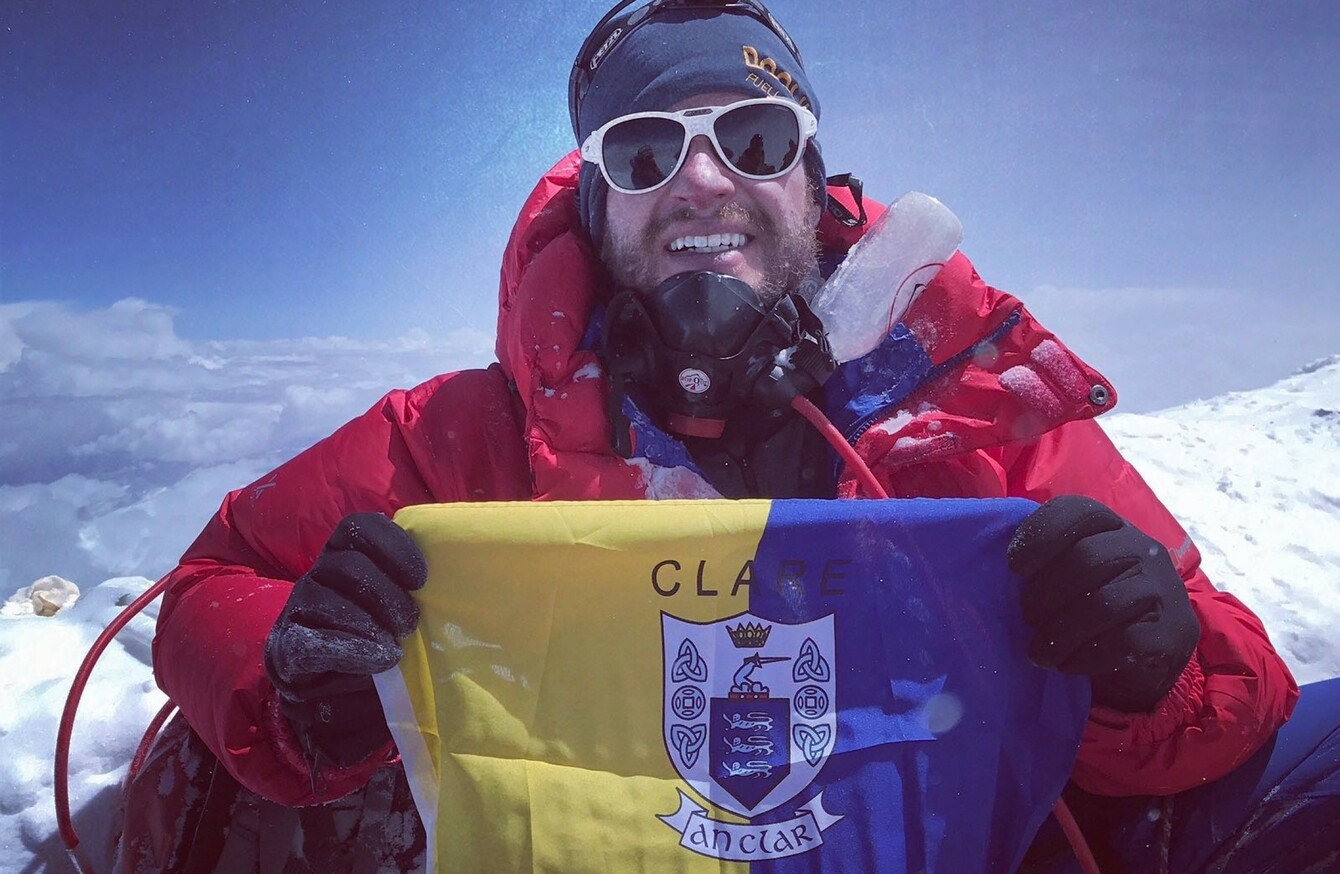 A COUNTY CLARE hotelier has spoken of climbing past corpses as he became the first man from the Banner county to climb Mount Everest.
Speaking today from Everest Base Camp following the successful assault on the mountain on his first attempt, John Burke said that he could see the fear of death in climbers' faces as they witnessed corpses of those who had lost their lives attempting the climb.
Burke says he will return to Shannon Airport on Monday and head to the Armada Hotel at Spanish Point, which he runs, for celebrations.
The 38-year-old said that he took on the challenge partly to fulfil a personal dream but also to raise awareness and funds for the charity, Elevate, he and his wife have established to promote wellbeing among young people.
I've been ten years dreaming of following in the footsteps of some great Irish adventurers, people like Pat Falvey, Ger McDonnell and so many more. Their stories have inspired me to take to the hills and test just how far my body and mind can go.
"The final plan was 12 months in the making. I treated Everest like a work project; finding the best people to work with, breaking down the action plan into segments to enable me get to the summit of the world.
I was fully aware of the risks but focused only on controlling those things I could control. All in, the trip took nearly two months in total and culminated in the final summit push.
Burke started that push on 13 May and reached the summit on Tuesday at 9.35am local time.
The final night was hell on earth, as I witnessed casualties of the mountain first hand, passing the first body soon after setting off. I could see the fear of death in the faces of some people close to me. At one stage I had to intervene with a Romanian who seemed to have summit fever, an inability to make a rational decision about turning back.
"Personally, I never felt beyond my physical limits but I was certainly reaching my max. Preparation was essential, not least spending some time driving out any possibility of self-doubt and it worked well for me. That meant not doing things like how long left or even looking at my watch as these would only fester doubts."
Burke's wife, Fair City actress Aoibhinn Garrihy said the challenge has been "a rollercoaster".
"We focussed on the positive all the time but we were aware at the same time of the serious risks involved in climbing Everest. I was of course anxious but also extremely excited for him, the the time had finally arrived for his dream to be realised."