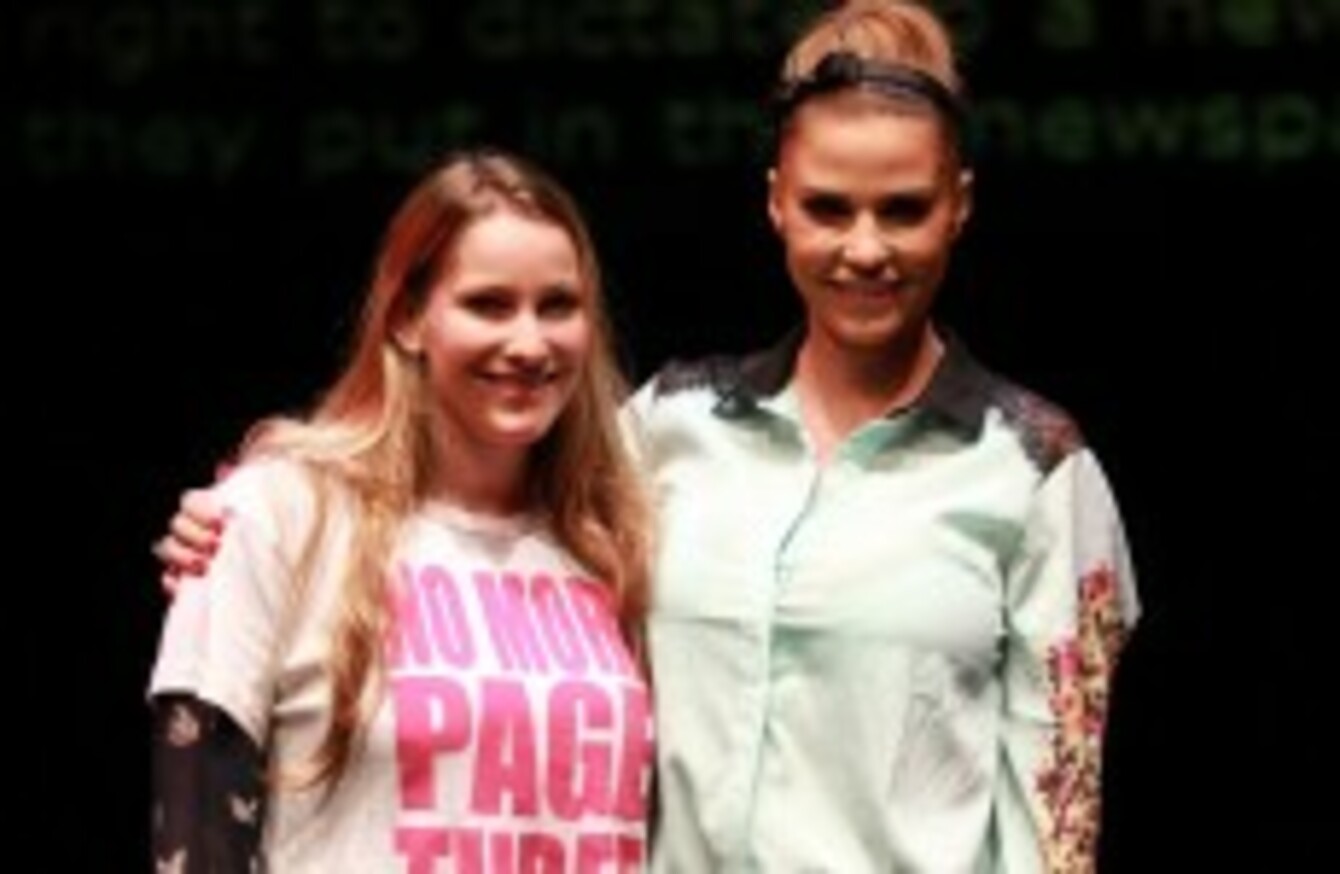 Katie Price (right) with Everyday Sexism founder Laura Bates (left) at a 'Does Page 3 Make the World a Better Place' panel discussion
Image: PA Wire/Press Association Images
Katie Price (right) with Everyday Sexism founder Laura Bates (left) at a 'Does Page 3 Make the World a Better Place' panel discussion
Image: PA Wire/Press Association Images
The reason I'm hopeful is because of the vibrancy of this movement that's happening at the moment. If I'd been doing this in a different time period, perhaps even 10 years ago, it might have felt very different, and perhaps more depressing.
LAURA BATES SEES it as her mission to show people that sexism hasn't disappeared – and that men and women are in it together when it comes to achieving gender equality.
Yet in her role as the woman behind the project Everyday Sexism, which catalogues people's (yes, men and women, trans* men and women and people of both genders and none) experiences of sexism, she has faced a huge amount of opposition.
Within the wider feminist community itself, she feels completely supported. But the  contact she receives from those who don't like her work must feel overwhelming at times.
"I think people don't always realise how extreme it is," said Bates down the phone from London, in advance of her visit to Ireland on Friday to talk at the Dublin Writers' Festival.
"You often get this thing of people saying 'if you don't like it don't read it'." But it's not that simple.
In reality what you can be getting can be extremely long and detailed emails from someone telling you exactly how they would like to rape you, and murder you, wounds they'd inflict on you and what order and what weapons, and how they're planning to track you down… threats to members of your family and threats to your loved ones.
No one would deliberately put themselves out there to get this sort of abuse, but Bates credits her strong support network of friends, family and fellow feminists with helping her to cope.
"It just makes me feel angry – you don't want to be beaten by it," she asserted.
What is Everyday Sexism?
For those not familiar with the site, or its busy Twitter account, it catalogues reader submissions of sexist behaviour. This has led onto a new book, written by Bates. "It's great that it's having such an impact and people are finding it useful," she said.
Ireland's connection with Everyday Sexism comes not just from the women who have contributed to the project, but the team of volunteers assembled by Irish woman and academic Emer O'Toole, in the site's early days.
Laura Bates didn't set out to 'solve' the problem of sexism: "It was more I recognised it would be impossible to solve the problem if people refused to acknowledge it existed."
She disagreed with those who said "no, sexism doesn't exist and women are equal now".
Very specifically I set out to change that mindset and get people to recognise sexism is a huge problem and the impact it has on women is enormous.
What led her to set up the site
What led Bates, who wasn't active in feminist circles until she set up Everyday Sexism, to began the project was a string of events that happened over the period of about a week.
A man followed her off the bus, "making really aggressive sexual propositions and refusing to take no as an answer". She eventually shook him off by going past her house and into a local supermarket.
Then she was groped by a man on a bus – and though she loudly told her mother, who she was on the phone to, what was happening, "everybody else on the bus looked away".
There was a real normalisation, a real sense of don't make a fuss, this is normal. When all these things happened together, it really forced me to think about them.
She realised that if any of these incidents had happened in isolation, "I never would think twice about it because it was very normal". It made her look back at similar experiences that she'd never told anyone about, or made a fuss about, "because I'd been socialised as a woman that this was normal part of life".
After speaking to other women about their experiences, Everyday Sexism was born.
She's heard from women who have tried to report serious abuse in the workplace, and told "you're young and pretty and he's the CEO – what do you expect?"
She's heard from schoolchildren having "explicit stuff shouted at them on the street by men", or being pushed up against on the Tube by men who are sexually aroused.
"There is just so much silencing – I think there's definitely something really cathartic about having these stories not only heard but also believed and accepted."
What can solve the problem?
"The main thing that we need specifically is a cultural shift, a shift in normalised social attitudes and behaviours," suggests Bates when asked about solutions.
If those people on the bus that day had found that to be an unacceptable and unusual thing, and had spoken out and asked 'why are you touching that girl?', all those feelings of embarrassment and shame and anger that I felt would have been transferred on to him.
She sees bystanders as having a role, in not being afraid to step in and say when behaviour is unacceptable. She also suggests sex and relationship education in schools should deal with issues such as consent and healthy relationships.
Everyday Sexism the book
In her book, she gathers the stories into different categories, and looks at the most common themes which have risen again and again from the project entries.
Breaking the topics into sexism in the workplace, home, politics, public speeches, and academia, it posits "these different forms of gender inequality are very closely connected and related to each other and impacting on each other, so it has to be that the solution tackles them all at the same time."
For Bates, you can't look at the issues of lack of representation of women in the workplace or in politics "without acknowledging that the media still portrays women as dehumanised sex objects".
The way some parts of the media represent female politicians "impact[s] on the way voters see women politicians and therefore on the representation of women in politics".
The same attitudes about women ingrained in a society where we accept and normalise street harassment are the same kinds of ideas about women being second class citizens and lesser, and somehow men's properties, that are also at the root of more serious abuse and domestic violence.
There's talk of Bates' book being part of the 'fourth wave' of feminism, but Bates isn't too focused on putting a label on the work.
"I just feel that there is a huge surge of energy and excitement about feminism at the moment. It feels like there are more and more people able to stand up and talk about it, being able to use the word feminist, able to stand up for the rights of women".
Men, women and the future of feminism
The word 'feminism' can be a polarising one, and the reaction to Everyday Sexism shows that not everyone – male or female – sees the need for a feminist movement. For Bates, it is "a very accepting and open movement".
It's very simple – if you think men and women should be treated equally, regardless of sex or gender, then you're a feminist. And I think people are coming back to that quite simple definition and feeling they can be part of the movement.
Asked about men's role in it, she explained that men's voices and experiences are included in the project, and "we've made it very clear outright from the beginning that this is not about men against women".
Experiences of transgender, intersex or gender non-conforming people are also very welcome on Everyday Sexism.
"It's not about vilifying men or suggesting all men are sexist. It's about people standing together against prejudice. And I think men do have a role in challenging these behaviours," she said.
But I also think it's not unreasonable to say this movement should be led primarily by women's voices, because it is important to acknowledge the fact that this is a form of oppression that structurally in terms of – if you look at political, social, gender balance – does impact more greatly on women than men so it should be women's voices that are leading the way.
They often hear from women who experience different and intermingling forms of prejudice – because of their race, or ability.
"In order to tackle any one of these forms of prejudice we have to look at intersectional solutions because they are hugely interrelated," said Bates.
"I'm hopeful"
Source: TEDx Talks/YouTube
Despite the detractors and the abusive emails, Bates is hopeful for the future.
Everyday Sexism has 144,000 followers on Twitter, and 18 country-specific variations of its site, plus one for refugee women.
A look through its Twitter account alone shows that people aren't standing for sexism, and Everyday Sexism provides them with a voice. Bates has been invited to talk before the UN, and will spend the summer speaking in a range of countries about the project.
Despite the dark moments, she feels things are moving ahead positively: "There is just such a sense of energy and fight for change."
Laura Bates will speak alongside Dearbhail McDonald and Jenny Dunne with Sinéad Gleeson on Friday in Smock Alley Theatre, Dublin, at 8pm as part of Dublin Writers' Festival. Everyday Sexism the book is available online or in bookstores.