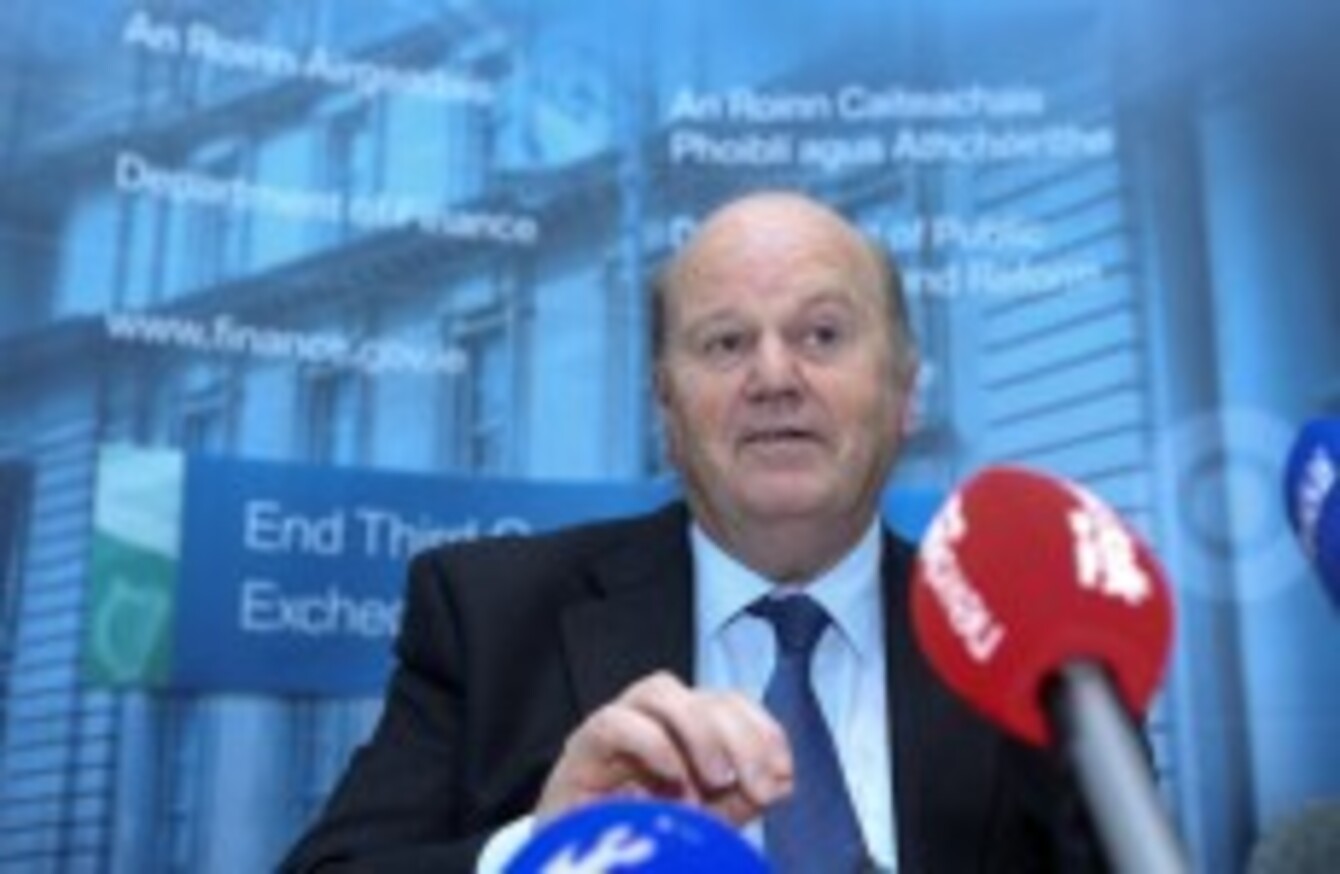 Michael Noonan TD speaking to the media in the Department of Finance this evening.
Image: Sam Boal/Photocall Ireland
Michael Noonan TD speaking to the media in the Department of Finance this evening.
Image: Sam Boal/Photocall Ireland
Updated 20.43
THE ADJUSTMENT IN the upcoming budget will be "somewhat less than €3.1 billion" according to Finance Minister Michael Noonan.
Noonan said that, as well as implementing the bailout programme, the Government had to "politically manage it and grow the economy at the same time". He declined however to give any further details about the level of cuts to be implemented:
What it means is that it will be somewhat less than €3.1 billion, the figure will be announced at the budget. It's too early to say, it's not a refusal to answer its just to be agreed and a lot of crunching of numbers has to be done.
The state was on target to make the deficit target of 5.1 per cent by the end of next year he said.
The comments were made by the Minster as the Department of Finance's at the monthly exchequer's returns announcement which showed that the tax take was on target while spending reduction were ahead of schedule.
Tax revenue for the nine months to the end of September was €26.88 billion, just €4 million ahead of expectations and up 2.9 per cent compared to 2012.
Spending by the department, at just over €31.6 billion, represents a reduction of €1.6 (4.9 per cent) billion year on year.
It contributed to an improved exchequer deficit which came in at of  €7.14 billion, €4 billion less than the same period last year.
Tax details
The largest chunk of tax came from income tax which has yielded the exchequer €10.8 billion so far this year, €81 million less than projected but €404 million more than last year.
VAT continued to be lagging behind its intended targets coming in €165 million less than expected. VAT performed stronger in September than previous months however, coming in €80 million ahead of target for the month.
It remained the second largest tax figure, accounting for €8.41 billion of the total funds taken in.
Spending
The biggest reduction in spending came from the Department of Social protection which was down by €874 million on last year,  €121 million more of a reduction than was targeted. Spending in the Department of Education was €228 million less that 2012.
Minister for Finance Michael Noonan said that figures demonstrated a that the government was doing an consistent job at managing public finances. He sounded caution however:
Nevertheless, with the exchequer borrowing in excess of €7 billion for the first 9 months of the year, we must continue with our efforts to manage the public finances in a manner which underpins this recovery.