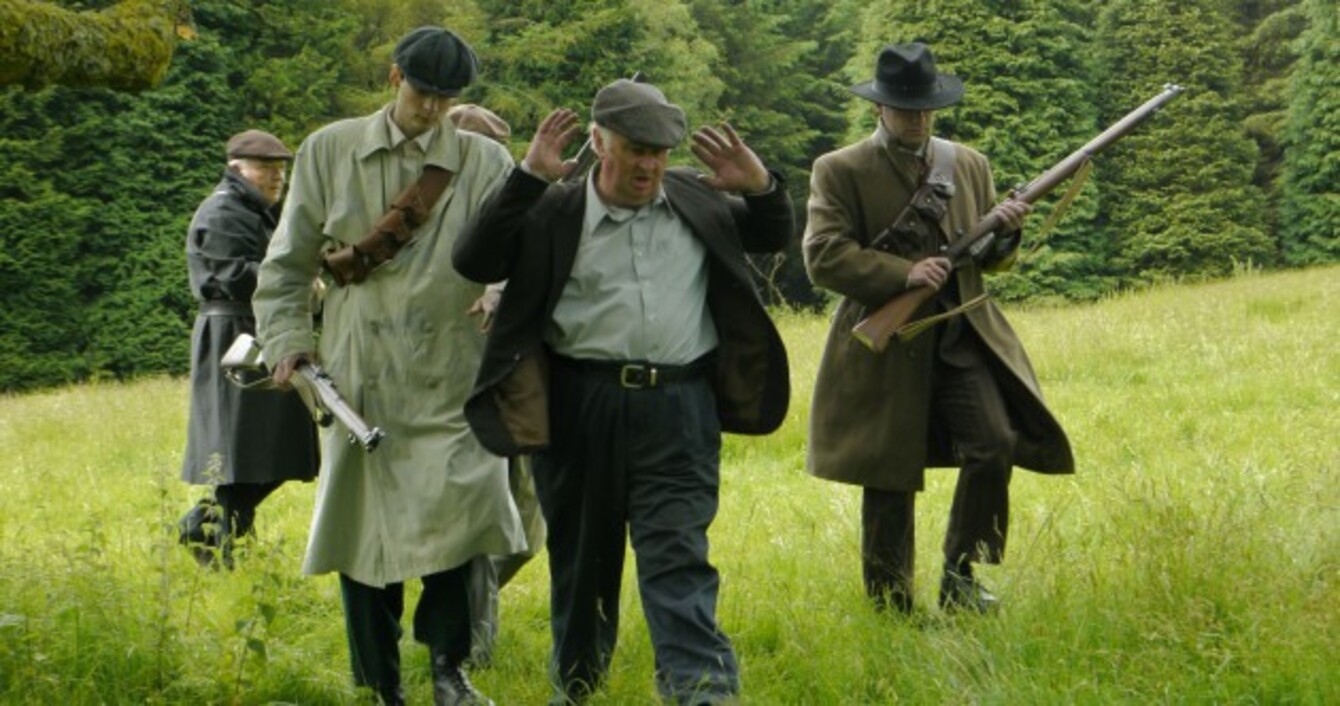 Dramatic reconstruction of the abduction of a suspected spy by IRA members.
Image: TV3
Dramatic reconstruction of the abduction of a suspected spy by IRA members.
Image: TV3
AROUND 200 PEOPLE were 'disappeared' by the old IRA throughout the War of Independence and Civil War, according to a documentary to be screened on Monday evening.
TCD Professor Eunan O'Halpin hosts the two-part programme, which is based on research he has carried out over a decade into the victims of the Irish War of Independence and the Irish Civil War.
He points out that details of the cases of many of the 'disappeared' may be contained in the National Archives but that, as of 90 years later, thousands of Department of Justice and Defence files remain closed. He says:
Ninety years on, it's surely time that we knew what these contained. The families of the dead, and the public generally, have a right to know how and why these people died.
O'Halpin has a personal interest in the period. Both of his grandfathers were senior IRA officers, his maternal grandmother a leading anti-Treaty activist and two of his great-uncles were killed. One of these was Paddy Moloney, who was shot dead outside Tipperary town in May 1921. The other was Kevin Barry, who was immortalised in song after his execution by hanging in Dublin by the British authorities in November 1920.
However, says O'Halpin, the IRA of the time was also responsible for its share of disappearances and murders in this period. (During the Civil War, Free State forces were also responsible for a share of murderous violence, he adds, and RIC policemen were frequently involved in swift reprisals for murders by the IRA, as well as the Black and Tans.)
In 1920 and 1921 at least 200 people were abducted, executed and their bodies hidden by the then IRA, says O'Halpin. Over 180 of these were civilians as well as policemen and soldiers. The identities of these people are difficult to establish. He says:
Many families who suffered the disappearance of a loved one never had a body to bury or a chance to grieve properly or a chance to commemorate their loss.

Were they spies? Were they informers? Some were; some were not.
Some murders, O'Halpin establishes, were motivated by incompetency, misinformation or even, sometimes, to settle an old score. Some were shot and buried in a wood, field or bog; some unfortunates had their hands and feet bound and dumped, alive, in rivers or lakes to drown.
O'Halpin's research leads him to commission archaeologists to carry out investigations into local stories about the bodies of two executed men from Tipperary being buried on a farm in Co Laois. Research at the National Archives in Dublin reveals that two men did disappear from north Tipperary in the period pinpointed by the then-farm owner.
The results of his enquiries into this case and others, and the overall context of the disappearances can be seen on Monday, 18 March, on In The Name of the Republic, TV3, 9pm.
Archaeologists excavate a suspected burial site in Co Laois. Image via TV3.