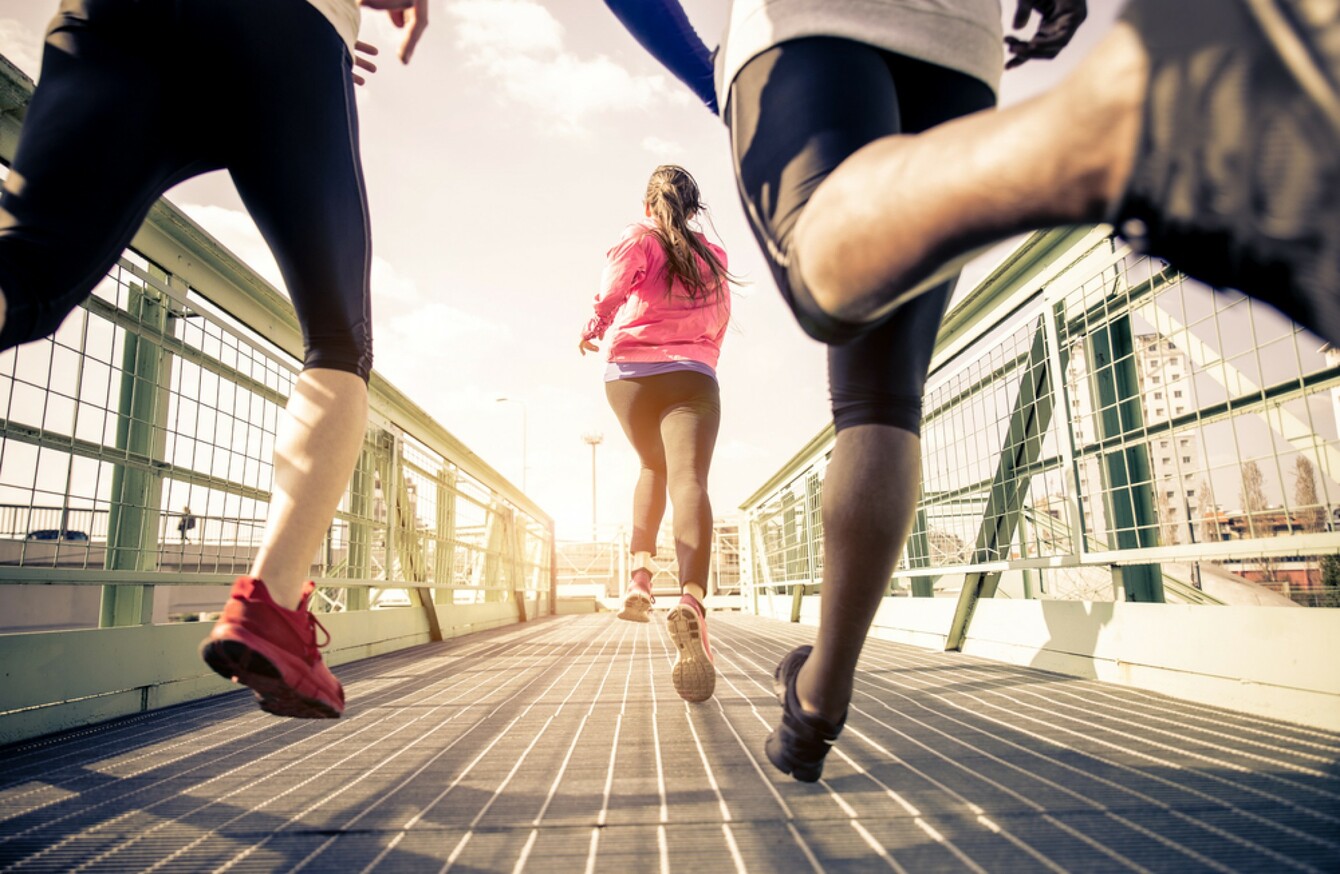 Image: Shutterstock/oneinchpunch
Image: Shutterstock/oneinchpunch
STICKING TO A REGULAR exercise routine brings with it a whole heap of benefits: improved cardiovascular health, increased stamina, stronger bones and muscles, and maintenance of a healthy weight.
As well as the obvious physical advantages, exercise has been shown to improve mental alertness and concentration long after you pack away your gym bag or put away your runners.
If you're in a workplace role where you have to be at the top of your game from the moment you come in the door, boosting the amount of exercise you do could in turn boost your motivation and productivity. That's according to fitness expert Pat Divilly, who regularly trains personal and corporate clients.
"Having an exercise routine as a consistent part of your day allows you to schedule the rest of your day more effectively," he says. "Often the busiest people are the most productive, and a consistent routine is a big part of that."
Stress buster
Making time for a workout is one very simple change you can turn to if you find anxiety is beginning to hamper your office productivity, explains Pat.
If your mind is constantly buzzing with thoughts of the future or past, you're only living from the neck up. On a very basic level, exercise helps you to get out of your head and re-connect with our body.
As well as clearing your mind, getting active is scientifically proven to reduce the levels of stress hormones like cortisol and adrenaline. Plus, there are the endorphins and endocannabinoids released after you train, which Pat terms "happy chemicals."
Confidence booster
Every time you work out, you're gaining new skills and building stamina, and it's those little achievements that can lead to bigger wins in other areas of your life, as Pat explains.
"Exercise shows you that when you invest in yourself you see incredible results. It's a great confidence builder. I have clients who came to me simply to lose weight, and went on to make massive changes in their lives, like changing jobs or starting businesses, after finding a new sense of belief in themselves."
You can't pay someone else to do your push ups for you. In the world we live in there's very little that requires you to do 100% of the work to get a result, but exercise is one of those things.
Work it into your day
Rather than thinking of a gym session or run in the park as something you have to struggle through to get on with the rest of your day, Pat advises taking a more integrated approach.
Think about how you can tie different aspects of your life together – social, family, career, health, hobbies – to make it all work more efficiently. Here's one strategy he suggests:
A client of mine who is a massively busy London banker now has some of his meetings outdoors, for example. He'll meet someone for a walk in the park rather than in a stuffy boardroom. It's benefitted his networking and business success as well as his health.
If an outdoor meeting isn't an option, look at other ways to mix exercise into your day. "A short walk, a quick training session before work or a lunchtime visit to the gym can all work wonders for your overall productivity," says Pat.
Be kind to yourself
"Your exercise routine has to be something you enjoy, otherwise you aren't going to stick with it," warns Pat. "Some people dread going to the gym but force themselves anyway. We have enough stressors in life,  so find a form of fitness you really enjoy, whatever that is."
If you're finding it tough to stay motivated, ask co-workers or friends to get involved too. "I often recommend making exercise a social thing, to ensure you stay committed and to make fitness more enjoyable," says Pat.
Maybe you could link up with some of your co-workers for a lunch time walk or fitness bootcamp in the local park. The community aspect of fitness is under-estimated in my opinion. It's such a great way to connect with people.
Even if you do find yourself slacking on exercise during a particularly busy week, don't be too hard on yourself. "Avoid falling into perfectionism mode, wanting to follow a plan 100% to the letter or getting to the gym six days a week," advises Pat. "Instead, aim for whatever is realistic for you."
Pat Divilly will be among the panel of speakers at Bord Gáis Energy's half-day conference, Leadership: Building A Winning Team, in The Clayton Hotel, Galway on Thursday 11th May. Register for tickets here – it's free for Bord Gáis Energy business customers.