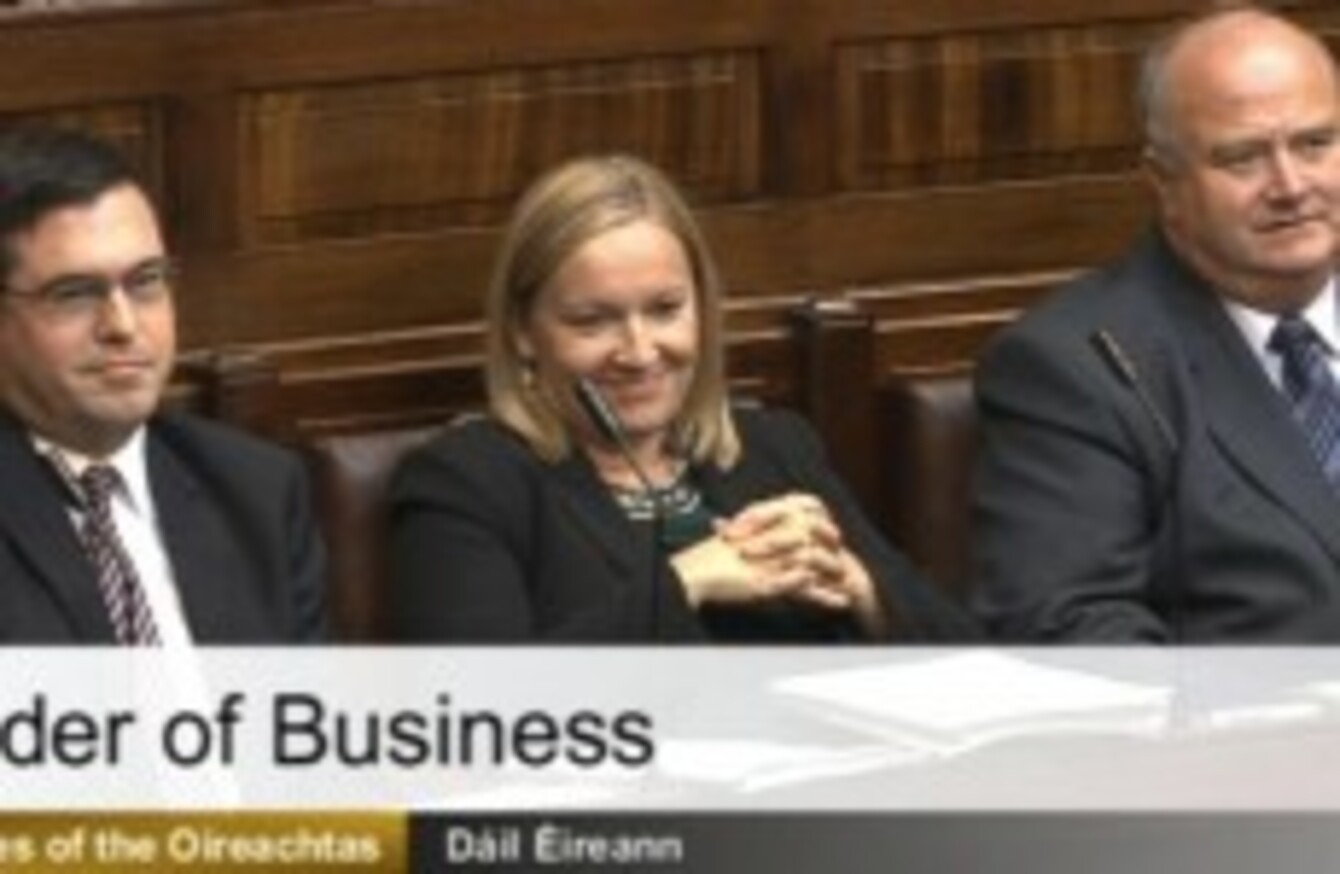 Terence Flanagan, Lucinda Creighton and Billy Timmins in the Dáil this week
Image: Screengrab
Terence Flanagan, Lucinda Creighton and Billy Timmins in the Dáil this week
Image: Screengrab
TDS EXPELLED FROM their parliamentary parties may have to go to the courts if they want to join the Dáil Technical Group and obtain further speaking rights.
This comes amid conflicting advice over the options available to the Reform Alliance and other TDs who have been expelled from their parliamentary parties in the last two years.
The exiled deputies were granted limited speaking rights by the Ceann Comhairle earlier this week but if they want to join committees or get private members' business they face a further challenge.
The government told Reform Alliance TDs on Wednesday that if they wanted to join committees or obtain slots for private members' business they they could join the Technical Group.
However, the Technical Group has been told on a number of occasions in the past year that TDs who have left their parliamentary party cannot join their grouping under current Standing Orders.
Now TheJournal.ie understands that the government has been advised that if a TD wants to join the Technical Group and is prevented from doing so they would be able to successfully challenge the matter in the courts.
The belief is that the Oireachtas would not be able to successfully defend its position and TDs would therefore be allowed join the group after the matter reaches the courts.
This approach is seen by expelled, former parliamentary party members as deliberately attempting to stall their progress.
There has been considerable confusion surrounding the issue with the Technical Group repeatedly advised by the Dáil clerk and Ceann Comhairle's offices that TDs who leave their parliamentary party during a term cannot join the Technical Group.
Meeting
A meeting of the Committee on Procedures and Privileges is due to take place next Wednesday where Technical Group whip Catherine Murphy said she will seek clarification on a number of issues. She described the situation as being "as clear as mud".
Taoiseach Enda Kenny said this week that the alliance of ex-Fine Gael TDs, known as the Reform Alliance, can join the Technical Group if they wish to join Dáil committees as they have asked to be allowed do.
But Murphy said this is not the case: "What the Taoiseach said was the polar opposite of the advice that we have been given on a number of occasions from the office of the clerk of the Dáil who would be giving that information to the Ceann Comhairle."
The Kildare North TD said that the Technical Group does not have any opposition to non-aligned TDs being afforded speaking rights and potential committee memberships but said it would be difficult to manage a grouping of 30 TDs.
She explained: "If the eleven who were either Labour or Fine Gael originally were to join the Technical Group that means they would be entitled to a share of Leaders' Questions, Private Members' business, and spaces on committees but we already have people on committees."
#Open journalism No news is bad news Support The Journal

Your contributions will help us continue to deliver the stories that are important to you

Support us now
Murphy said it would be difficult to manage this with the "slim-pickings" already afford to the Technical Group in terms of staff and resources.
"You could have a party of seven TDs that form a group and 30 TDs in Technical Group and the Technical Group will always be last in Order of Business so there's a whole load of things that this brings up," she added.
Murphy said there was no reason that Standing Orders could not be amended to allow for a second technical group or the formation of political entities but, she added: "The problem has been that anytime we've broached different options we haven't got a hearing."
One expelled TD contacted this week, who declined to be named, said they would not be joining the Technical Group under any circumstances citing the difficulties highlighted by Murphy.
Their view is likely to be shared by others in a similar position.